Many hotel chains now offer the consumers the option to actually buy their specialty luxury beds; some of these mattresses are beds they've researched far and wide to give us the perfect night's sleep.
Each Hotel may offer a different sleep experience; some are going with foam inter spring, or a hybrid mattress or other mattress types, even latex or are air beds. Depending on if you're a side sleeper sleep on your stomach or just want to throw yourself and lay down; however you can get that pleasant hour or hours of sleep, we will do our best to provide you enough information to help you decide which hotel bed is right for you.
It can't be disputed that luxury hotels offer a huge range of treatments to keep loyal guests coming back, but for many weary travelers, a comfortable night sleep is the biggest deal-breaker.
Peradventure you've found yourself returning to the same hotel or hotel chain because you had a great night sleep, finding out the trade secrets of what makes their beds that comfortable could help you enjoy the same five-star experience in the comfort of your own home.
This article therefore bring to lime light the most popular mattresses found in hotel rooms and offers some tips for guests who would like to buy the same bed for personal use.
So, What are the different types of mattresses?
The most basic distinction between mattresses is the materials they are made from, and of course, the systems adopted to ensure comfort and support. Some major hotel brands uses some mattresses as highlighted:
1. The Peninsula Hotels
Each hotel in the Peninsula family has its unique custom-designed mattresses. These are based on a hybrid mattress design that combines the support of pocket springs with the comfort of foam, supported by a box spring. Several comfort layers of plush fabric quilting on top and cooling technology to regulate temperature and ensure a night of sound sleep.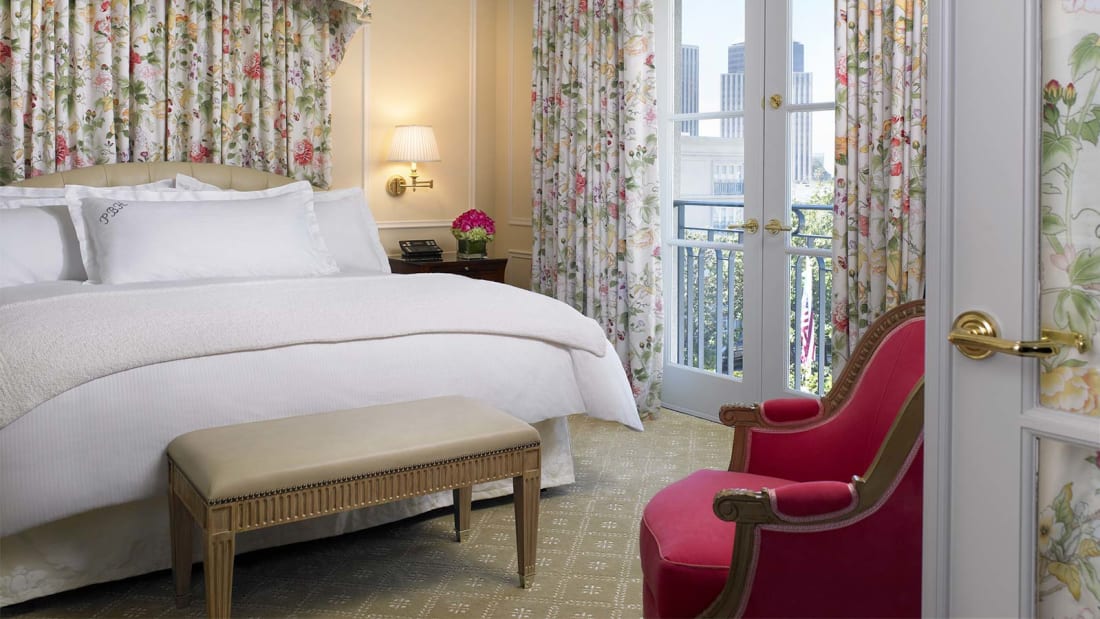 2. Marriott Hotels
It might interest you to know what kind of mattresses Marriott Hotels use, they use Jamison beds. The Jamison bed is the mattress used in all Marriott Hotels worldwide.
According to this product description, this hotel bed is a resilient high-density comfort foam that offers medium-firm support and prevents sleeping partners from sinking into each other during the night. The innerspring is a firmer mattress that uses independent pocket coils for sleepers who prefer a more supportive bed. It is designed to equalize body support thereby improving blood flow and allowing for more restful slumber.
The Marriott Mattress is designed to remain firm for years of restful nights and enjoy a quick-recovery. It is the most comfortable hotel bed.
3. Westin Hotel Mattress
The Westin Hotel Mattress also known as the Heavenly Bed is well known for its incredible comfort and luxurious sleep experience. Travelers worldwide have enjoyed its comfort night after night. It is also one of the few hotel beds that consumers can buy.
The Westin hotel mattress is made by mattress leader Simmons specifically for the Westin Hotel chain. As Westin notes, this hotel mattress is "…uniquely designed with plush, pillow-top construction for premium comfort and support. Slip into the Westin Heavenly Bed and experience a night of restorative sleep to get you ready for the day ahead."
The Westin Bed is one of the finest hotel beds in the world and is renowned for its comfort and stability. Almost all Westin mattress reviews suggest that this bed lives up to its reputation and is worth the cost. If you can find a Westin Mattress sale, jump on it because it is typically worth your time and money.
4. Sheraton Hotel
This hotel uses Sheraton Sleep Experience Mattress that's also regarded as Sheraton Mattress. It is available for purchase directly from Sheraton or from Amazon. The Sheraton Sleep Experience features a custom-designed mattress with a very nice, plush-top design that "delivers even, all-night comfort."
5. Fairmont Hotels and Resorts
Fairmont hotels and resorts redesigned its current mattresses in 2016 to improve the experience of guests. It incorporates cooling gel memory foam to combat stuffiness with a plush pillow top cradling the head and supporting the neck and spine. The Fairmont Gold Bed, reserved for luxury suites, combines gel memory foam with high quality innersprings, striking the ideal balance between comfort and support for most guest's needs.
Furthermore, there are some hotel mattresses which help provide utmost comfort which you would like to enjoy. These among several are;
Innerspring mattress
This is said to be used by a vast majority of hotels worldwide, these mattresses use coil springs to support the body, topped by soft comfort layers or a mattress topper. Luxury hotels are more likely to use a pocket spring mattress having its individually zoned springs that offer customized support for different areas of the body.
2. Memory foam mattress
This is a popular choice for people who prefer a soft mattress, or who probably have aches and pains or joint conditions that can be soothed by sinking into foam. Memory foam mattresses are less common in hotels, as some guests don't like the 'sinking feeling,' although memory foam is still used in other ways.
3. Hybrid mattress
A good number of luxury hotels incorporate memory foam into innerspring mattresses or use memory foam mattress toppers to help offset the firmness of a spring mattress and find a comfortable middle ground. Some also use cool gel memory foam that absorbs heat to prevent the bed from heating up or feeling stuffy at night.
4. Latex mattress
This is scarcely seen in hotels, a natural latex mattress can be a more expensive option, but they also offer unique benefits. Latex is a naturally hypoallergenic and antibacterial material that won't attract germs or bugs. It offers the quality of the memory foam and the firmness of a spring mattress, with a longer lifespan than either.
6. The Four Seasons Hotel
The Four Seasons The luxury whole currently sells the complete set—mattress, boxspring, and also the signature Four Seasons pad topper, all customizable—manufactured by Simmons Bedding Company. costs vary from $1,949 to $ 3,999 for a King or California King.
Our combination of gel and memory foams provides comfort, while a quilted foam finish affords the ideal support for all the body's pressure points.

A Four Seasons exclusive zippered system, our revolutionary topper system allows you to optimize your sleep comfort with an interchangeable signature, plush, or firm topper.

Only compatible with the Four Seasons mattress, this exclusive adaptable system prepares you for the perfect's night sleep.Foursasons