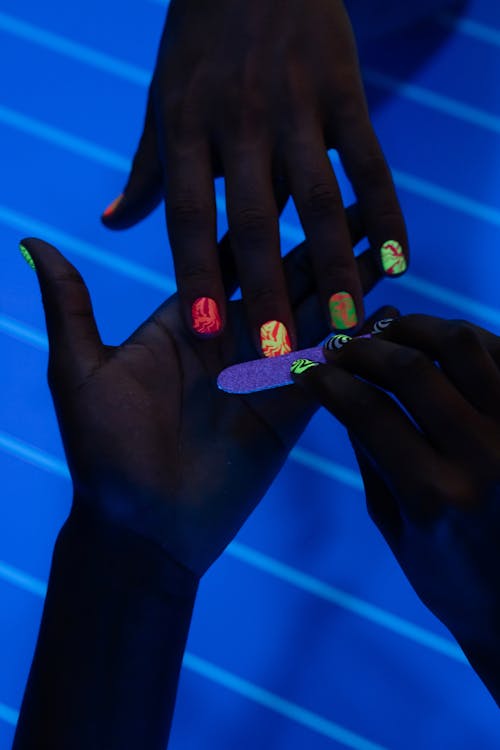 #1 Angel Nails
Unique Nail Designs have been around a pretty long time. It has given us the opportunity to be creative with our nails and show the world new, fresh, and imaginative designs. At first, it would start with one colored nail polish that covers our whole nail plate. But as years progress, people have become more and more original with the designs that they choose.
Nail art has been one of the ways we express our artistic side, and as a bonus, increase our overall beauty and flair. This is why it is no surprise that many of us have chosen to paint over our nails. However, finding the best and most unique nail art that screams us can be a little challenging to find. There are too many to choose from, but luckily, you have found the right article. With that said, if you have been looking for unique nails, well, do not hold your breath, for we will be showing you all the creative and fun nail designs out there.
#2 Moon and Stars Nails
Are you a fan of heavenly-themed things? Well, then you should try this angel nail design. Designs like these are perfect for those who want nail designs that show higher beings such as gods and angels. And to make it even more beautiful, you can add gold accents. Roses, clouds, and everything high above, what don't these nails have?
If this is something that seems to catch your attention, then feel free to try it out and add your own little spin to it. It is sure to catch the attention of any onlookers. These nails designs just scream heavenly, literally.
#3 Nail Print Art
Are you looking for something simple but still filled with more than just one color? Then maybe the Nail Print art would be the one that calls your attention. With these nails, each design is unique. This is the design that borders on the normal with a dash of a bit of fun.
And if you like animal-styled nails, well, this one screams that too. Do you want to follow a print of a cheetah? Or even the design of a cow? Well, good news, you can have them all. These unique nails are perfect for those interested in showing that they like to party with animal prints.
#4 Fire Nails
These nails are on fire, and we mean it literally. Are you looking for something leaning towards the fiery side? Well, this nail design has got you covered. Black, blue, or orange flames, whatever color it is, you can make it your own! Any shade combination would look fabulous with this type of art.
If this is something you think screams your taste, then this trendy nail design is up for grabs. Like the Nail Print art, the design is very simple but captivating enough for any person who dares to look at it, and who wouldn't take a peek? It is perfect!
#5 Butterfly Nails
Contrary to that last nail design, are you looking for something more peaceful? How about something that screams pleasant and tranquil? Well, this butterfly nail art might just be what you are looking for. This design is perfect for those who lean towards a cottage core type of outfit.
If you seem to be that person, this is the best nail to match it with. With the light colors that go along with your attire, this design is sure to complete your whole outfit.
#6 Glow in the dark Nails
Last but certainly not least, we have glow-in-the-dark nails. These nails are perfect for those who are looking to be the light in the darkness, in a literal sense. With these nails, you are sure to stand out in the crowd and grab the attention of those who surround you. If you feel this design shares your personality, this is the unmistakable sign to get these cute nails for you. They scream fun and are not afraid to steal all the attention.
Summary
Nail art, whatever design it may be, can always mean something to a person. Sometimes, this is the medium that we choose to express ourselves and our creativity. Thus, it makes sense that a lot of us are interested in looking at some inspiration that would help bring the vision that we want to live.
Whatever color you choose, whatever design you want to show to the world, you do you! We do not judge! You should just make sure to choose the nail art that you would be most happy with. With that said, we hope you have enjoyed our list of unique nails, and we could only dream of leaving you inspired to start an extraordinary and meaningful design of your own. See More Nail Designs here