Over the last few decades, the city of Dubai has grown to be one of the most unique places on the planet. The people who call it their home are known for the most opulent goods the world has to offer, and it seems that every imaginable item is available for purchase in Dubai. There's hardly anything the locals can't afford! For the most expensive things that can only be found in Dubai, read on!
Diamond-Encrusted Mercedes
The residents of Dubai have made it an art form to spend their money on extravagant products that the majority of the world could only dream of having. The automobiles on display in Dubai will almost definitely raise a few heads, but none will do so more frequently than this Mercedes covered in actual real diamonds. This magnificent car belongs to Saudi Prince (Amir) al-Waleed bin Talal bin Abdul-Aziz.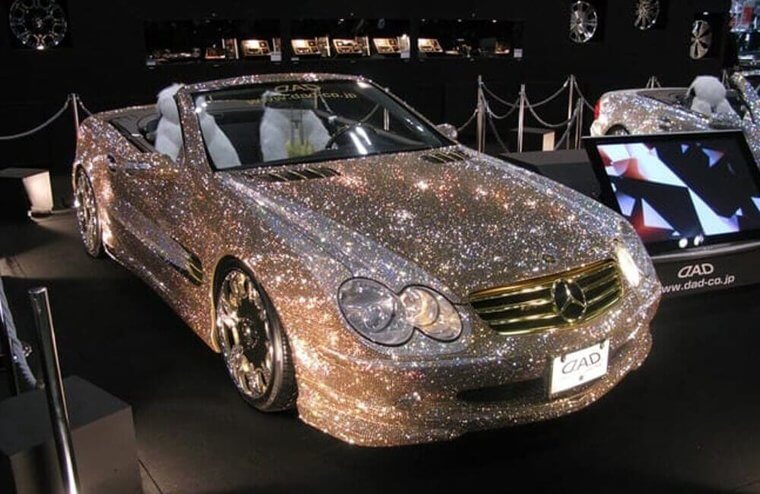 It has over 300,000 diamond decals. As one of the world's richest individuals, the $4.8 million price tag was nothing to him.
Luxurious Underwater Hotels
While Dubai is best known for its skyscrapers and marvelous man-made islands, this city of wonders also boasts a number of hotels that offer tourists the opportunity to stay in underwater hotel rooms. Guests experience amazing underwater views in exchange for a costly fee while staying in the Ambassador Lagoon, which is the suite's most famous location. The most popular of the underwater suites can be found at Atlantis, The Palm – The estimated value of staying one night is $6,225.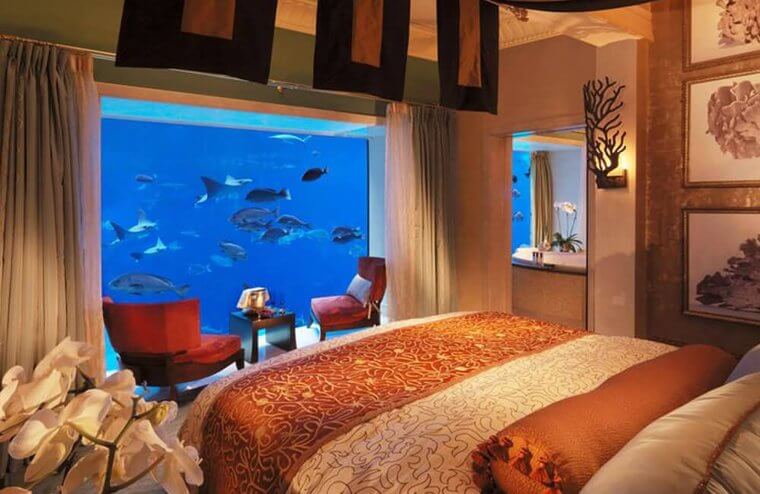 There are other suites that are equipped with floor-to-ceiling glass that allows visitors to have a close look at the more than 65 thousand marine species. A single night's stay at some of the world's most luxury underwater hotels may cost you over $25,000!
Robotic Camel Jockey
A slew of human rights violations marred camel racing in the United Arab Emirates before 2004, including the employment of tiny children as jockeys for the races that date back to the pre-Islamic era. In 2004, the United Arab Emirates' response to the criticism was to ban human jockeys. Therefore, they came up with robot jockeys. The use of robot jockeys is actually slowly phasing out the use of human jockeys.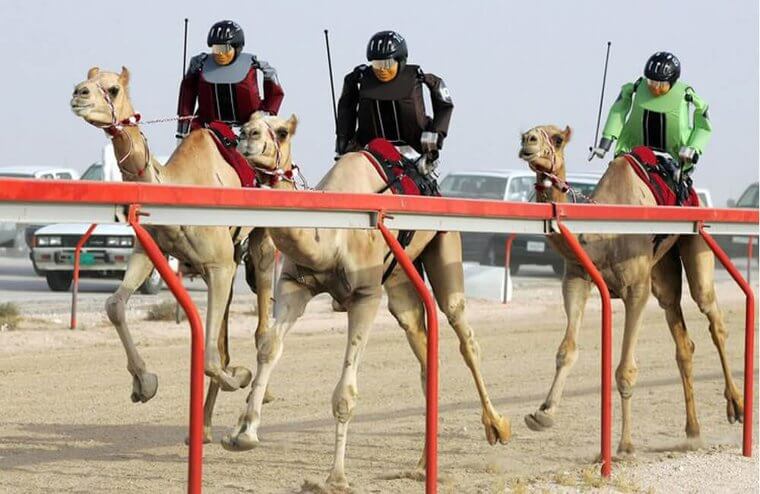 The robots, which are made of aluminum, have the potential of transmitting the camel's heart rate and running pace to the racing crew, which is closely monitored and controlled from a safe distance.
Water Cars
Despite the fact that WaterCar is an American company with its headquarters in Southern California, it is quite popular in Dubai. WaterCar is a company that specializes in the designing and development of premium amphibious vehicles. It was formed in 1999 by Dave March, who was inspired by another amphibious luxury vehicle from the 1960s, the Amphicar, that he created his own version of it. The company debuted the Panther in 2013, the first commercial water vehicle.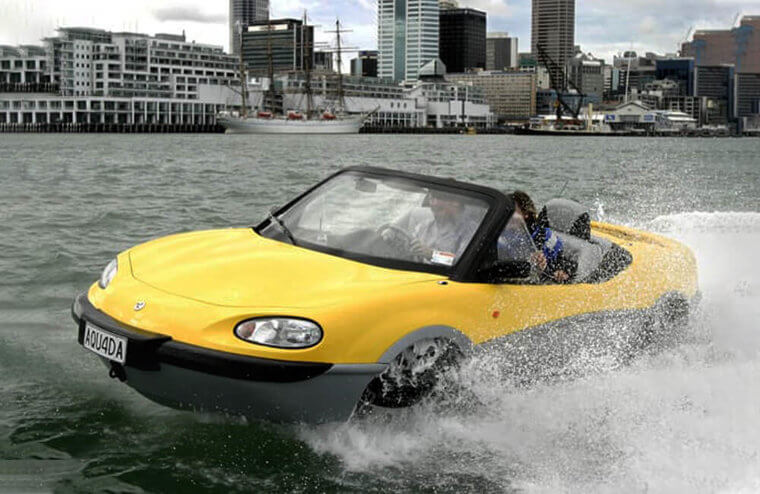 @dayanajimenez_1 / Pinterest.com
Recent models have become popular in Dubai, not just among the wealthy, although Dubai's Crown Prince, Sheikh Hamdan Bin Mohammed Al-Maktoum owns six of these vehicles. These James Bond-esque cars can achieve water speeds of over 60mph.
Helicopter Taxis For Cars
Drivers worldwide have the same experience when they are caught in bumper-to-bumper traffic: they are frustrated and can't do anything because there is nowhere to go except to wait. While there seemed to be no solution to this problem, Dubai had other plans: Helicopter taxis. In Dubai's sky, you may witness helicopter taxis delivering the cars of the affluent and famous people. Residents of the Burj Khalifa regularly witness these heli-car taxis soaring throughout the city.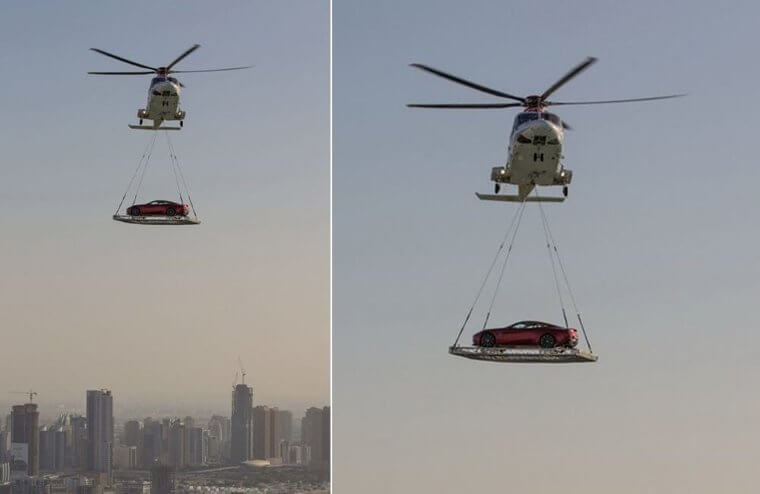 @FunnyHumorPhoto / Pinterest.com
The initiative began in 2017 when a German firm agreed to be the world's first aerial taxi service. Volocopter provided the 18-rotor AATs (autonomous air taxis). A cab for a group of six individuals costs around $144 per person.
Dubai Police Supercars
Given that there are an enormous number of high-end automobiles in Dubai, it appears that police officers also have to ride in style, but more out of need than for enjoyment. It is more common than one would anticipate seeing police officers patrolling the streets of Dubai in high-end luxury vehicles such as Bugattis, Ferraris, and Lamborghinis. The Lamborghini Aventador is a unique police car without a doubt. With a 0-60 mph time of 3 seconds and a peak speed of about 220 mph, it's no surprise that drivers in Dubai don't often break the law.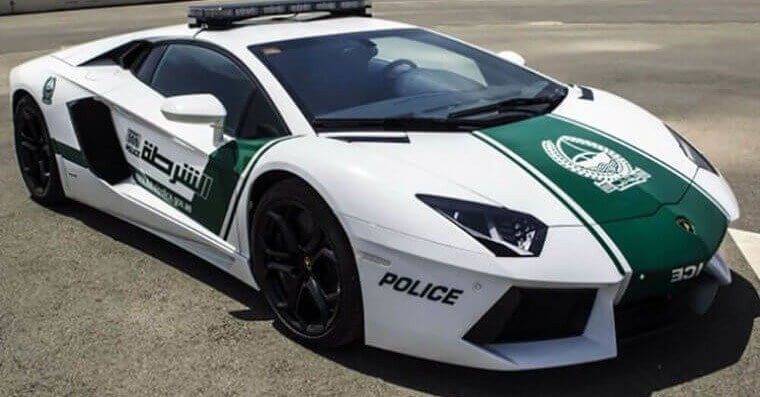 Getting pulled over by an Aventador would be quite the experience. Speeding tickets in Dubai are expensive, so don't take any chances. Ticket prices range from $273 for minor infractions to over $800 for significant violations.
Hydroflying Experience
Extreme sports fans and water sports enthusiasts in Dubai have virtually limitless options for spending their spare time, despite the fact that there is a significant amount of competition. It is unnecessary to travel to the Persian Gulf to locate the next thrill-seeking weekend pastime if high-rise tennis courts and pet tigers are not enough to satisfy one's need for adventure. Hydro-flying boots are available for purchase in the Persian Gulf.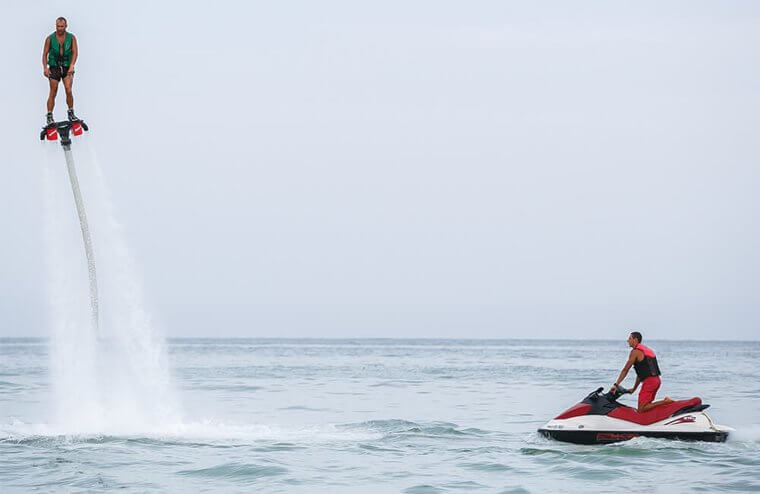 ©hurricanehank / Shutterstock.com
Flyboarding is the latest trend among people with a few thousand extra bucks to spend. Water pressure from the gadget is directed through jet nozzles in the boots, allowing the wearer to float on water. The boots can propel their user over 70 feet in the air or underwater at speeds up to 25 mph.
Artificial Man-Made "The World" Islands
The real estate industry in Dubai is always innovating and coming up with new and state-of-the-art methods to outdo itself with each ad every project. At the same time, as other nations are developing airport islands off their shores, Dubai is creating entirely new worlds. The effort done to develop the Palm Jumeirah appears like a warm-up for the mammoth endeavor that is "The World" Islands, which is still ongoing.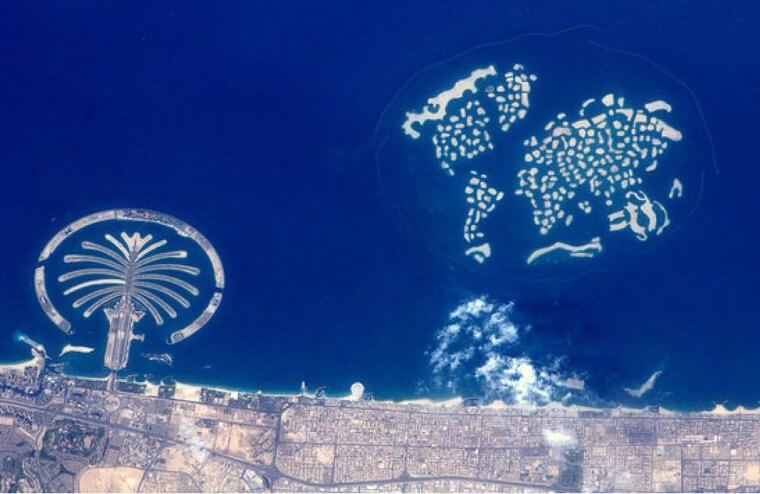 From above, the islands are designed to resemble a map of the world. When finished, "The World" will be 3.7 by 5.6 miles in size, with seven groups of islands totaling close to 260.
Pet a Penguin In the Middle of the Desert
When it was completed in 2005, The Mall of the Emirates surpassed all previous records as the world's largest shopping mall. Visitors believed they had seen all the mall had to offer until a ski resort developed adjacent to the mall five years later. A few years later, The Penguin Experience opened within Ski Dubai, enabling visitors to interact with King and Gentoo penguins. Entry tickets prices vary, and the most costly tickets allow penguin fans to engage with and pet a penguin, under supervision, of course.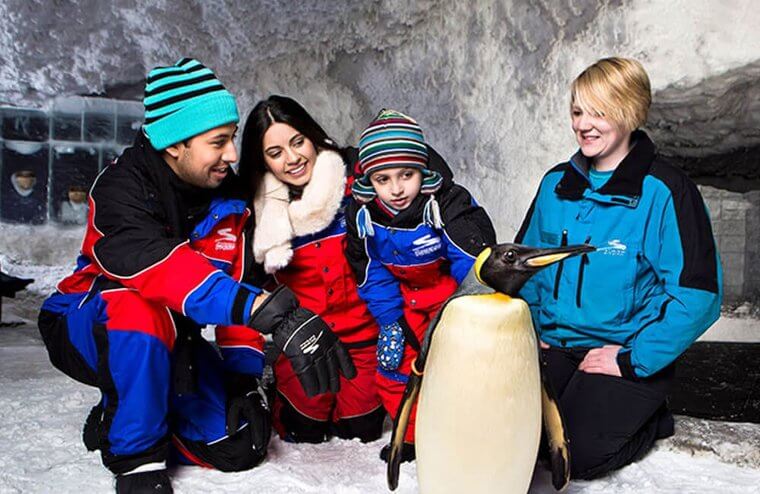 @myconciergeUAE / Pinterest.com
The cheaper admission allows you to wander inside an ice cave and observe the penguins up close. So what if it's in the middle of the Arabian desert?
Indoor Skiing in the Mall
In 2005, Ski Dubai, which was built by the Majid Al Futtaim Group, opened its lifts for the public for the first time. With three lifts that take skiers to the top of one of the five lines on this indoor mountain, which is about twenty-five floors high, Ski Dubai is conveniently located within the Mall of the Emirates. Ski Dubai also has a 30,000 square foot snow park with an ice cave, toboggan runs, ice slide, snowball battle area, and a penguin enclosur.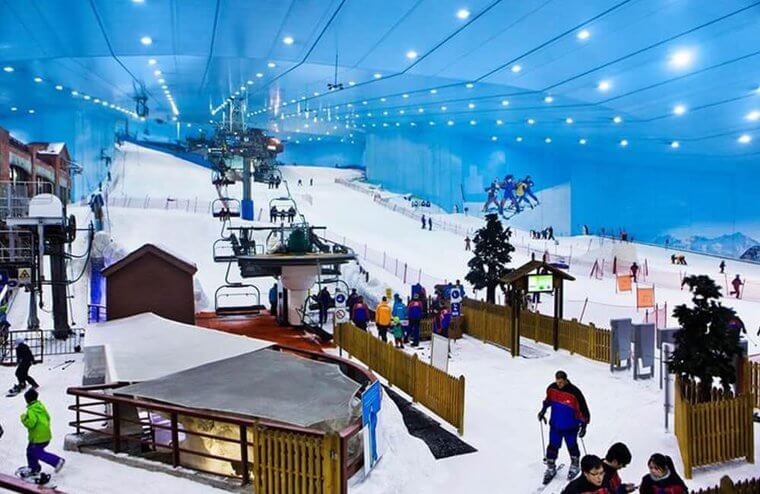 @emanuelveloza / Pinterest.com
This ski resort's internal temperature is kept at around 30 degrees Fahrenheit (around -1°C) all year round to ensure excellent winter conditions.
Elite Ambulances
Going to the hospital is never a pleasant experience. It can be highly stressful for the patient, so Dubai came up with a different method of reducing patient stress. It involves the employment of a fleet of converted limos that have been outfitted with everything a patient could possibly want to reduce stress. Anyone in Dubai with regular medical coverage is entitled to a ride in one of the limousines.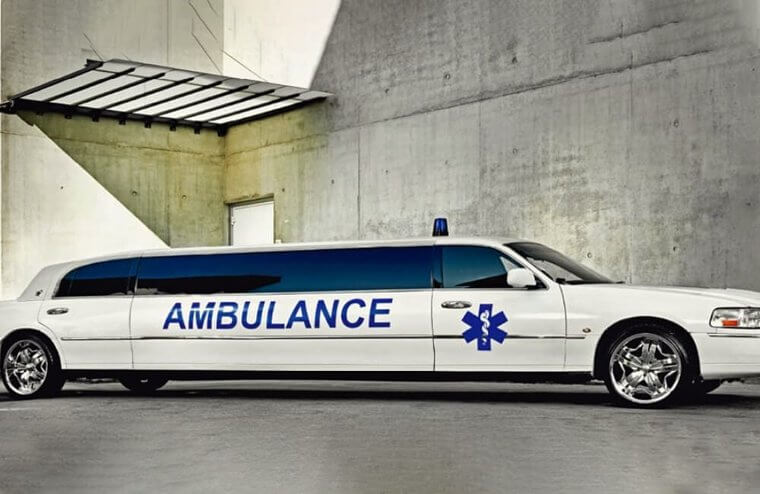 One of the benefits of riding in one of these ambulance limos is that there is always room for one more person. However, these limo ambulances aren't for emergency cases.
Mustang Motorcycles
Luxury automobiles have now become a regular sight in Dubai, and we can see them on almost every corner. When it comes to personal vehicles, Emiratis don't hold back. They either get flashy vehicles or customize cars and motorcycles to give them a distinctive touch. They drive anything from Lamborghinis and Buggatis to double-wide Jeeps. A mustang motorbike in Dubai is not the same as a classic bike in America. The bike was designed after an Arabian Horse for a horse lover in Dubai.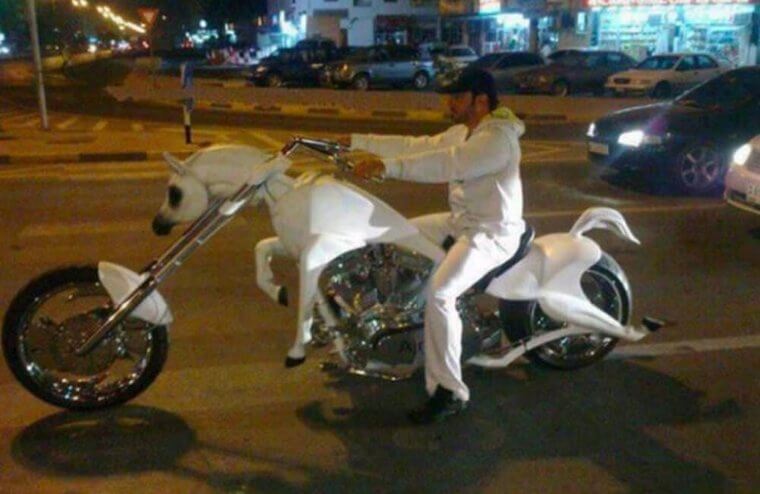 Others have copied it but no one can compete with Emiratis. Understandably, these Emirati "Mustang-Motorcycles" have become the buzz of the town.
Flights For Falcons
Individual possession of a falcon is considered to be one of the prestige symbols in Dubai. As the national bird of the United Arab Emirates, the falcon is given the highest level of respect. So it is no surprise that the bird is treated better than people there. It's normal for pet owners to worry about their pets when flying, as keeping one's pet in a different part of a plane for the whole voyage is enough to cause alarm.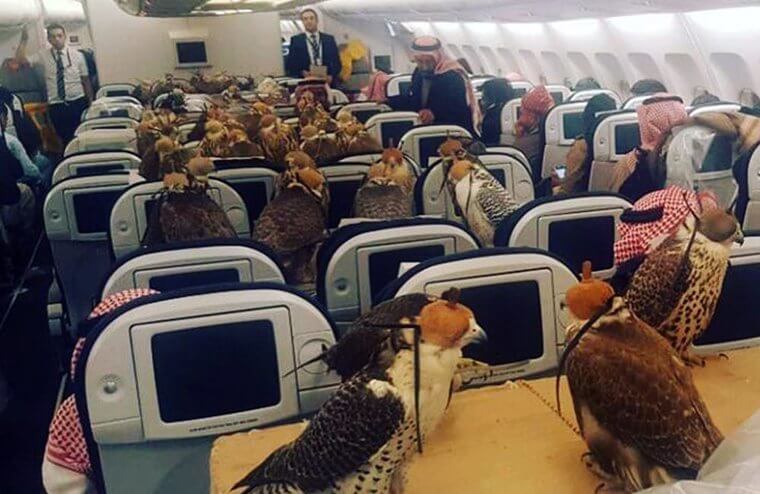 @crazipanda156 / Pinterest.com
Falcons are so cherished in the UAE that they are permitted to ride uncaged in the passenger cabins, with their own personal seats, no less.
ATMs For Gold
If anyone needs some additional spending money or perhaps a gold bar while on vacation in the UAE, there is nothing to worry about; ATMs are accessible for exactly such occasions. In 2010, the Gold To Go gold bar ATM made its debut in the United Arab Emirates. The machine offers a range of personalized coins as well as weighted, 24-carat gold bars (worth roughly $1.46 million) that are packed in plastic.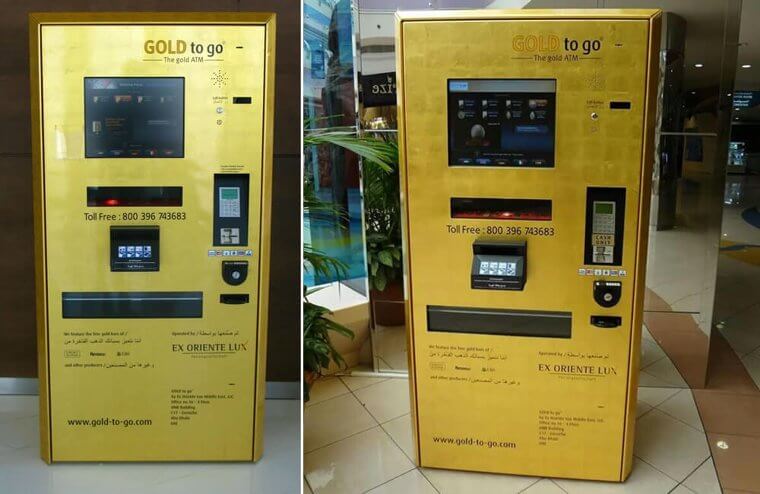 @billgursky / @fairgreen / Pinterest.com
To avoid theft, the Gold To Go features cameras that record every transaction, and it is designed like an armored truck and has been tested with explosives.
Gold-Painted Jeep Grand Cherokees
If anyone wants to live in Dubai, they'd have to feel or even look luxurious. Although boasting a lavish lifestyle is not mandatory for everyone, it has become a norm there. Take an example of gold-plated vehicles that are popular in Dubai. So if anyone cannot afford a new Lamborghini or Ferrari, they opt for the more common Jeep Grand Cherokee. While the urge to make one's Cherokee stand out during rush hour is understandable, it is not required.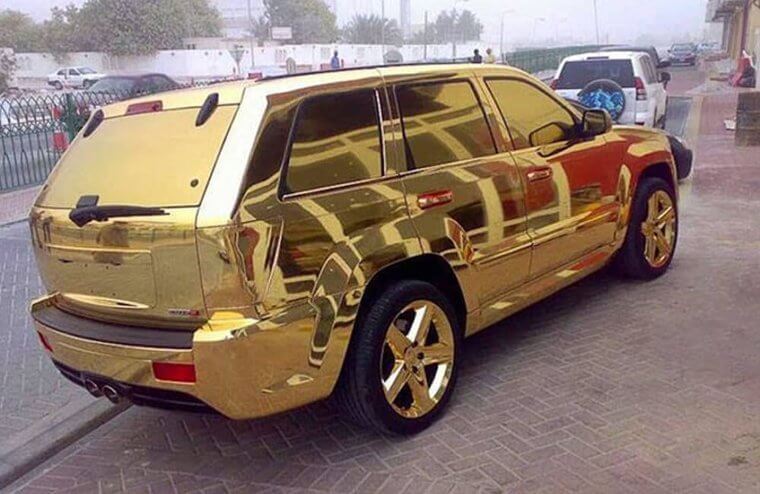 For a few hundred thousand dollars extra, Jeep owners may have their cars painted in 24K gold. Repainting Jeep costs between $3,000 and $5,000. Add on the costly gold paint and you're looking at up to $10,000.
Real Life Batmobile
When it comes to escaping from the reality of the Western world and living in an adult playground, Dubai is the place to be. It's a massive city, with shiny accessories and super-fast automobiles. This is the place where people come to enjoy life and do stuff that makes them stand out from the rest. In Dubai, the opulent, over-the-top automobiles look to be remnants from video games like Gran Turismo or Grand Theft Auto.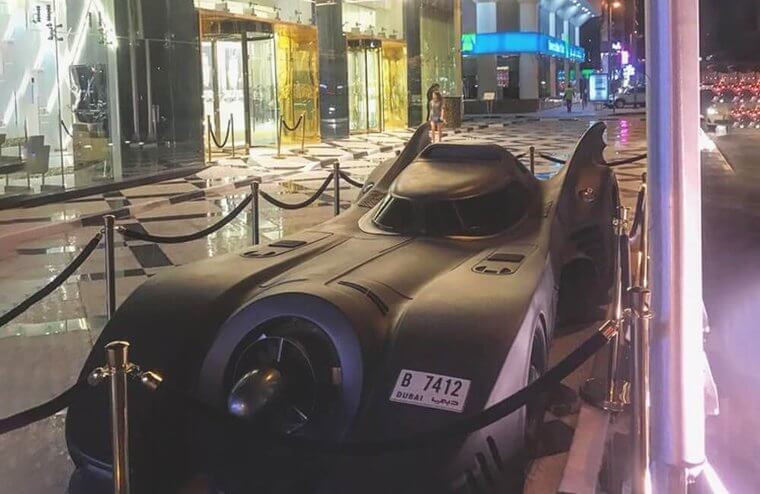 @mayraperezmadri / Pinterest.com
Take an example of this Batmobile that is a good illustration of how people like to look unique. However, we doubt Bruce Wayne is behind the wheel.
Artificial Palm Island
Thanks to the substantial revenue generated by oil sales in Dubai, the construction of The Palm Islands was relatively inexpensive at – wait for it – $12 billion. It was completed in only six years. When it came to dislodging and correctly spraying the 120 million cubic meters of sand that was retrieved from the ocean's depths to build the trunk and branches, the dredgers relied on a high-tech GPS system and worked around the clock to complete the task.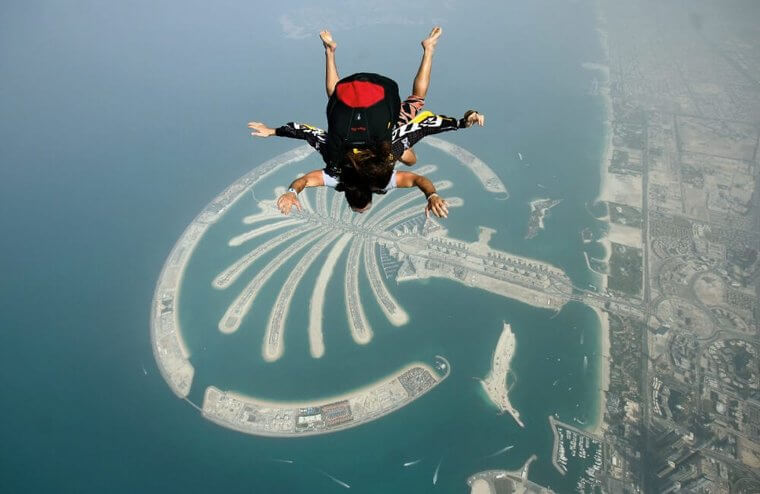 The Palm Jumeirah has roughly 1500 luxurious mansions. The sand needed to create the Palm Jumeirah could erect a two-meter wall three times the Earth's diameter. According to Bayut.com, this equates to 3.319 billion cubic feet of excavated sand.
High-Rise Tennis Courts
The Burj al Arab hotel's rooftop tennis court is the highest of Dubai's high-rise rooftop tennis courts. In 2005, Roger Federer and Andre Agassi were asked to play a friendly match on the world's tallest rooftop court to promote the Dubai Duty-Free Open. Playing tennis at the Burj al Arab costs between $1,000 and $28,000 a night, however, every visitor can play a set or two. So who could refuse such a chance?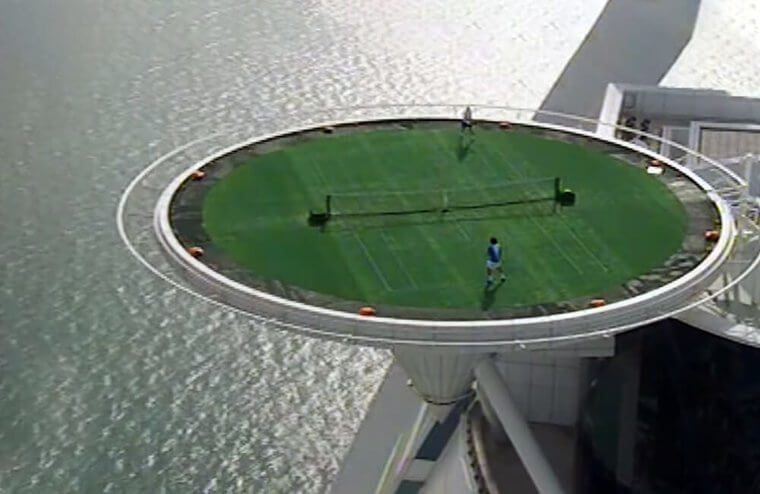 @Dubai Duty Free Tennis Championships / Youtube.com
Remember that if a ball is struck out of boundaries, the court is above water, so that will not be a problem. So who's up for a quick game of tennis high in the sky?
Pet Cheetahs
Emiratis have been known to keep tamed Cheetahs as pets as a prestige symbol for their wealth and power. Despite the fact that the cats are typically reserved creatures, they may be spotted accompanying their owners on walks or riding shotgun in one of the luxurious automobiles that their owner is guaranteed to be in possession of. Having a wild, unpredictable animal as a pet might lead to some disastrous events., though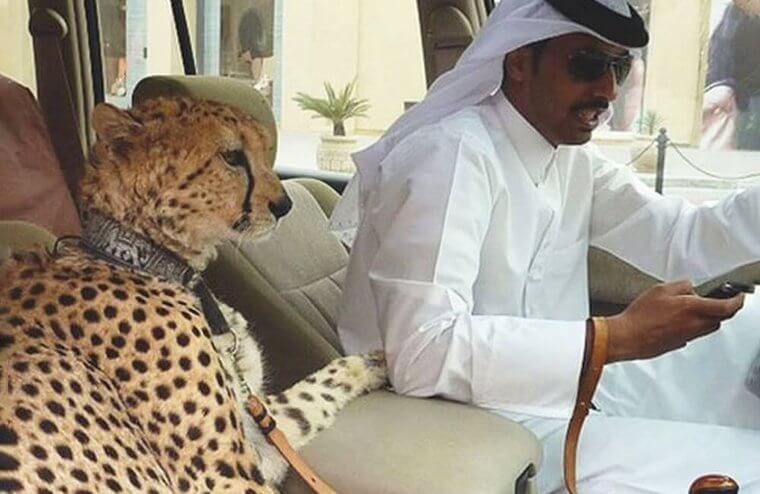 To be honest, owning a pet cheetah is unethical. These lovely cats are native to central Iran and Africa, and confinement can cause a range of health issues. They should be left alone rather than imprisoned and tamed to display a person's riches.
The Burj Khalifa: World's Tallest Building
Construction of the Burj Khalifa began in 2004, and the structure was completed in under five years, according to schedule. The construction of the Burj Khalifa, which stands at a whopping 2,716.5 feet tall, was not without obstacles. Emaar's property developers came into early funding challenges, as many other large projects do. Thanks to the funding by the UAE ruler Sheikh Khalifa, the funding no longer remained a problem. That explains why it was named after him.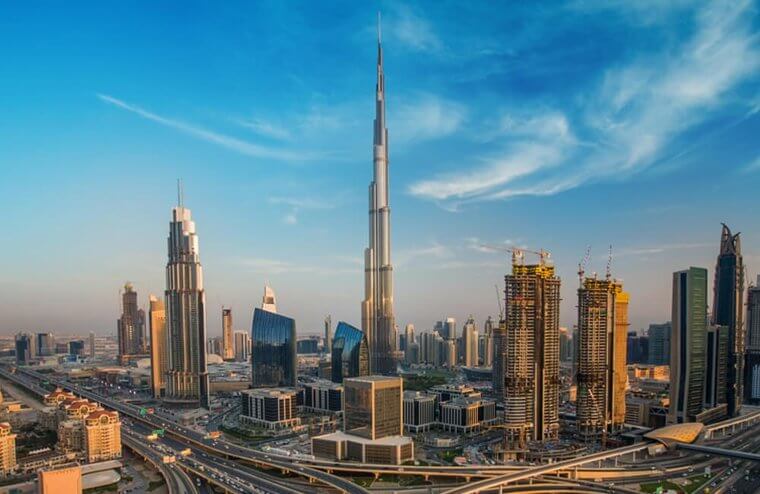 The building's architecture and construction have been praised widely. The Burj Khalifa has benefited the neighboring hotels, residences, and stores in Downtown Dubai significantly more than the structure itself.
Rolls Royce Taxi
With the advent of ride-hailing services such as Uber and Lyft, we are all accustomed to the convenience of getting a cab to travel at any time from point A to point B these days. But what would you do if a $500,000 automobile showed up in front of you and offered to transport you to your location? In Dubai, this is not an unusual occurrence. The Dubai taxi service celebrated the Dubai Motor Festival by acquiring a number of high-end cars.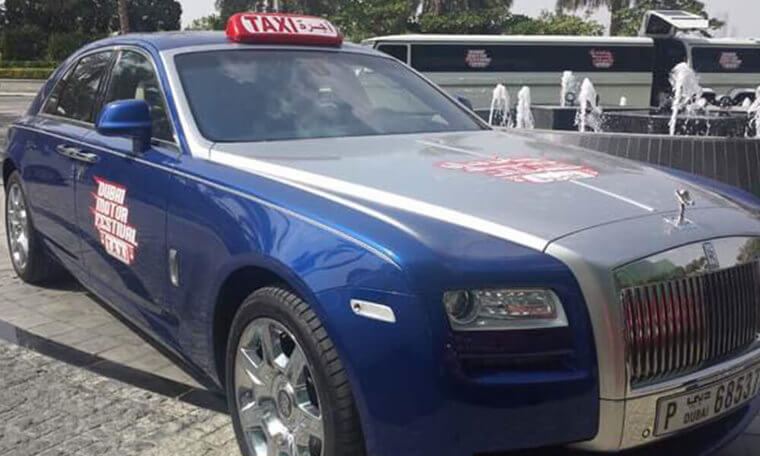 In addition to the usual taxis, there are Rolls Royce, Lamborghini, and Ferrari cabs available. This sort of luxurious service can only be found in Dubai.
Edible Gold Desserts
The United Arab Emirates has swiftly established itself as a popular destination for travelers who appreciate the finer things in life. In Dubai, you can get anything from luxurious automobiles to exotic pets, and the city is also a terrific destination for individuals who enjoy eating pricey delicacies. Besides serving up the customary palate-pleasing food, Dubai has begun to establish its own gold standard in the world of dining.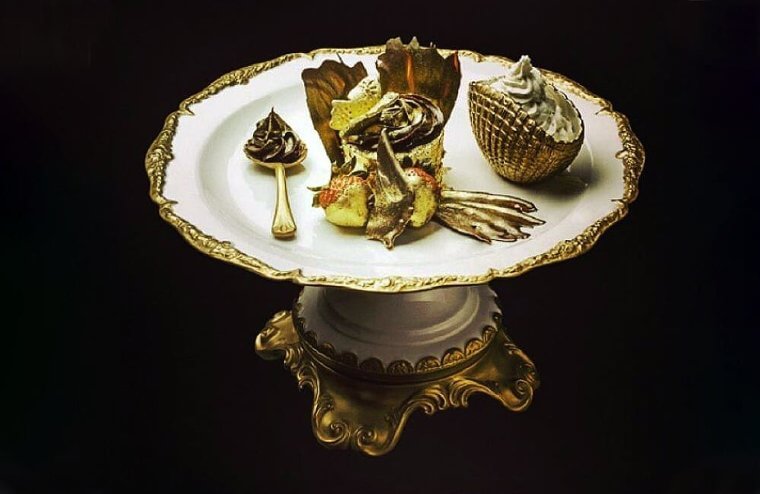 Bloomsbury's Cafe is one of Dubai's bakeries that sells golden sweets and is located within one of Dubai's numerous shopping malls. The 'Golden Phoenix Cupcake' is a regular cupcake with one notable feature: a 24K edible gold sheet.
24-Carat Gold Facials
No one can deny the fact that there are several golden possibilities available in Dubai, and the Zabeel Saray is certainly not lacking in this regard. The '24K Gold Facial Treatment', available at the Jumeirah Zabeel Saray on the Palm Jumeirah, is one of the most luxurious treatments available anywhere in the world. Make no mistake about it: this isn't simply a face treatment; it's an unforgettable royal experience.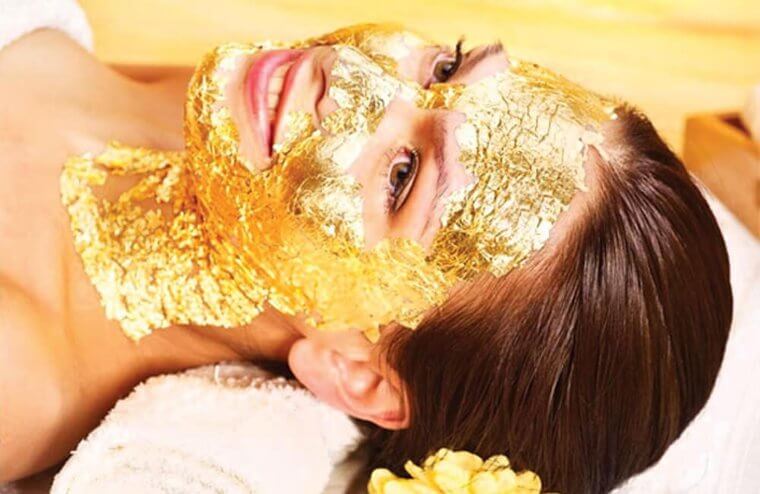 It has everything from an Argan oil massage to a caviar lunch, but the $6,800 bill isn't simply for fine food and a wonderful massage. People are prepared to spend top dollar for this procedure because of the 24K gold facial mask. These masks are expensive, but the gold is said to have rejuvenating powers that make skin seem younger.
Pet Tigers
When traveling to a new place, tourists are certain to encounter sights and experiences that they had not anticipated. In some places of North America, it would not be unusual to find a person with a pet fox or alligator as a companion. For many years, it was not uncommon to see people carrying their pet tiger or lion along the street in Dubai. Fortunately for these big cats, owning a jungle cat in Dubai is not so common these days.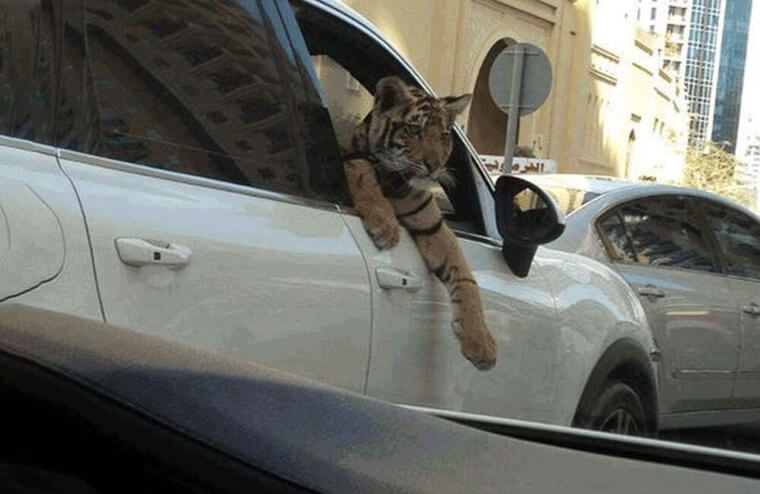 Owning a lion, tiger, or cheetah as a pet was deemed illegal in Dubai and the UAE over four years ago. People who want to brag about their status are prepared to face a $136, 000 fee to keep their image clean.
A Luxurious Rush Hour
Being stranded in traffic at rush hour may certainly spoil someone's day. Sitting in a car for hours on end, gazing blankly ahead, hoping for nothing more than that the car in front of you would move a few meters at a time, may drive even the most patient person insane. However, unlike other cities, Dubai's rush hour is rarely boring and resembles a luxury auto display more often than not.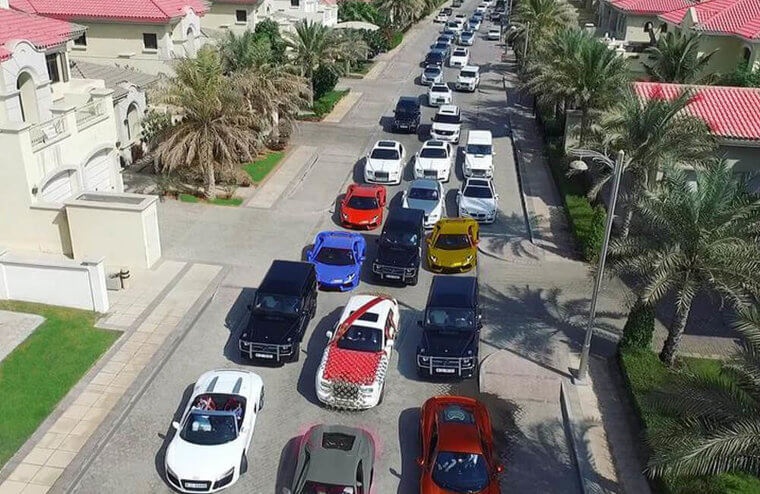 Driving in Dubai is never boring. Because Emiratis like costly automobiles like Ferraris, Bugattis, and Lamborghinis, rush hour can be quite the spectacle. Every day in Dubai, one might witness a dozen or more cars costing over $1 million.
Driving Cars On 2 Wheels
When driving through Dubai, it is possible to observe individuals participating in high-rise rooftop zip-lining; however, if driving near the sea, it is possible to watch flyboarders pushing themselves through the air and over the water. Abu Dhabi is a terrific destination for adrenaline seekers from all walks of life, and if it's more extreme activities that one is looking for, Dubai can accommodate those as well. Dubai offers one of the most stunning skydives in the world, and at only $600 USD, it is one of the most economical activities to do while in Dubai.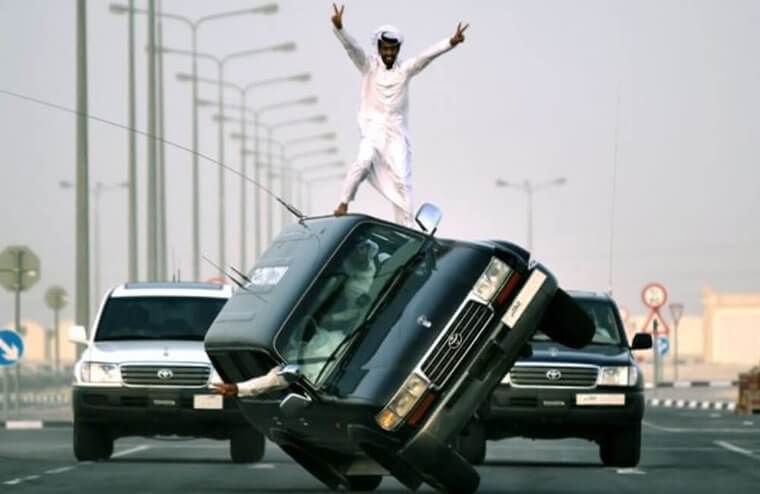 Dubai is also renowned for its aggressive base jumpers and vehicle surfing on crowded roadways. So do get there for some crazy time.
Diamond-Encrusted Phones
In light of the escalating expenses of cell phones these days, it should come as no surprise that some Emiratis have chosen to stay with what they are acquainted with and have gone back to an old classic. However, it is not because of their elegant designs or excellent operating systems that Nokia cell phones have recently regained a lot of popularity in Dubai. It's for the same reason as most other things: to save money.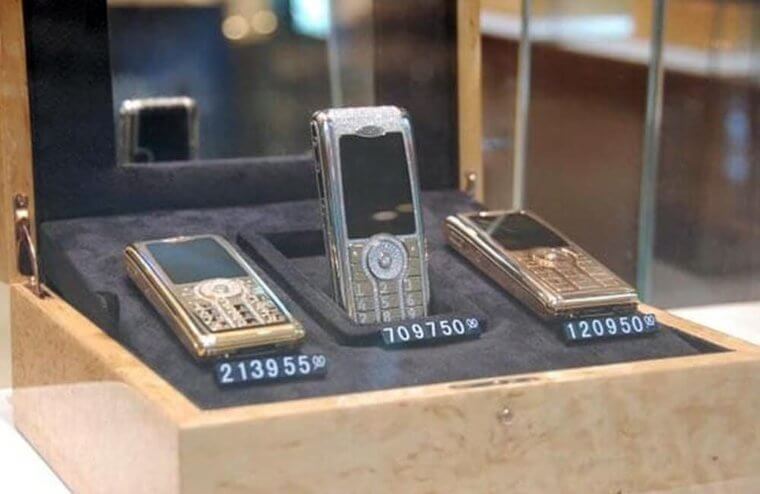 The Nokia Supreme is a high-end cell phone that features 12.5 carats of pink diamonds that have been meticulously hand-set into the phone's frame. Even if a gold-plated iPad would be impressive, a diamond-encrusted cell phone, which costs $170,000, serves as a status symbol for those who can afford it.
Horse Stables Made Out of Marbles
One way to flaunt wealth in Dubai is by surrounding oneself with expensive items and exotic animals. If someone has a few thousand dollars to spend on a golden desert, they will almost certainly spend a significant portion of that sum to ensure that their animal companions can enjoy every amenity that is made available to them. Besides keeping some of the most expensive horses in the world, rich Emaritis ensure their friends have a good overall life.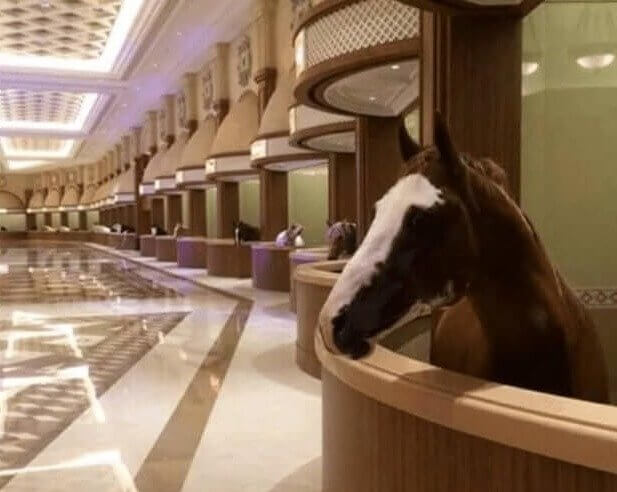 @mayraperezmadri / Pinterest.com
The Godolphin Stables, home to the world's biggest horse race, has marble floors and painted walls. Sheik Mohammed bin Rashid Al Maktoum's indoor stables are temperature-controlled, and the top equines are well-cared-for.
Rooftop Boxing Practice
The Sofitel The Palms Dubai has an excellent boxing gym with amazing views. The Extreme Fitness rooftop boxing gym is reasonably priced too. For approximately $80, Sofitel Hotels & Resorts provides guests with an hour of professional training and a spectacular view. Even if someone isn't a fan of boxing or never done it before, it would be best to try it for the sake of thrill and fun.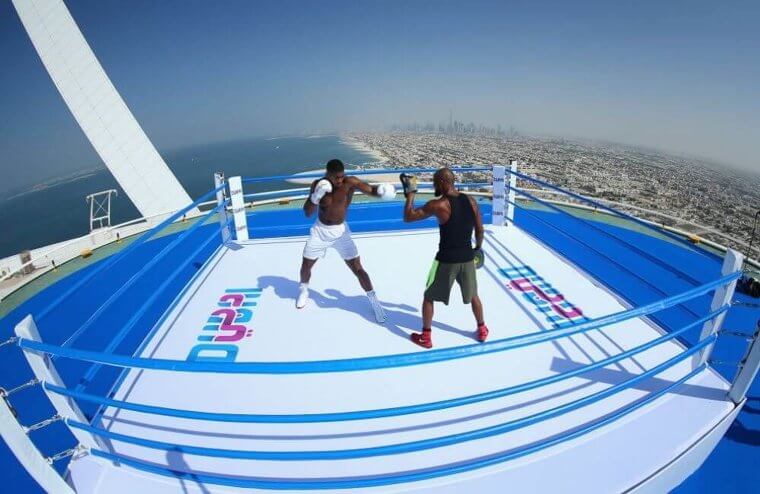 Hiring a rooftop boxing ring with this view costs around $15/hour. Due to high demand, booking the ring a few months in advance is advised.
Luxury Race Car Test Drives
Since the introduction of their test-drive program in 2015, Dream Racing in Dubai has been assisting racing car enthusiasts in living their dreams of driving their favorite cars. It costs $5,500 to participate in the event, which includes equipment, a training session, and – most critically – liability insurance. Participants can choose between the F1 Jaguar 2000 or the F1 Arrows 2002, both piloted by former F1 drivers Heinz-Harald Frentzen and Eddie Irvine.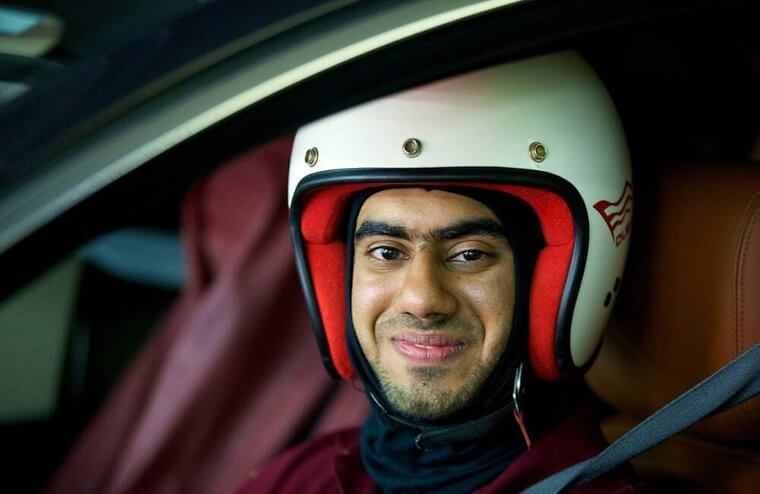 @theculturetrip / Pinterest.com
Both cars can reach speeds of approximately 200mph, so anyone intending to test drive one should be familiar with manual and high-speed driving.
Hot Air Balloon Ride over Dubai Desert
Take a moment to imagine what it might be like to glide across the desert sky above Dubai. From hundreds of feet above the surface of the planet, you can see everything and nothing at the same time. An unending sea of rolling red and orange waves is created by the reflection of the sun rising over the sand dunes. For approximately half the price of a tandem skydive in Dubai, one might view these vistas and have a very different experience.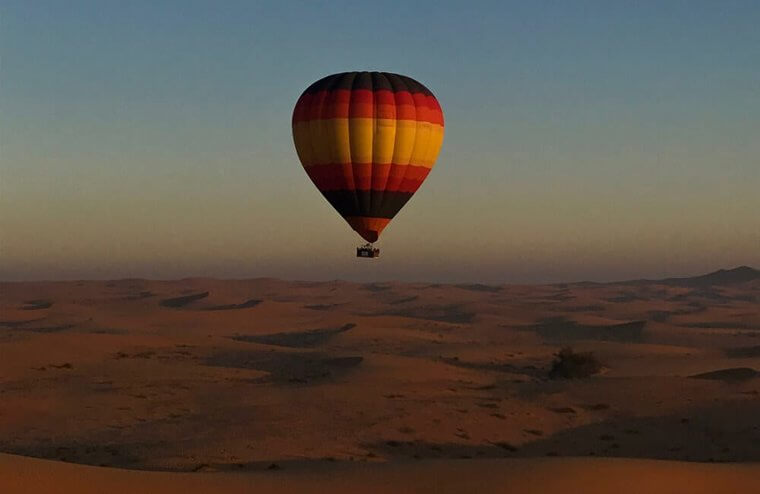 ©Maria Carolina Martins / Shutterstock.com
The package includes breakfast, a falcon display, and a 60-minute air safari with stunning views of the Dubai desert.
Gold and Diamond Pacifiers
All because kids cannot communicate and spend most of their time sleeping, eating, or pooping does not rule out the possibility that newborns should also be entitled to the same golden rewards as the rest of their household. That is why high-society parents are ready to spend a lot of money on Babybling's best-selling 18-karat gold and Swarovski crystal-studded pacifier, which is now the best-seller. Camilia Mohebi, the owner of Babybling in Dubai, understands the need for children to emulate their parents' achievements.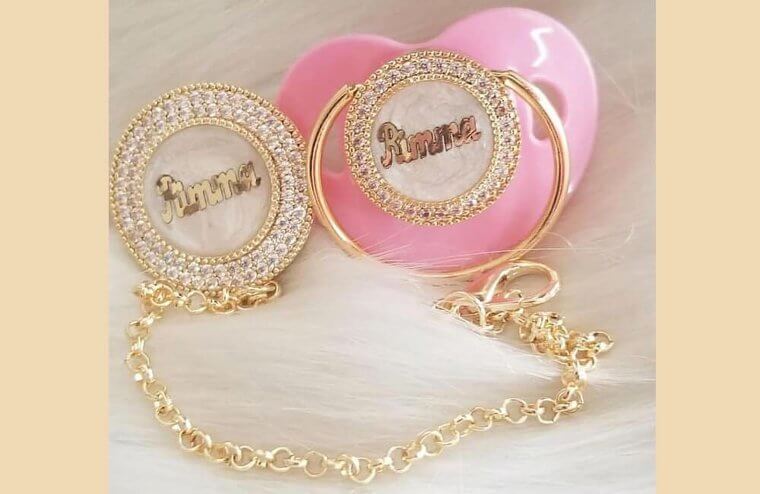 @mayraperezmadri / Pinterest.com
It costs around $5,500 to purchase a diamond-studded golden pacifier from Mohebi's boutique, which is the most costly item she offers for sale.
Jaw-Dropping Restaurant Bills
This restaurant bill clearly shows that the people of Dubai are not averse to parting with their money in order to have a good time. The total bill is close to $105,627 dollars. The booze was the primary reason for the high cost, but the meal was also not inexpensive. The cost of the little birthday cake for this occasion was $33. The birthday bill is relatively ordinary for a wild night out in Dubai.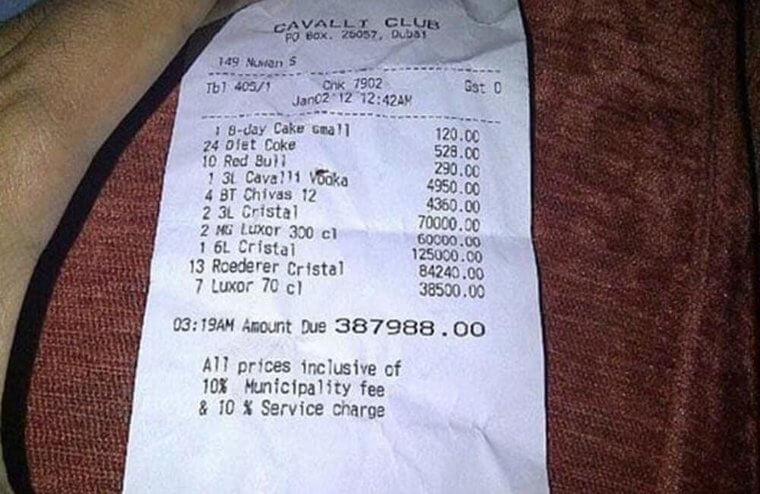 @mayraperezmadri / Pinterest.com
Tourists from the US and UK may anticipate spending 50% to 100% extra on alcohol in Dubai, especially in clubs like Cavalli.
Private Concerts
Some of the world's most well-known singers and rappers have received millions of dollars in compensation for private concerts in Dubai. Emiratis are wealthy enough that they don't have to stand in line for a performance; instead, they may hire an artist to come to their location. For example, in 2011, Jay-Z and Kanye West received a $6 million payment from a private concert booking company in Dubai.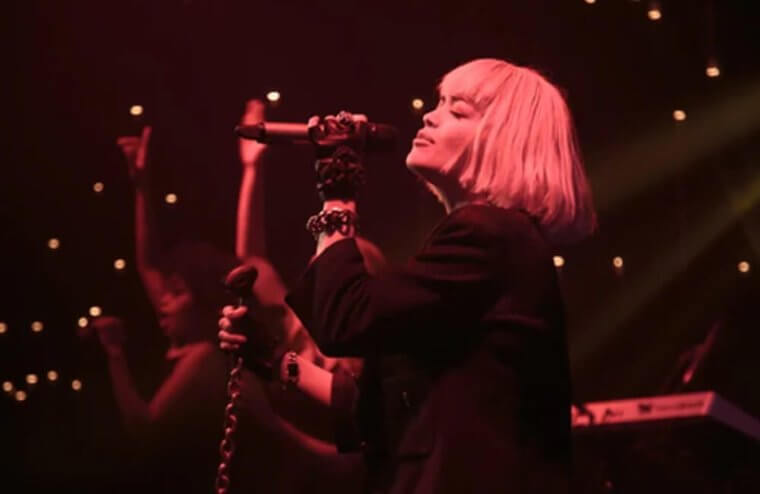 Sheik Mansour (the UAE president's brother) hired them for his niece's sixteenth birthday. Sheikh Mansour owns Manchester City F.C. The duo also played songs from Watch the Throne in addition to their solos.
Zipline Over Dubai Marina
One of the world's fastest and steepest ziplines, the XLine transports visitors over Dubai Marina in a matter of seconds. The XLine is 0.62 miles long and rises to a height of 558 feet above the ground. You can go at speeds of up to 50 miles per hour with it. Because of its high speed, the XLine is not recommended for the faint of heart. The stunning beaches, five-star yachts, and crystal-clear sea of Dubai Marina can be seen from above as you zipline through the sky.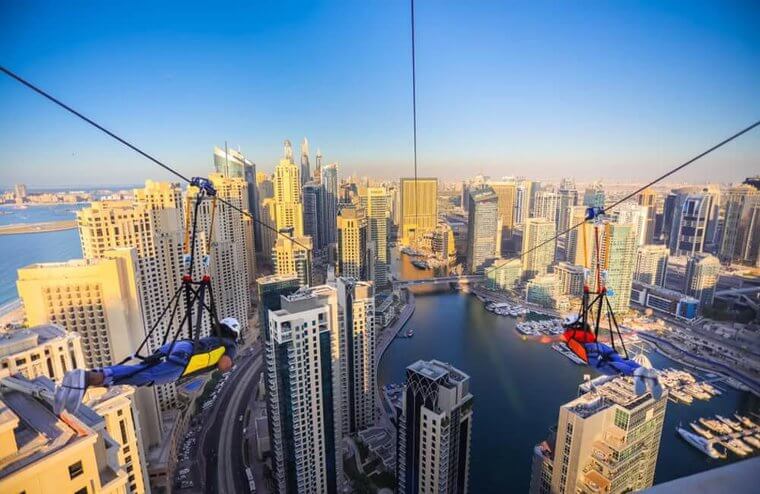 If you prefer a more urban setting, you can take a ride on the XLine above Downtown Dubai, which provides a stunning view of the city's sleek high-rises and glitzy neighborhoods.
💖 If you liked it, you should share it
TRENDING

Bold Red Carpet Looks That Had Fans DividedDenys KantorskyAll Those Times When The Car Upgrades Went Terribly WrongJohn TravisHilarious and Bizarre Wedding Cakes That Stole The ShowKelly VandanThese People Only Had One Simple Job to Do and Somehow Still Messed up Miserably
Awesome iPhone Features That Most Apple Fans Don't Know About
Brenda Miller
This article was originally published on TheFunPost
Over the years, iPhones have gained increasing popularity among people from all over the world. No matter how many brands make their way into the market, it seems like the iPhone will simply never go out of style. But what if we told you that you probably aren't familiar with loads of clever features the iPhone has? Take a look at these incredible (and mostly unknown) features Apple has created to make your life so much easier.
​Speed Up Your iPhone
Our devices can get pretty slow either with time or whenever we have too much stuff on our phones. We all know how incredibly annoying this can be, so check out this awesome feature Apple created to rectify this problem. Turns out it's much easier than most people would think.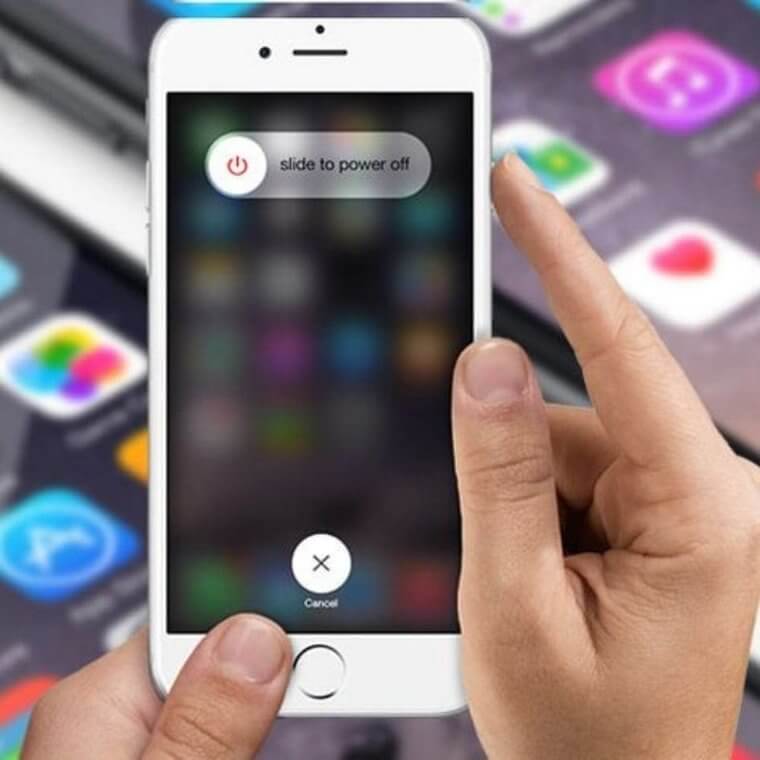 You can simply clean your phone's Random Access Memory by pressing and holding the wake/sleep button until the "slide to power off" message appears. When that happens, release the button and press the "Home Button." Hold it for a few seconds, and the RAM will be cleaned leaving your device much faster.
Put A Timer On Before Going To Sleep
Many of us have developed the habit of either listening to some music or hearing an episode of our favorite podcast before going to sleep. But how many times did you find yourself falling asleep, and leaving the podcast or music running for hours?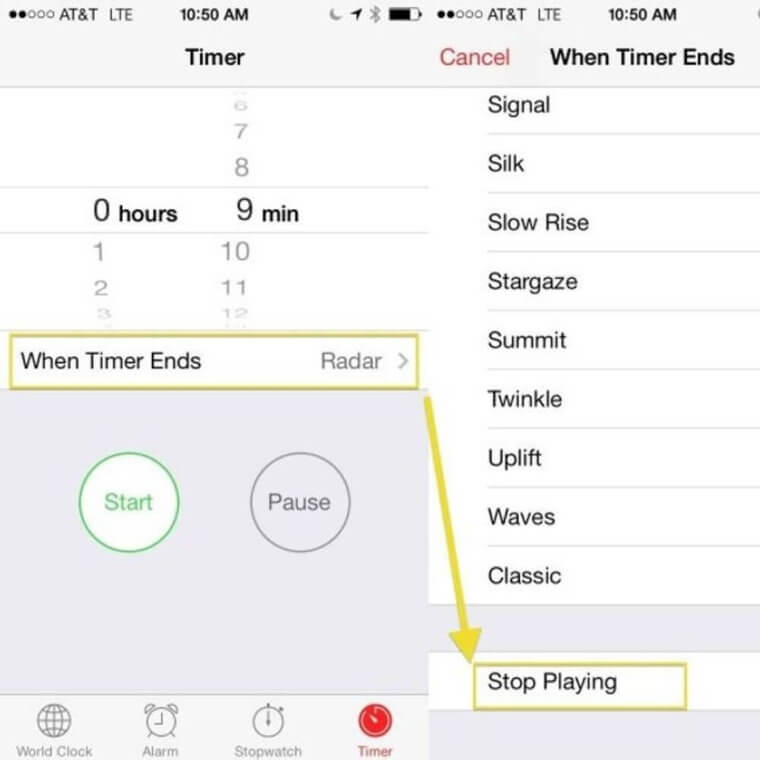 Apparently, you no longer have to experience this because the iPhone has a setting in the Clock app where you can set a timer for how long you want something to play. Genius!
You Can Choose A Custom Vibration
Amongst the many things your phone is able to do, one of them involves changing how it vibrates. Usually, your iPhone pulses whenever you receive a text message, but you might not really be into it. If you'd like to change it, you can customize your vibration settings by choosing a custom-made pattern.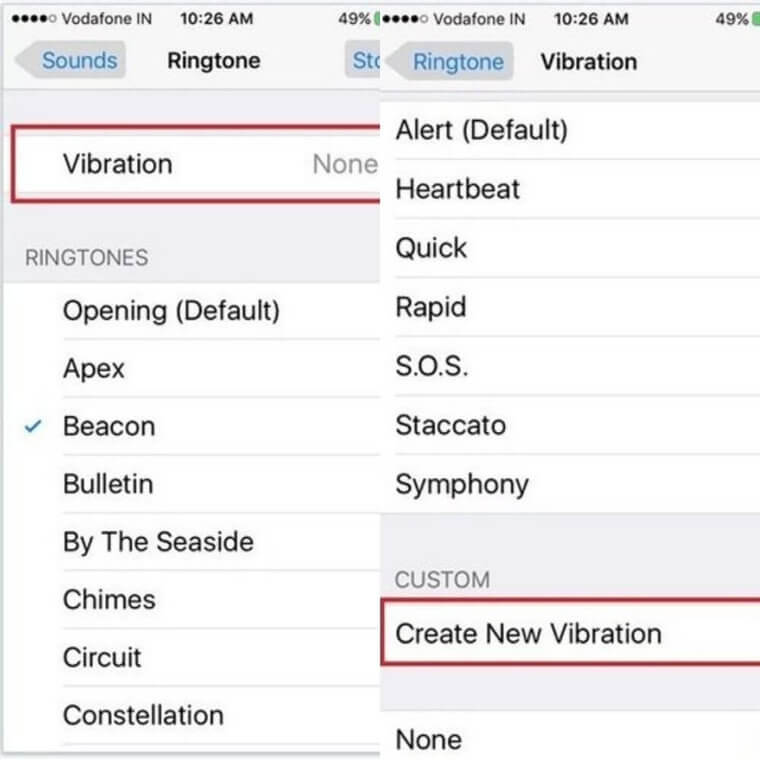 To do so, just follow this process: head to Settings, Sounds, and Sounds and Vibrations. You'll get the option to tap on "Vibration," where you can then create your own pattern. You can even assign custom vibrations to different contacts on your phone.
You Can Check Your Message's Character Count
If you're one of those people who love typing, you might often find yourself with texts that are way too long. So, if you'd like to prevent getting carried away with texting an entire page to someone, accessing your character count might help.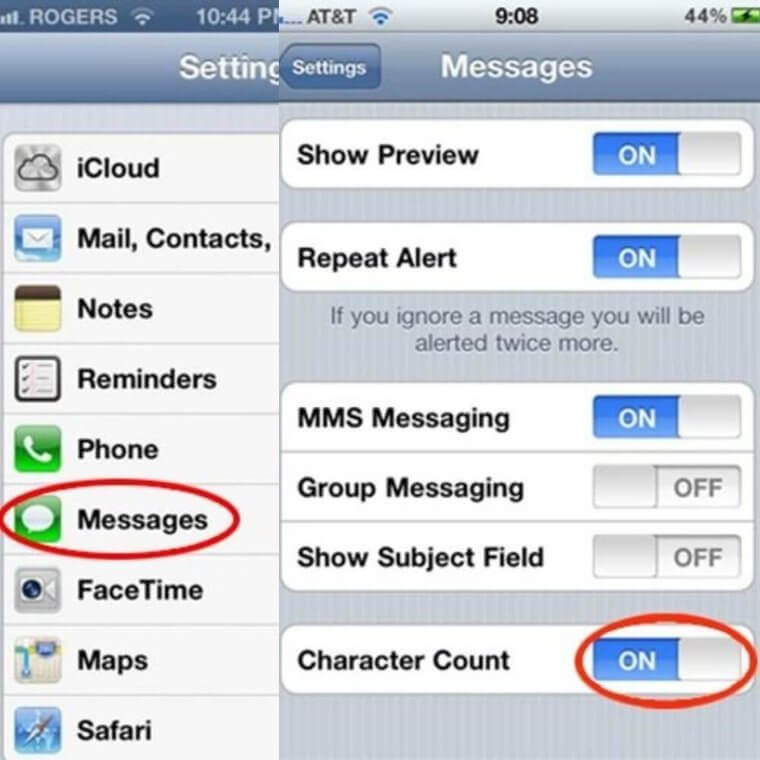 Many messages can be half their length and you just have to use this little trick to keep them short. Turn on the character count function by clicking on "Settings," then "Messages," and then "Character Count." Just turn on the option and once you start typing a new message you'll see that the count has been automatically added.
​Record Videos While Your Phone Is Still Locked
It turns out that we can record videos when our iPhones are locked and most of us had no idea! To get the feature, all you have to do is lock your phone and tap on the "Shutter" button. Afterward, locate the camera icon found at the bottom right of the screen and get it halfway up without releasing.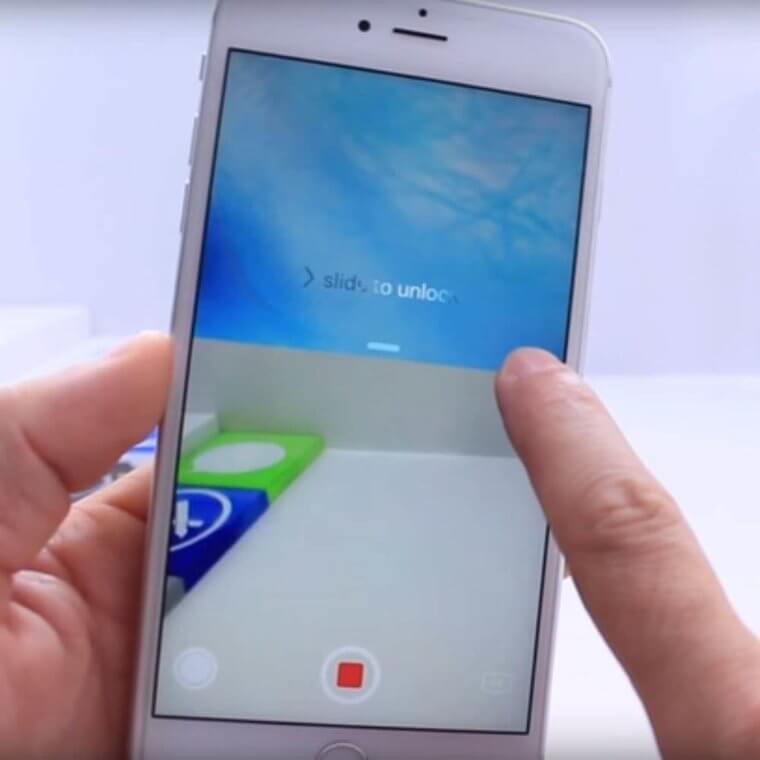 To start recording, you need to get to the video option by sliding the camera mode. Press on the "Home" button three times, and just leave your finger on the slider until you're sure the screen is off. Whenever you want to stop recording, all you have to do is unlock your phone and you're good!
​Dial Extensions Easily
Every now and then, we may want to dial an extension but we may not necessarily know how to do so. So if this is something that you've ever struggled with, then just learn these simple steps you can follow anytime on your iPhone.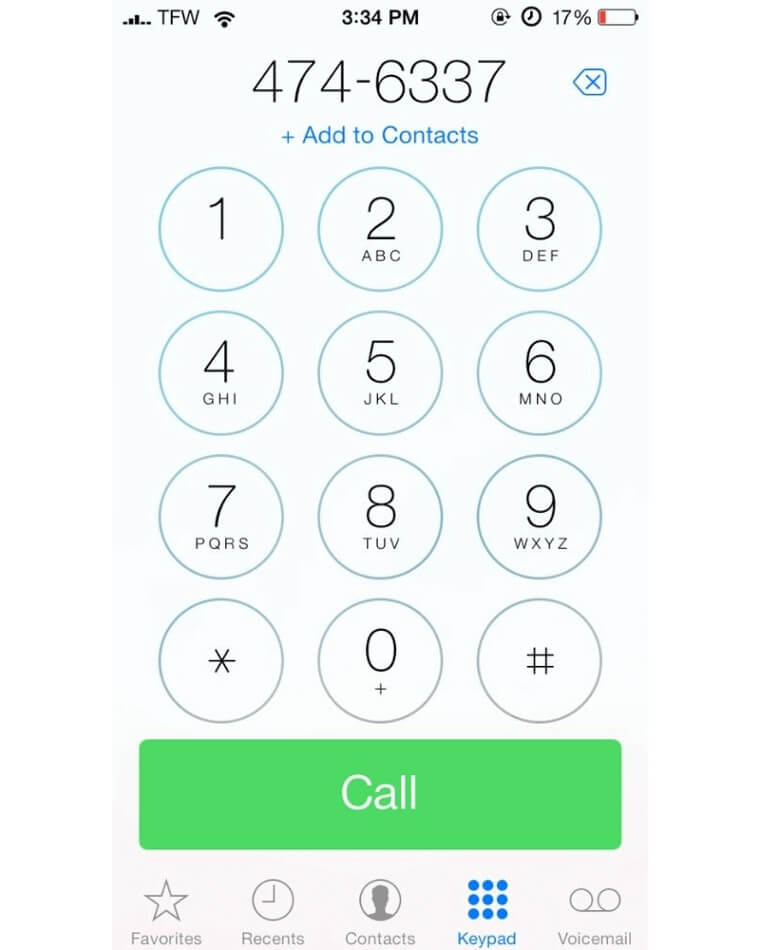 Simply type in the main phone number you need to call and then hold down the star button until a comma comes up. You should be able to call the number by adding the extension right after the comma.
Turn On The Ad-Blocking Feature
Ads can be incredibly irritating, and with time, companies find more innovative ways to sneak them into our day-to-day lives. If you'd like to take care of that, especially while you're playing games on your phone, there's actually a free and quick way of doing so on your iPhone.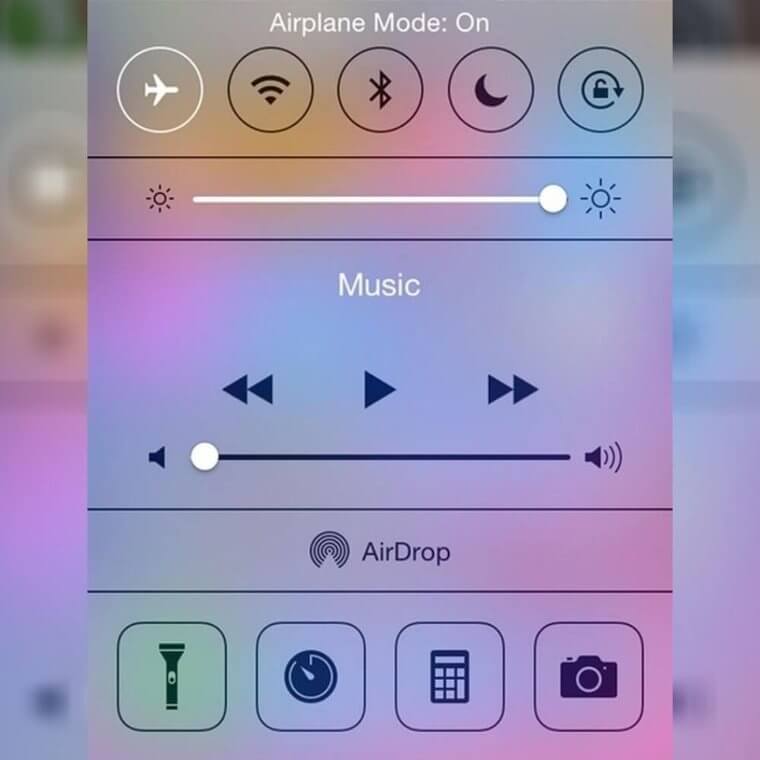 You simply have to switch on the "Airplane Mode" and resume playing – you'll notice that you won't be bothered with apps ever again.
Change The Direction Of The Panorama Mode Before Snapping A Photo
Nowadays, any of us can easily take high-quality photos with just one snap on our phones. Most iPhones have really good quality in their built-in cameras, but sometimes you still want to add a little bit of excitement to that picture.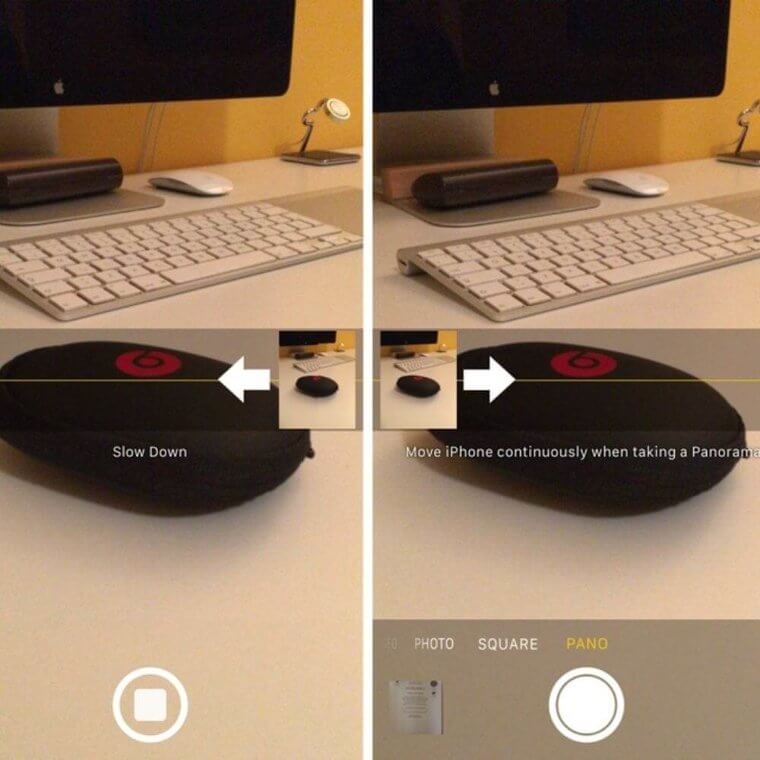 A cool trick you could try is to change the direction of your Panorama mode just before you take a picture. You can do this by tapping the arrow that's located in the middle of the screen and shoot the photo!
A Flexible Calculator App
It's not a secret that traditional calculators have been substituted with digital ones (for the most part, at least). You may get a little aggravated though when you make a small mistake, and you find yourself deleting the entire calculation you just made.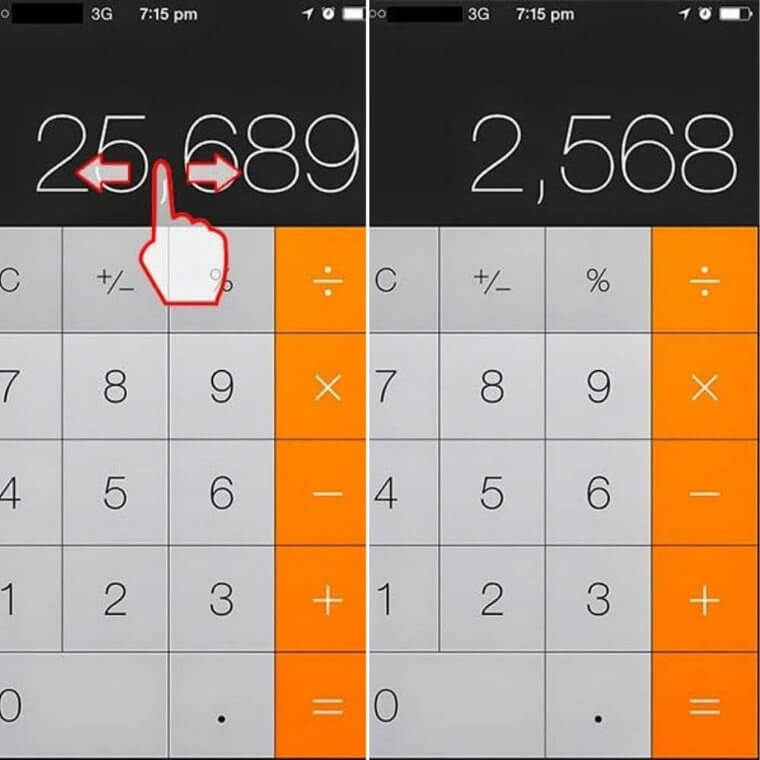 But there's no need for despair! You don't actually have to delete the whole thing, the trick is to locate the wrong digit you want to erase and to simply swipe to clear it up.
Identify Your Emergency Section In The iPhone
iPhones have a useful and important section that every single one of us should know about, the Medical ID. The section is usually found in the left bottom corner just before a person dials a number.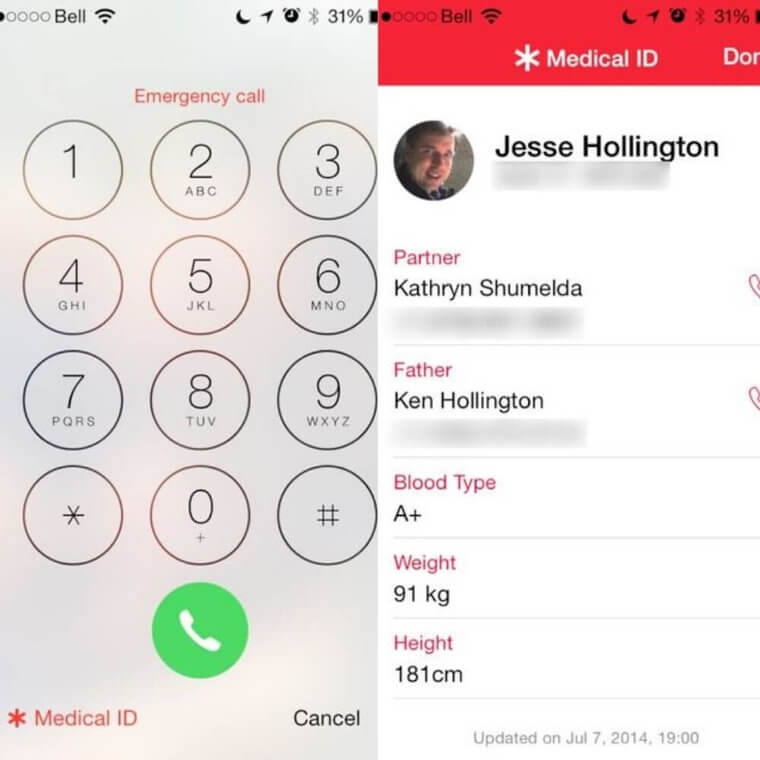 If you don't see it there, you can go to your "Settings," and click on "Emergency SOS." There, you can store all of the vital information you want that can be accessed through a simple tap afterward.
​Retrieve Your Mistakenly Closed Tabs
Closing tabs by mistake may happen to literally any of us when working with any device. While you may know how to retrieve them from the computer, when you make a small mistake on your phone it could feel like the tab is gone forever.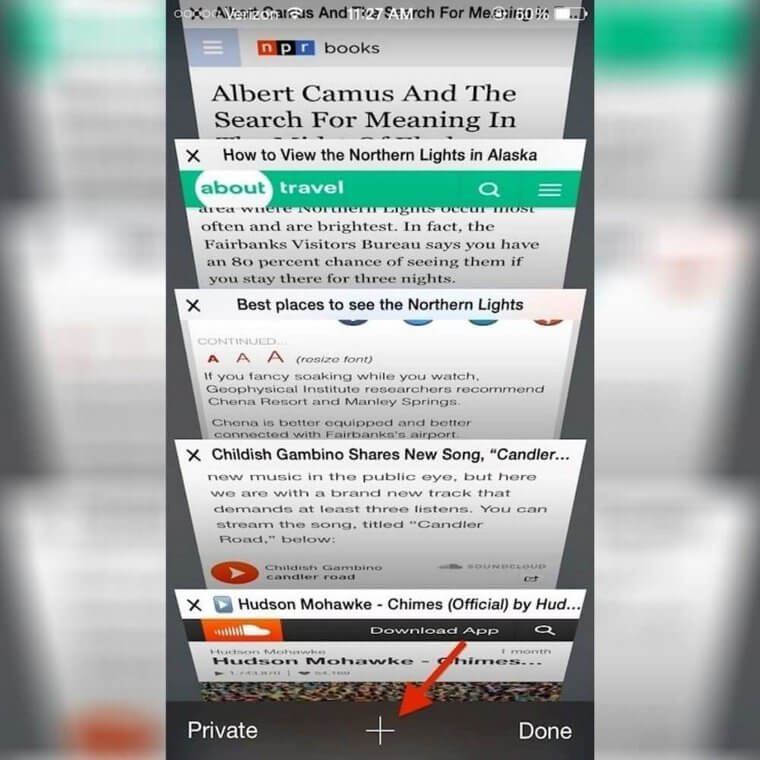 But actually, if you're working with Safari, you can press on the "+" sign, hold it, and then choose the tab you want to recover.
​Get Mouse Support For Your Phone
It turns out that your phone actually has support for Bluetooth-enabled and wired devices! While it may sound weird, this is a great option for those who need some extra support, or just feel like playing a game with a keyboard or a mouse.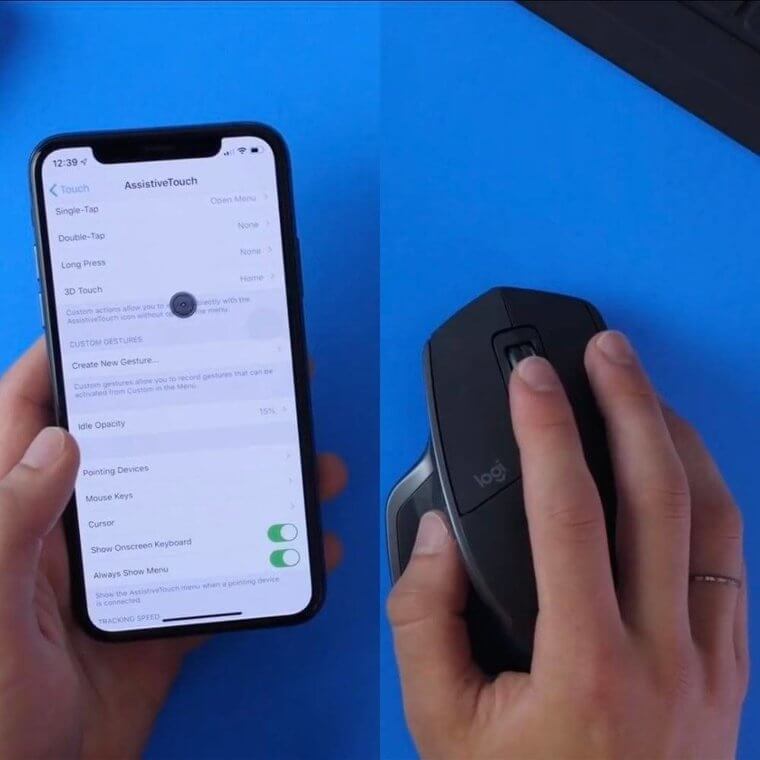 In order to get the mouse support working, simply click on "Settings," then "Accessibility," get to the "Touch" section and connect your mouse. You can customize the buttons right away and you should then be ready to test the little trick.
Use Google Maps Offline
We don't always have access to an internet connection when we're traveling. And sometimes, we really need to use the GPS but have no access to it. But no need to panic! Many people don't actually know this, but you can use Google Maps offline.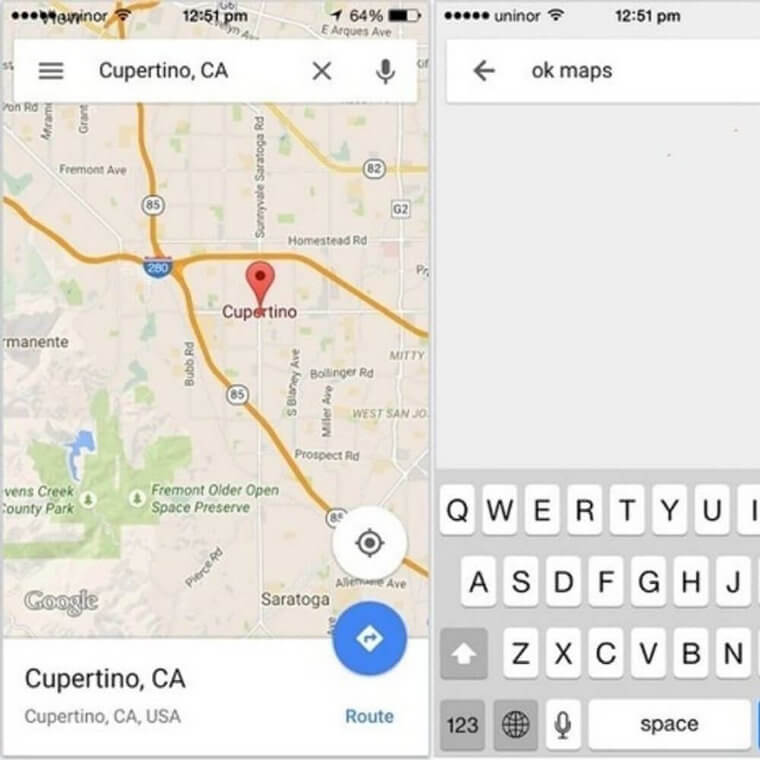 When you still have a connection, open the Google Maps App and write "ok maps" into the search box. Maps will be downloaded automatically and you can use them whenever you want, with or without wifi.
Discover Your Phone's Secret Information
Okay, this one might be a little anti-climatic because even though it refers to "secret information," it's really just your phone's information. If you type in the right code, you can access your personal phone details such as data related to your SIM card, your network operation, the signal strength, and a bunch of other things that are hopefully relevant to you.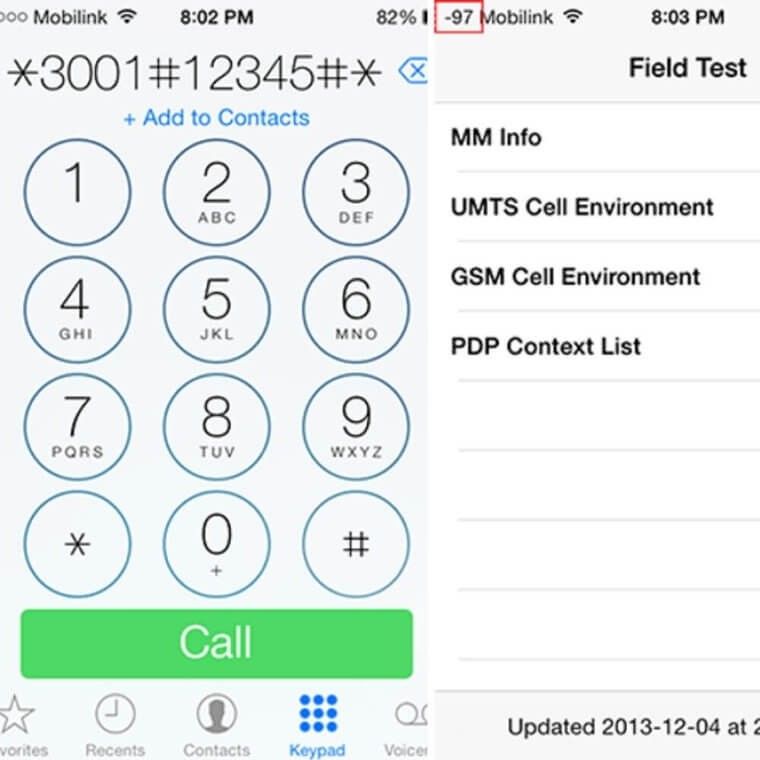 All you have to do is type the secret code *3001#12345#*, wait for it to load, and you'll have access to all of the information right away.
​Boost Your Wi-Fi Speed
No one likes to find themselves in a situation where their phone is incredibly slow. With so many technological advancements happening on a daily basis, there is just no reason why we should struggle with slow Wi-fi. So, if you'd like to speed things up, set up your iPhone's assist function, which is super easy to do.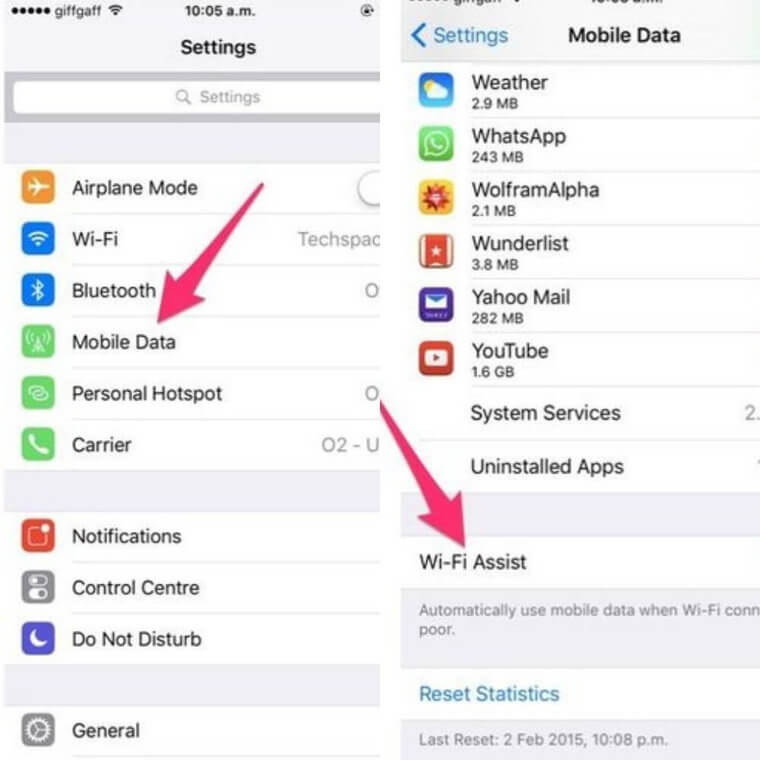 Go to your Settings, Mobile Data, and Wi-Fi assist. Once you do this, your phone will automatically switch to mobile data when your network isn't working so well.
​Make Use Of The Ultra Dark Mode
It's not the greatest habit, but many of us love spending hours using our phones in the middle of the night. If this resonates with you, then consider making use of the "Ultra Dark Mode" setting on your phone. Just follow these steps: Go to Settings, General, Accessibility, Zoom, and then scroll down the list until you get to "Show Controller." Turn that on and return to the previous menu.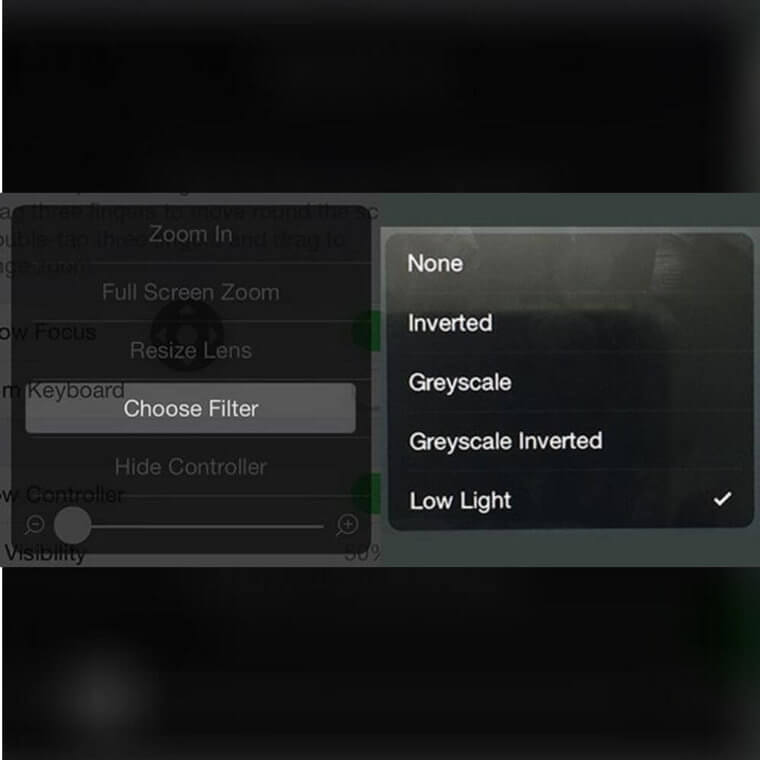 Once you reach the previous menu, click on "Accessibility Shortcut", and turn the Zoom on. Go to your "Home" button and tap it three times, afterward, click on the circular controller. You can then just set the slider to your favorite option by going to Choose Filter, Low Light, and just hiding the controller.
Get Rid Of The Unnecessary Apple Music Tabs
If music is a big part of your day-to-day, then you're probably pretty familiar with Apple Music. It's a great app, but the additional tabs that appear constantly might make it really hard to navigate.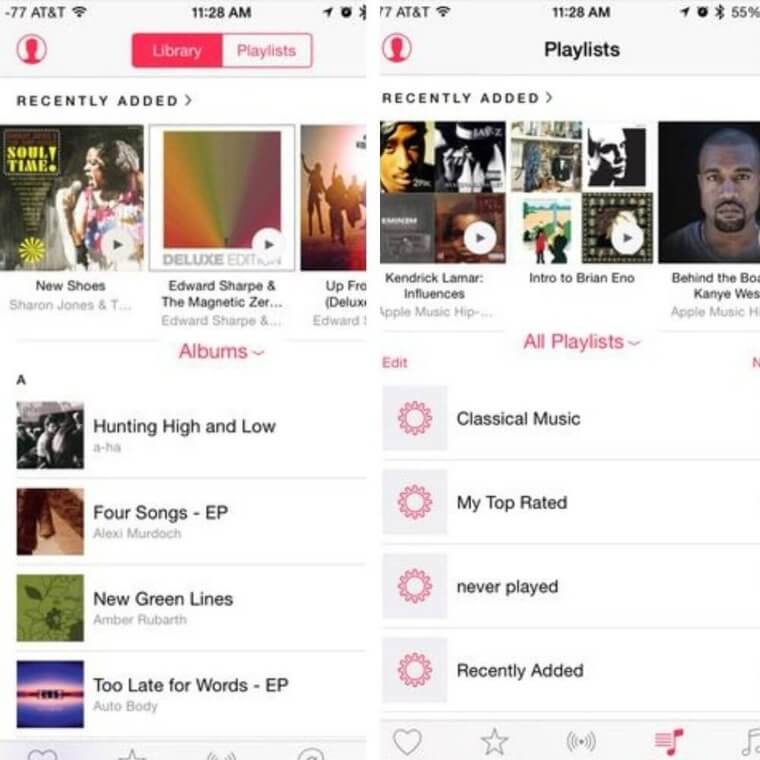 But you can resolve this in an instant if you follow these steps. Go to "Settings," click on "Music," and turn off the "Show Apple Music" option. Then, access Settings, General, Restrictions, type in your password, and turn off Apple Music.
​Reboot Your Phone As Soon As It Freezes
All of us are prone to being in a situation where the iPhone simply refuses to respond. Be it because it's frozen, or some sort of bug managed to sneak into the phone.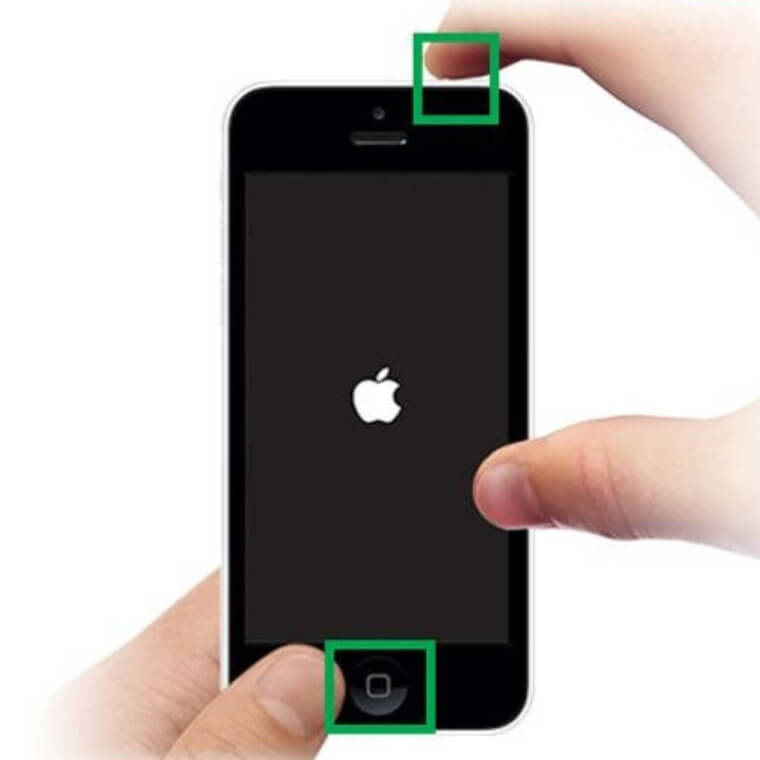 You can easily help restart your phone by pressing and holding the "On/Off" switch and then clicking on the "Home" button simultaneously. The phone will turn off, but it may take a few seconds to do so. With this trick, your device will reboot and it should no longer be frozen.
​Activate Your Dark Mode
The Dark Mode hasn't always been an official feature on the iPhone, so not many people know about it. However, Dark Mode is not only useful when you need to use your phone at night, but it can also be great for the phone's battery life.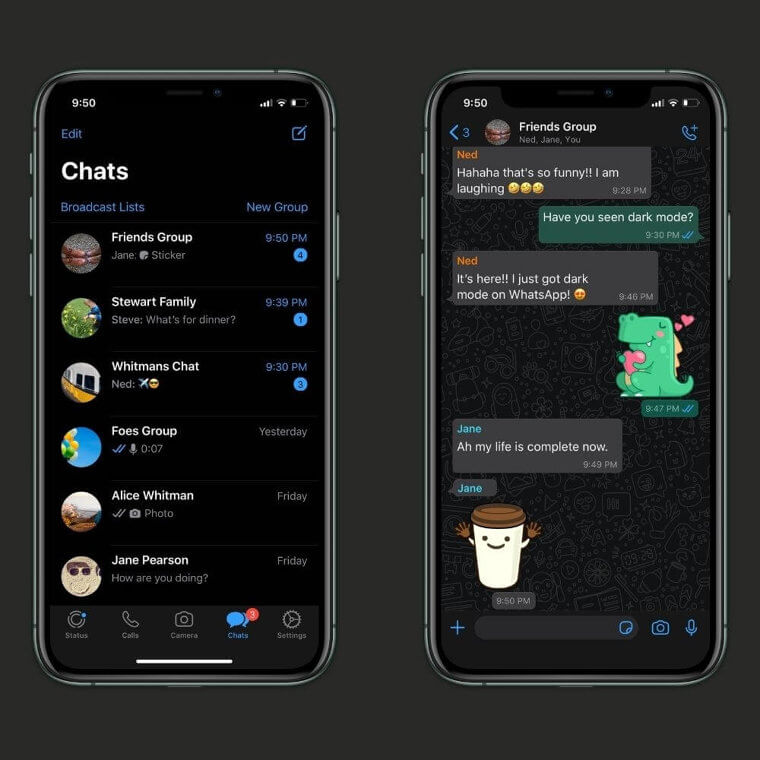 You can access this setting by clicking on the "Settings" section, the "Display and Brightness," and then locate the "Dark" option, activate it and you're good to go!
​Sign Documents On The iPhone With This Simple Step
Whenever someone sends through an email with a document that needs to be signed, we may find ourselves in a tricky situation if we're away from the computer. But what if we told you that you can actually sign documents on your iPhone?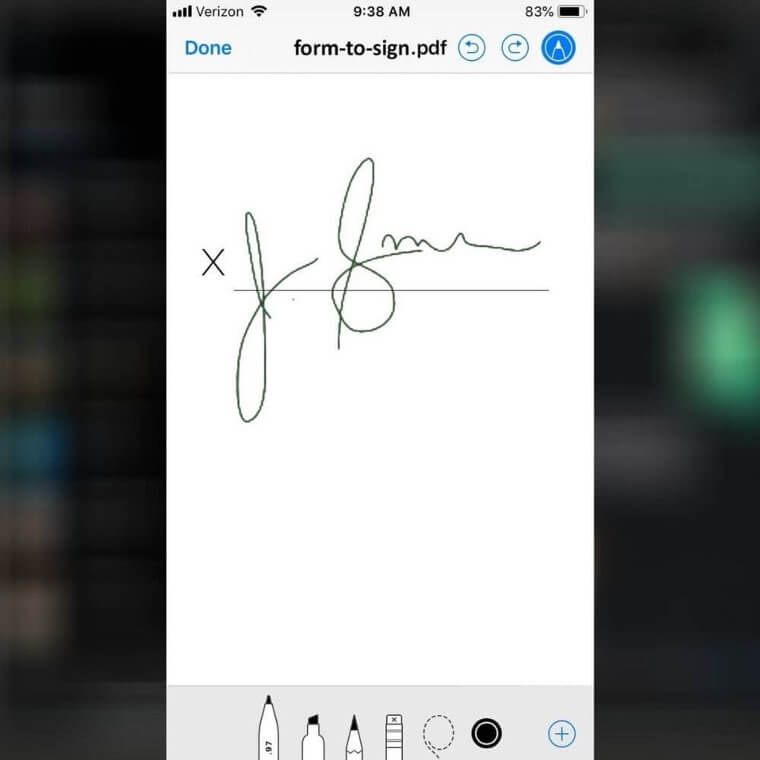 The trick is to download the PDF you want to sign, open it, and then click on the pen icon located on the right corner. You can then easily sign it and tap on "Done." If you want to send the document right away, your iPhone will give you this option right after you sign the document.
​Change The Notifications Settings To Flash Notifications
Whenever you're in a loud environment, it may be pretty difficult to hear whenever you receive a message or an email. In order to avoid this, you can simply change your settings from sound notifications to flash notifications.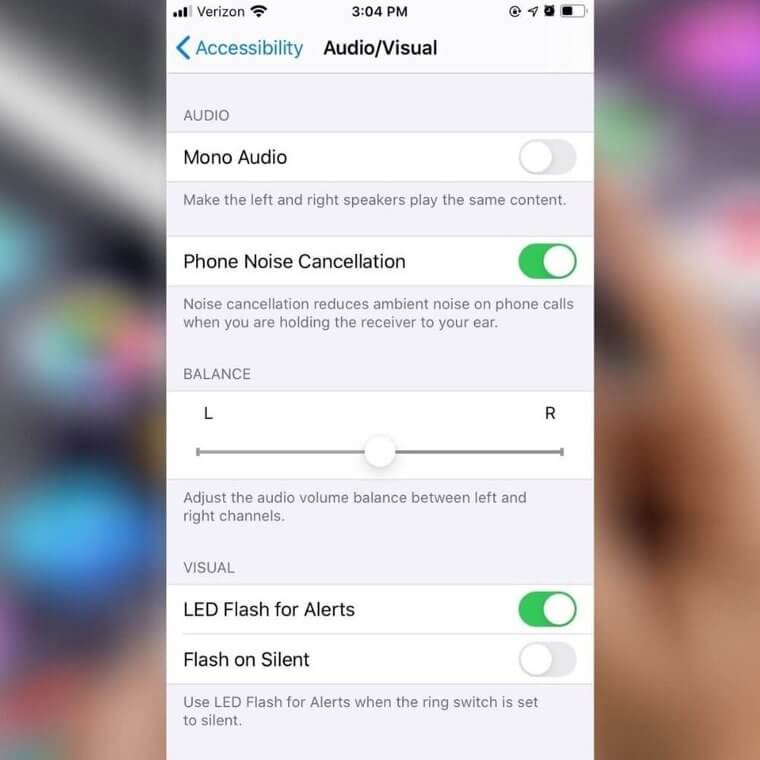 Head to your "Settings," click on "Accessibility," then "Audio/Visual," and turn on the alerts in the LED Flash option. You'll see that you won't miss a notification ever again.
Add Notes To Your Email Attachments
If you're sending an attachment via email and you want to point out something specific, you can actually do it very easily through your iPhone. Whether it's a PDF or a .jpeg file, you just have to open the attachment and then press on the pencil icon located in the top right corner.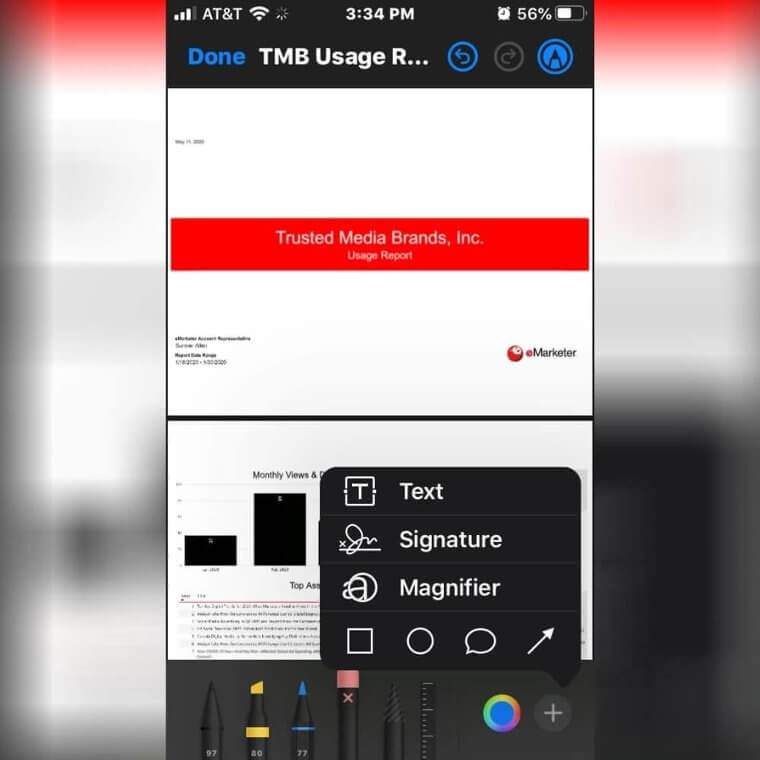 There, choose the action needed, it can be placing a red circle around whatever you want to highlight, adding text, and so on. All options can be found under the "+" button located in the bottom right corner.
​Add A Quick Setting To Your Texts
Ever thought about creating text replacements to make your life easier? Because let's face it, not all of us are the biggest fans of long texts. Thankfully, there is a setting in your iPhone that allows you to add text replacements. Keep in mind that this is not the same as autocorrect.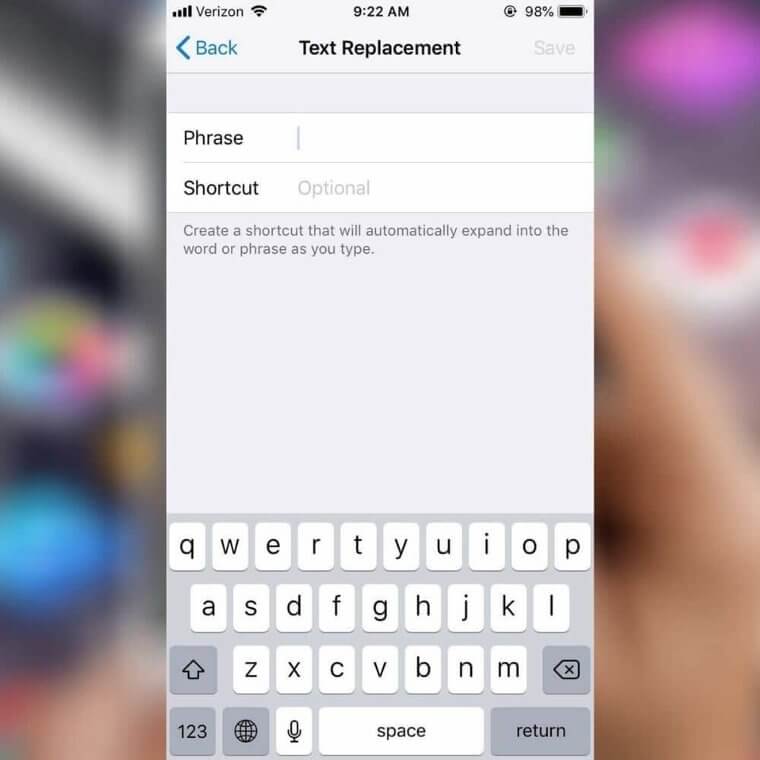 This mobile setting lets you control the text replacements so you can add whatever is convenient for you. Go to Settings, General, Keyboard, and Text Replacement. There, click on the "+" sign in the top right corner and you can add words and abbreviations you use often.
​Solve Quick Math Equations and Conversions
Math equations and conversions are not for everyone. They may be easy for some, but others may really struggle to get those numbers going. So the next time you need to solve a quick math equation or you need a currency conversion right away, you don't have to spend a lot of time looking for the right app.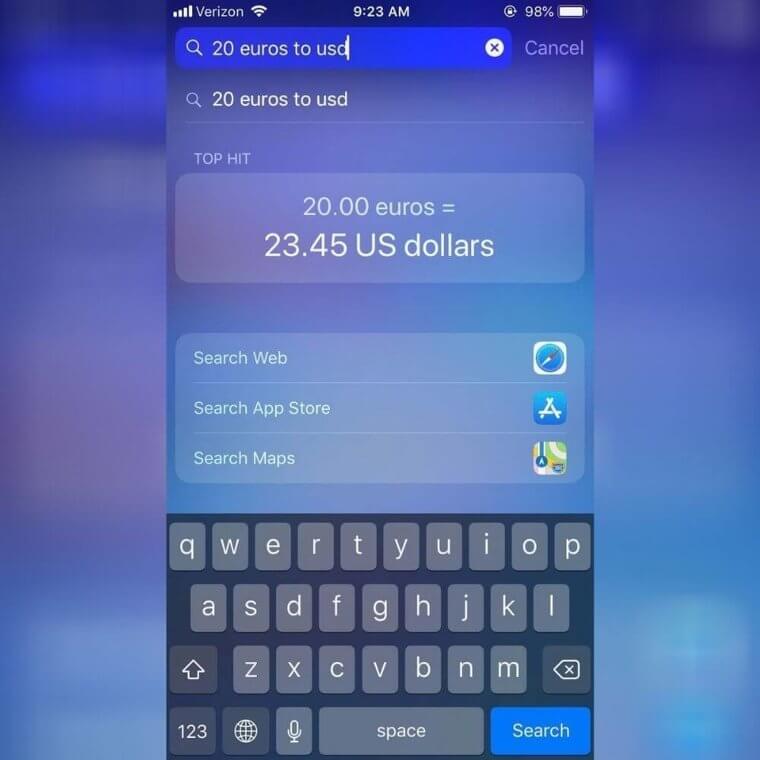 Simply swipe right on your iPhone, and the search bar will appear. Then, type whatever you want and you should have it solved right away. For example, you can do something like "50 USD to euros" and the result should appear in front of your screen in a second.
Simplify Your iPhone Tricks With A Few Steps
Phones are great, but they can come with some pretty difficult features to work with, especially when you need to press on too many things at once. So if you don't feel like struggling, you can actually simplify your life.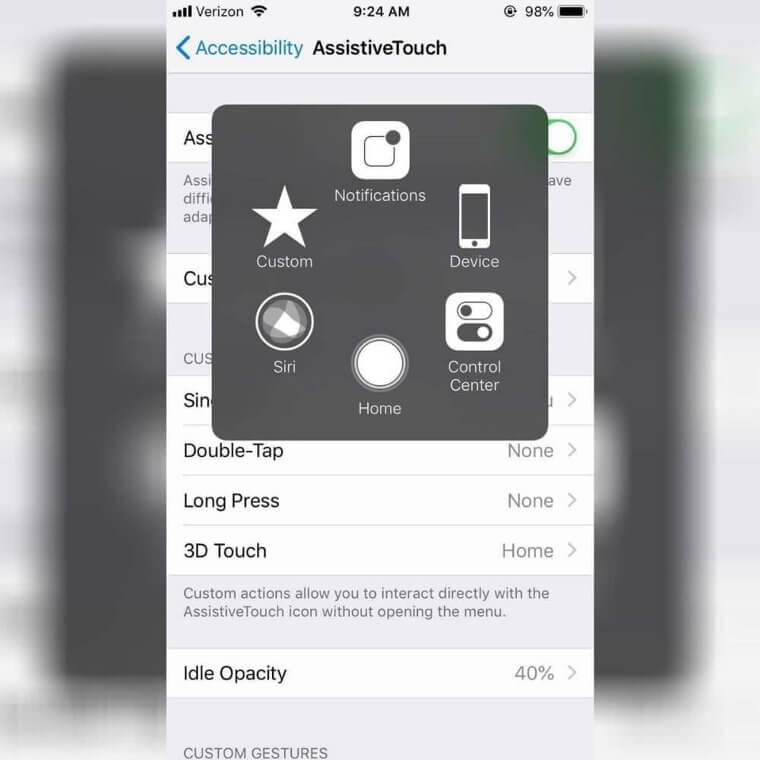 Just create a few shortcuts by going to Settings, General, and then Accessibility. Once you're there, click on "Assistive Touch," turn it on and a circle will appear on your screen. Then, just customize it by clicking on "Customize Top Level Menu" and choose the features you want.
​Turn On The Burst Mode For Quick Photos
We've probably all been in a beautiful moment that we wished we captured in a photo, but everything happened too fast! Next time, just use your wonderful iPhone for a quick photo response to any situation.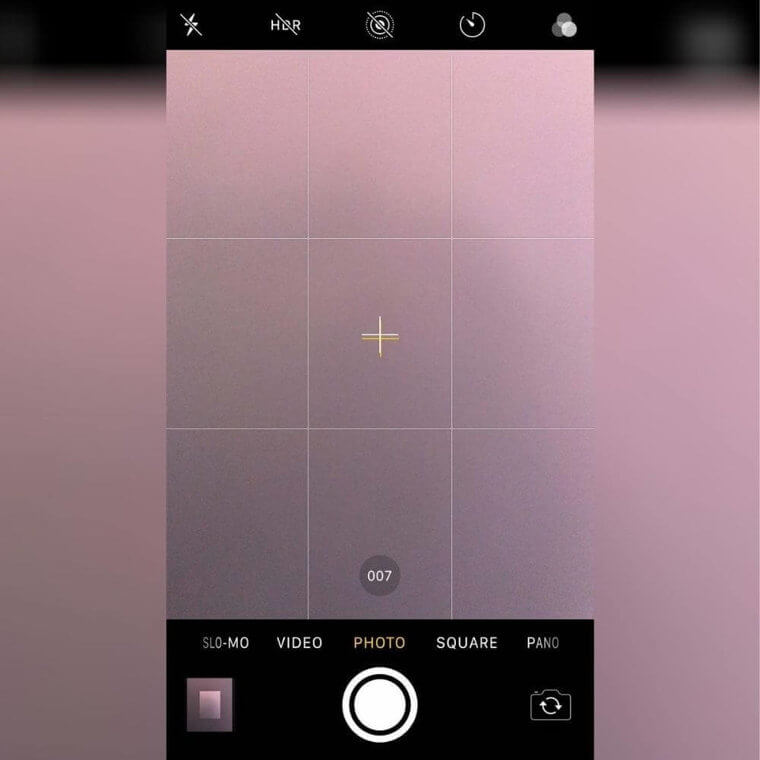 For that, you can simply swipe right while your phone is still unlocked, and use the Burst Mode option. This allows you to take multiple photos until you release the button. Then, you can sort through all the pictures and decide which ones you want to keep.
Scan Documents Without An Actual Scanner
Here's another situation too many of us have found ourselves in before. You get a document that you need to scan, but you're nowhere near a scanner and all you have is your phone.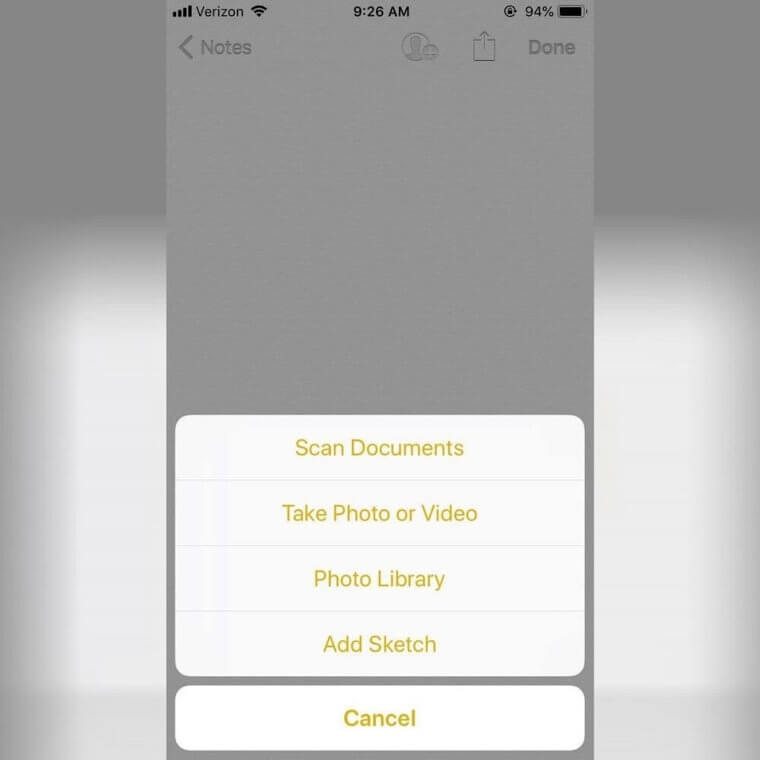 Well, instead of taking a terrible blurry photo as an improvised scan, just open the notes app and tap on the "create a new one" option. Afterward, click on the "+" button located at the bottom of the screen and choose the "Scan Document" option.
​Browse Through A Website In Desktop Mode
Certain websites don't work so well in the mobile function, so if you need to access the full page, then consider learning how to get to the desktop version. To do so, simply get to the website and click on the refresh icon located in the URL bar.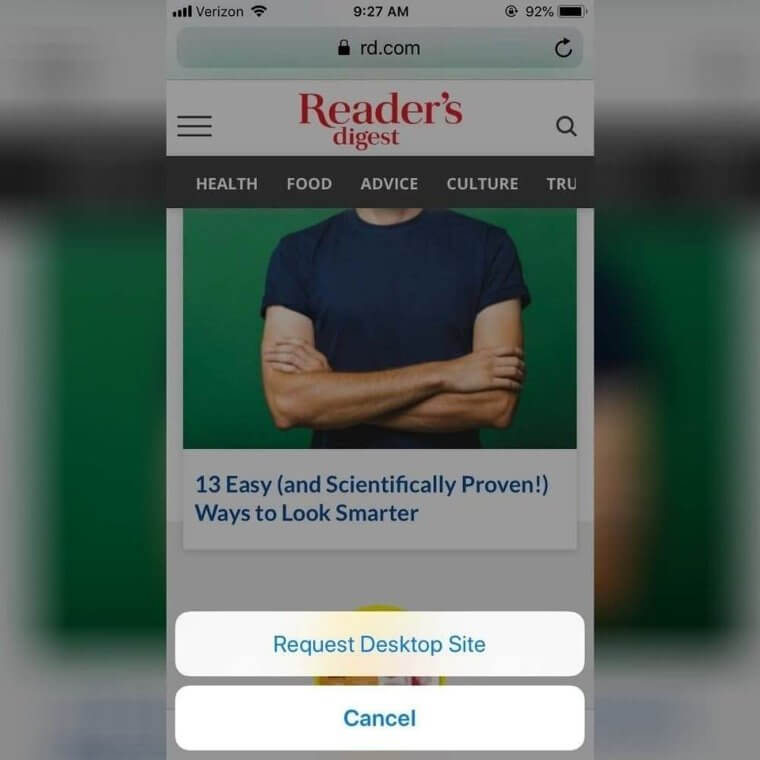 This will give you two options, to either request the desktop site or to cancel. Once you click on the option you want, you'll be able to see the regular version of the website.
Use The Magnifying Glass Option To Zoom Into Things
For some of us, it's not always easy to see whatever is written on our phones. It could be that you cannot see the menu in a badly lit restaurant, or you simply want to read the terms and conditions section in a document. For both of these options, your phone can literally be your best bet!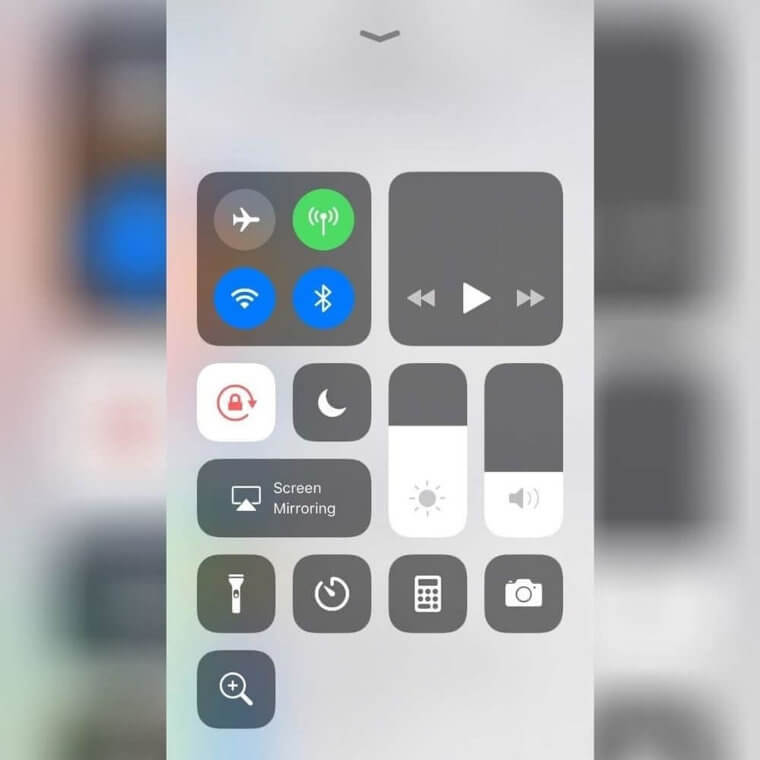 You can use the magnifying glass option located in the Settings, Control Center, Customize Control, and then the "+" next to the magnifier option. After you do this, swipe your screen from the bottom part, and open the control center. You should then click on the magnifier button and you'll be able to zoom in.
​Find The Owner Of A Lost iPhone
People often forget or lose track of their phones, and you could be the good samaritan that finds them and locates them. iPhones have a service that could help you locate the owner of a specific phone. You simply need to press the "Home" button and ask Siri whose phone that is.
If you're lucky, the person allowed Siri to work when the phone is locked, and Siri should be able to tell you the owner's name so you can contact them.
​Easily Text While Watching Videos
It might happen quite often that you're in the middle of watching a video when you suddenly get a text from someone. Usually, what you do is stop the video, open the text, read it, and (sometimes) reply. But you don't actually have to go through that entire process.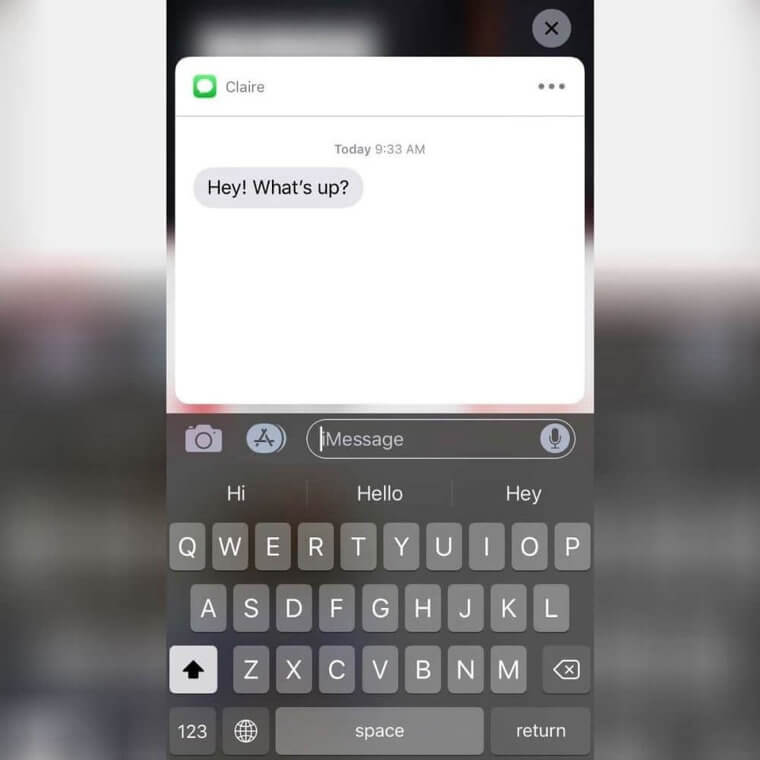 With an iPhone, you can do both things simultaneously very easily. Simply put your finger on the text as soon you receive it and then swipe it down. You'll be able to continue watching the video while swiftly reading and replying to the text message.
​Hide Your Photos
There are some nosy people out there, be it family or friends, and we all probably know one person who would blatantly scroll through your photos. And if it makes you uncomfortable to ask them to stop, you can prevent them from looking at the photos you don't feel like sharing.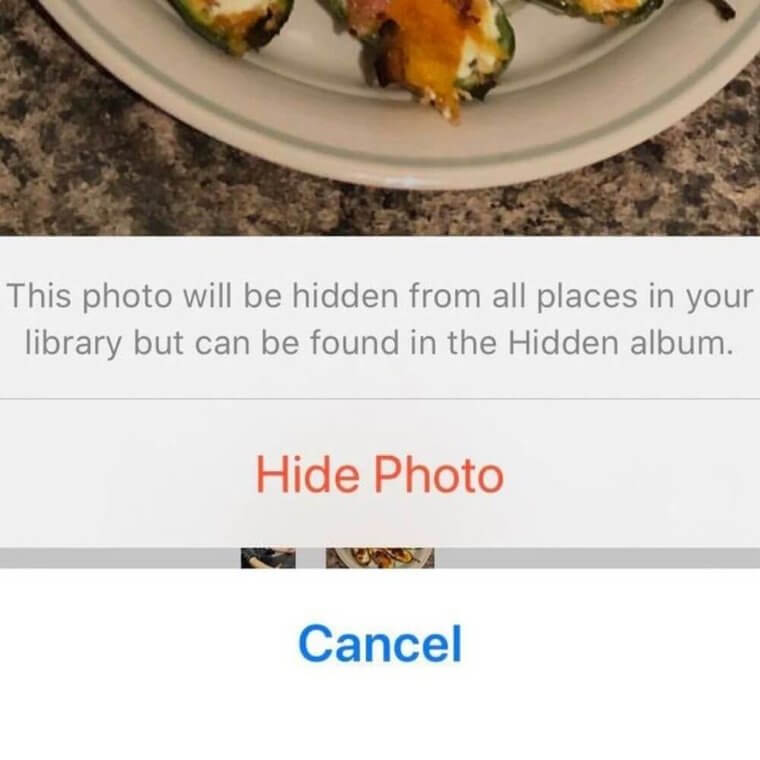 Get to "Photos," select the images you want to hide, tap on "Share," then "Hide." You can later still find them in the hidden button.
Get Siri To Use Nicknames
Siri can be helpful in many ways, and many people may not know of this, but the system knows a trick or two. For example, if you need to make a quick call, you can simply say the person's name.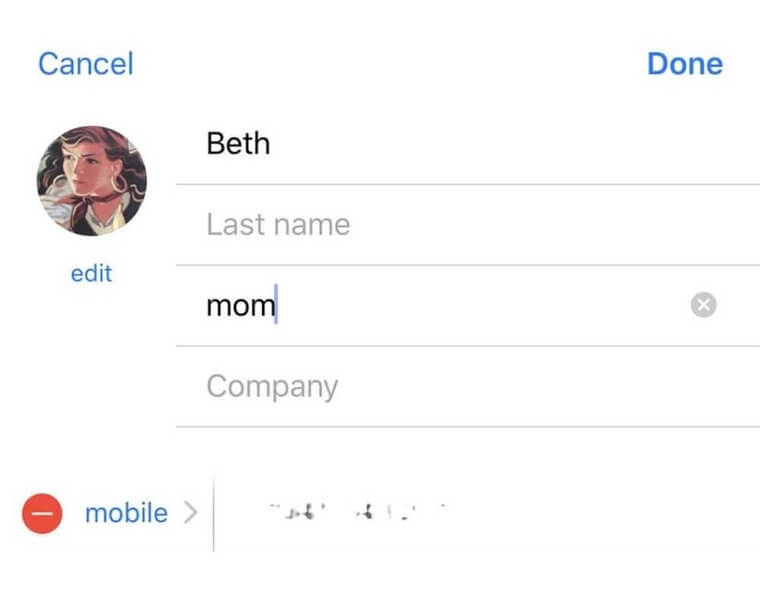 You can also teach Siri a bunch of nicknames such as "sister," "dad" or even "boss," by adding them to your contact list. To add them, just go to any of your contacts, click on "Edit" and then "Add Field." Choose "Nickname" and add whatever you want.
​Easily Take Full-Screen Screenshots
Every now and then, you might find yourself in a situation where you want to take a screenshot of something, but the document or website is a bit longer than your screen's display. But instead of running towards downloading third-party software, try this trick.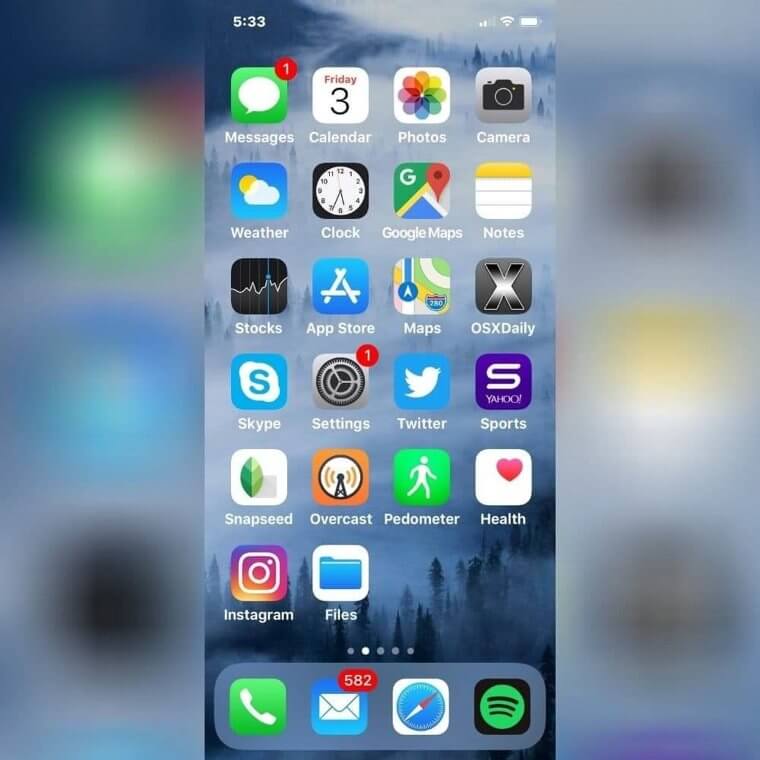 What you have to do is take the screenshot either in Safari or Mail, tap the thumbnail immediately, and click on the "Full Page" option located at the top part of the screen.
​Use The Three-Finger Swipe Trick To Undo And Redo Things
It can be pretty uncomfortable to shake our device every time we want to undo typing or moving an email incorrectly. Luckily, there is a much better way to do this without having to shake your phone every time.
Simply double-tap with three fingers on the screen to undo all of your activities or go for a three-finger swipe to the right to redo or a swipe to the left to undo.
​Limit Your Screen Time
This one will be useful for anyone who is looking to reduce their time in front of the screen, or for parents. You can find the ScreenTime feature on your Settings, ScreenTime, and Communication Limits.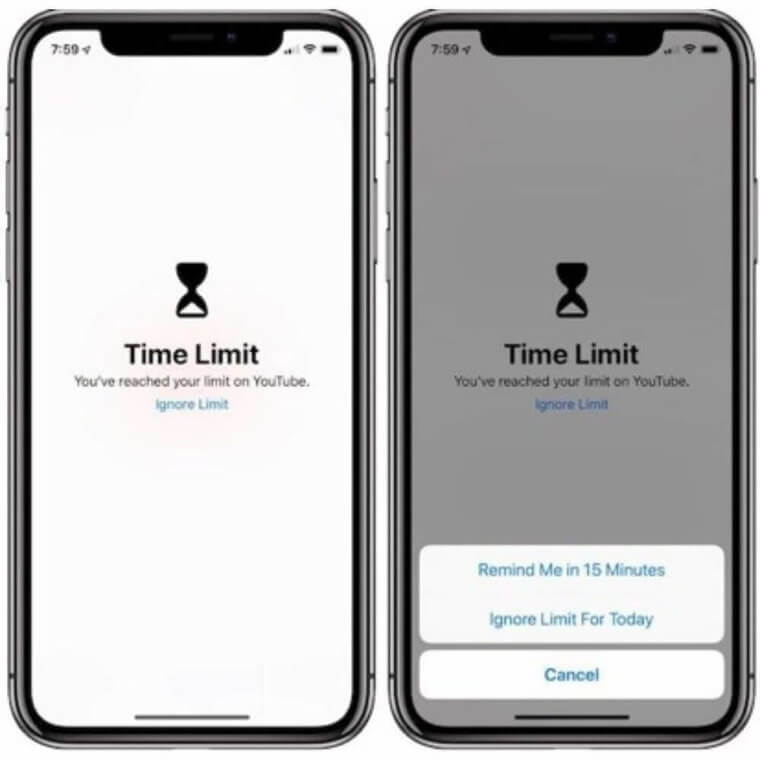 There, you can limit the amount of time you spend on your screen throughout the day, especially if you struggle with stopping yourself from staying on your phone for hours.
Change Your Video's Speed
iPhones have a pretty cool feature that helps you either slow down or make your videos quicker. There are three areas to every video: the red area which makes your video unwind quicker, the yellow area that makes the video go a half-speed, and the green area that stands for the ultra-slow speed setting.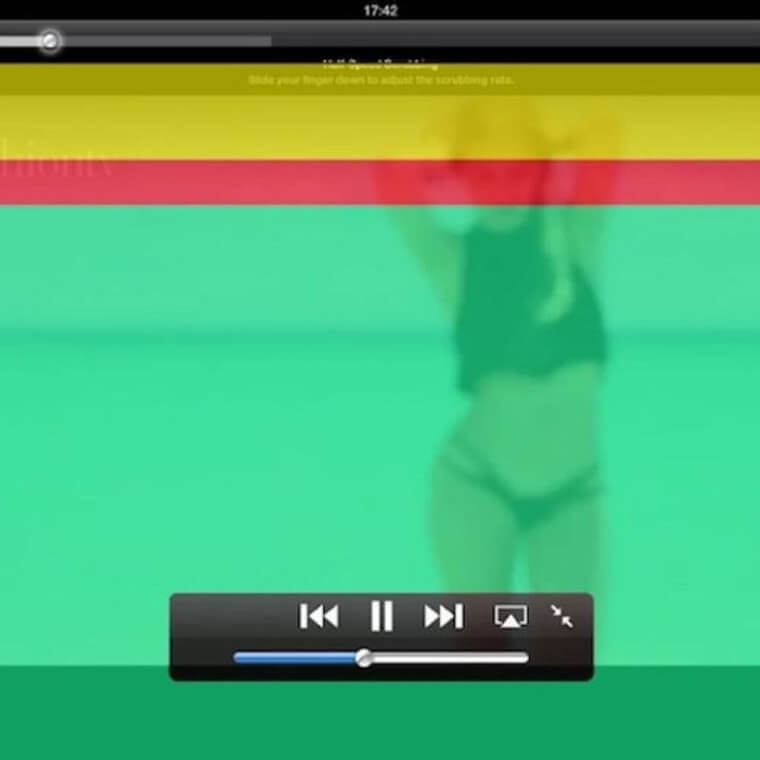 So whenever you want to change the speed of your video, simply move the slider according to what you need.
Beat The Unknown Caller IDs
None of us like to receive a robocall, a spam call, or any call that comes with no caller ID. The good thing is that you can program your iPhone device to silence every single incoming call from an unknown number.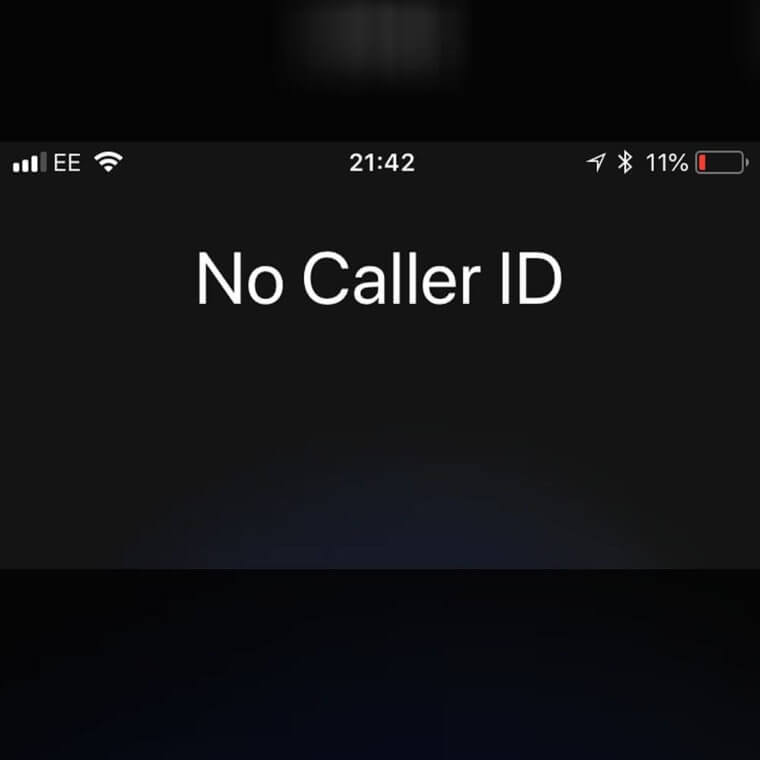 What will happen is that the phone will automatically send the unknown caller to voicemail. Activate it by going to your "Settings," pressing on "Phone," then "Silence unknown callers." The setting also works on emails and messages.
Check The Exact Time A Message Was Sent To You
Whenever we look at a whole conversation, we aren't really able to see the timestamp for each individual message. If this is a detail that you need, you can do so easily by opening the Message App.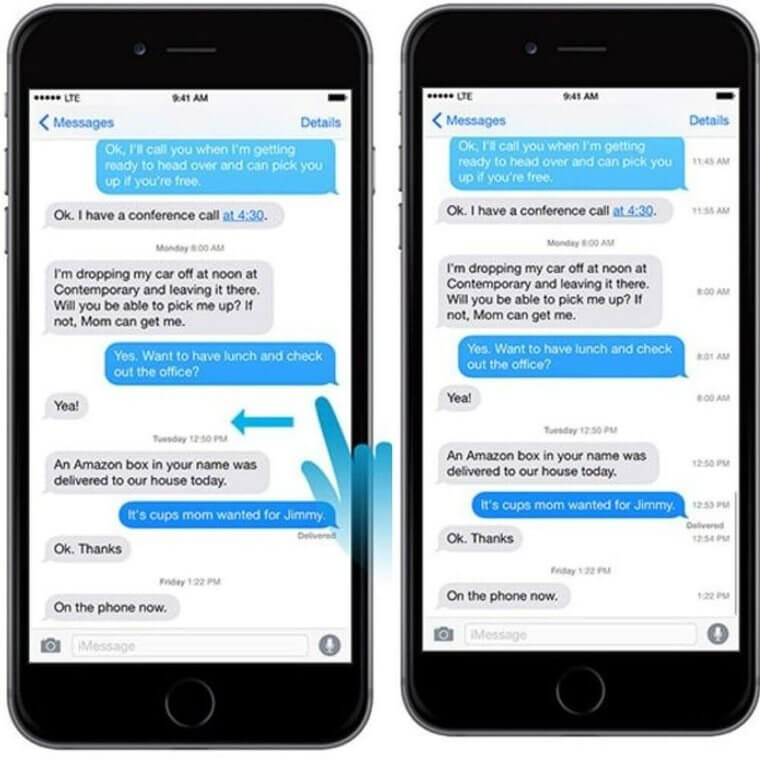 Get to the conversation you want and slide your finger from right to left. This small action will let you see the time of every single message from then on.
Use Your Phone's Leveling Abilities
If it's something that interests you, you can use your phone's leveling abilities to your benefit anytime. To do so, you just have to open "Measure," then "Level." Afterward, place your phone either flat or on its side while you are in portrait or landscape mode.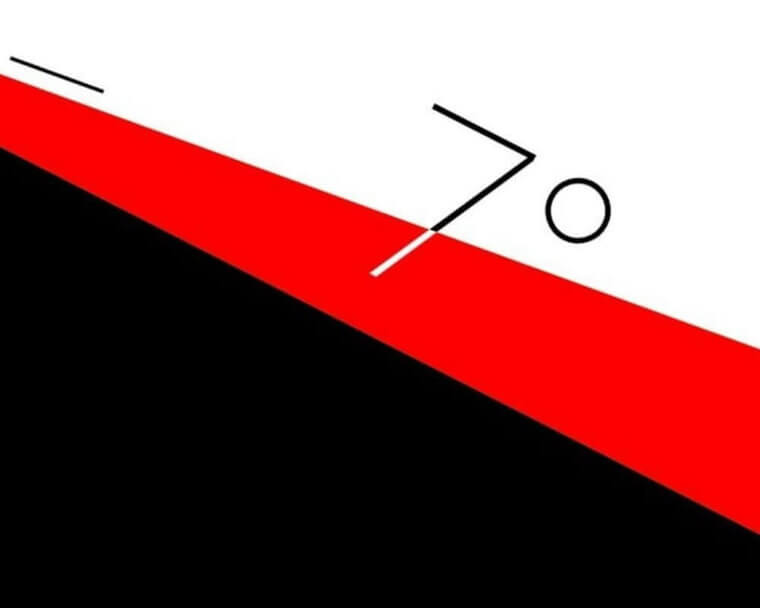 Afterward, you can start measuring and comparing different surfaces and learning more about your phone's leveling abilities. Simply tap your screen and reboot the angle to zero, then start moving your phone across the surface.
Rare Photos Of A-Listers That Offer A Look At Who They Were Before Hollywood
Ashley Lez
This article was originally published on JustStarz
While we think we know celebrities inside and out, there is a good portion of their lives that we have never seen before. Here's something you've probably wondered about – what were they like as kids? Did they show signs of one day becoming the world-renowned stars that they are today? What was life like for them growing up? In order to give us an idea of what these beloved Hollywood figures were like, we found these rare photos of your favorite celebs before they were famous. You will be surprised to see that they were once ordinary people just like us.
Robin Williams In His Senior Year Of High School In 1969
When Robin Williams was a senior in college, he decided to go to college and study political science. However, he quickly realized it wasn't the field for him and dropped out to pursue acting. He studied theater for three years at the College of Marin in California.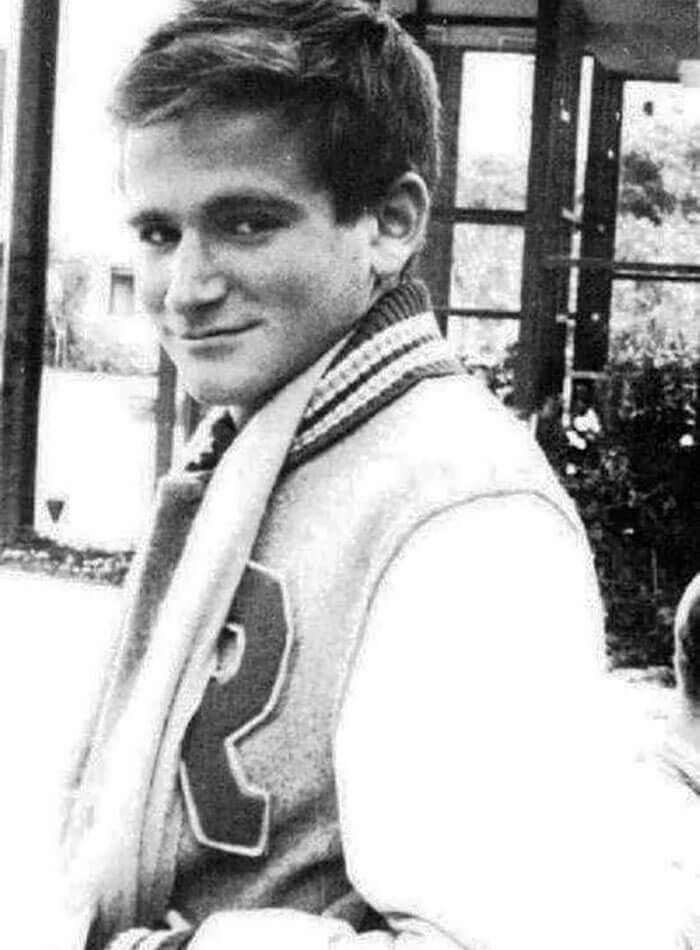 One of his professors realized how talented Williams was and cast him in the musical Oliver!. He later attended Julliard, and during the summers he worked as a busboy. After graduating, Williams worked odd jobs until he got his big break on Mork & Mindy.
Adele Was A Huge Spice Girls Fan
In case you missed it, Adele was and probably still is the biggest Spice Girls fan in the world. The British singer grew up with their music and had their posters plastered all over her bedroom walls. As a child, Adele was already interested in singing, and she became obsessed with voices.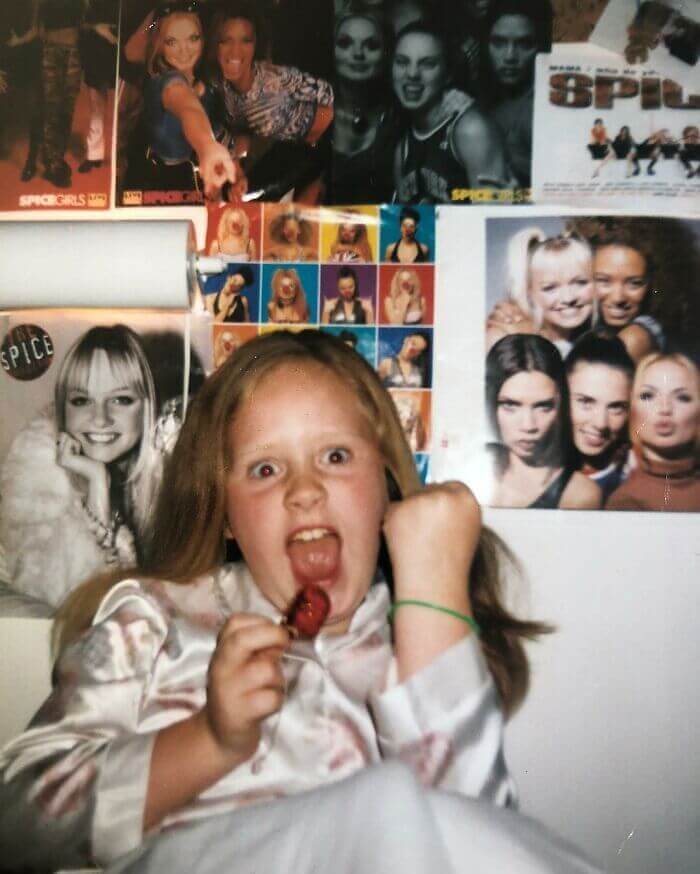 Adele spent much of her youth in Brockwell Park, playing the guitar and singing to friends. Years later, she drove by and started crying because she really missed the memories she made in that special place.
Keanu Reeves Circa 1984
In high school, Keanu Reeves was a successful ice hockey goalkeeper and considered going pro but decided to pursue acting when he was 15 instead. He made his debut in 1984 on an episode of the series Hangin' In, which allowed him to get more roles on teen dramas.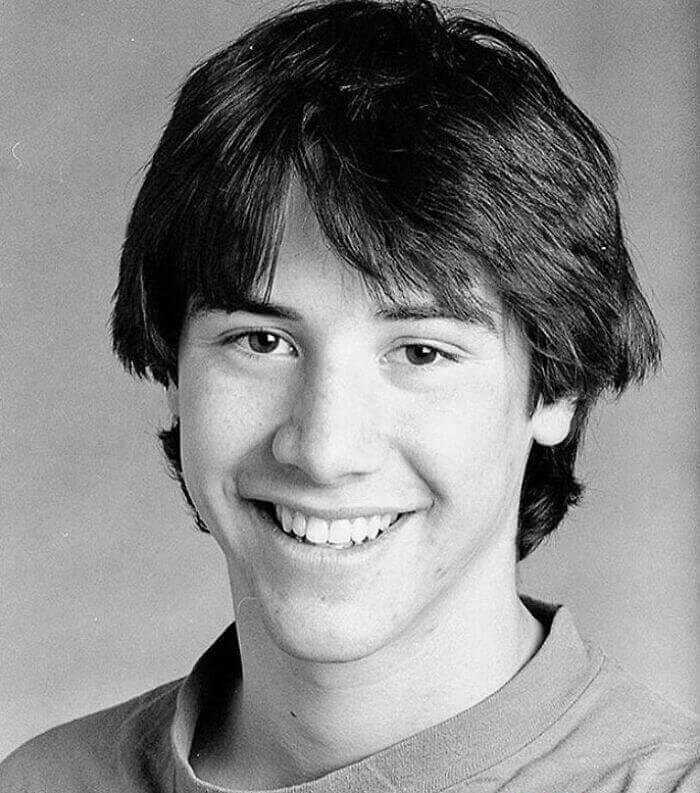 Reeves was also interested in music and formed an alternative band in 1991. Surprisingly, it was moderately successful, and they were active until the early 2000s. His big break was in Point Break, and this helped him shoot to stardom.
Catherine Zeta-Jones In Her Grade School Photo
Catherine Zeta-Jones' school uniform made her look like she belongs to the Gryffindor house. She must have been in first or second grade at the time, and she couldn't be cuter. The actress was born in Wales, and in school, she would participate in stage shows.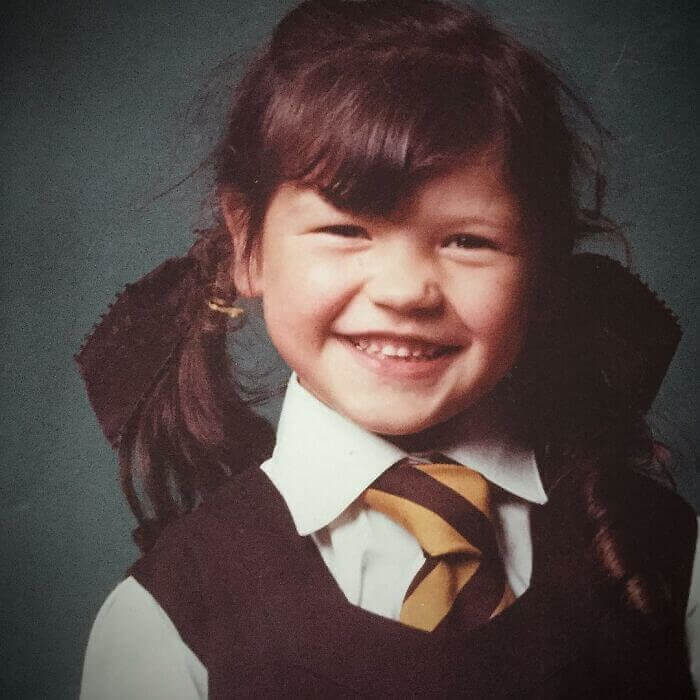 At a young age, she gained local media attention when her rendition of a Shirley Bassey song won a Junior Star Trail talent competition. Zeta-Jones would take trips to London with her dance troupe, where she also auditioned for shows.
Morgan Freeman In The Air Force
When Morgan Freeman was just nine years old, he starred in his school play and later won a statewide drama competition. He performed in the radio show in high school, and it earned him a drama scholarship from Jackson State University.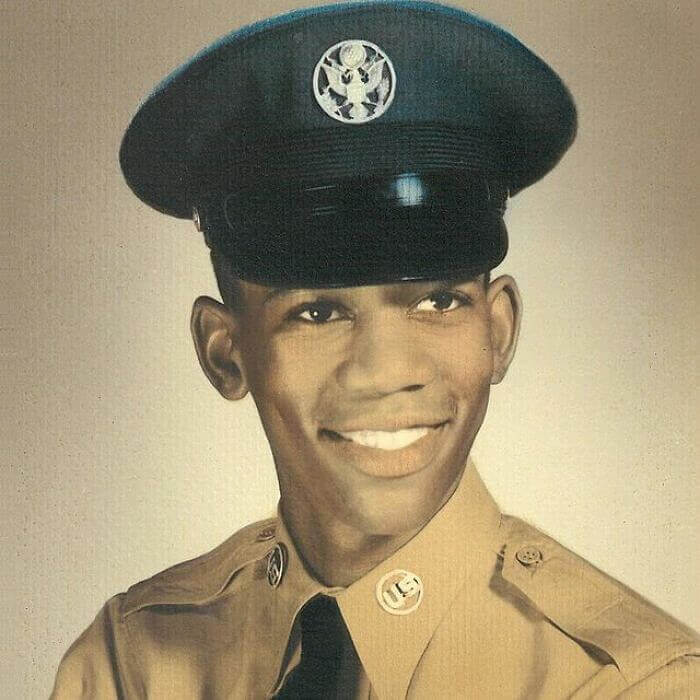 However, instead of taking the scholarship, he enlisted in the Air Force and served between 1955 to 1959. After his service, Freeman worked as a transcript clerk for Los Angeles City College and studied arts there. He was also a dancer until he started getting steady acting jobs.
Anne Hathaway As A Clown Witch
It seems that Anne Hathaway was practicing for The Witches before she was even famous. Besides looking exactly the same, she seems to have confused a witch and a clown in this mashup of a costume. Surprisingly, Hathaway's parents didn't want her to pursue acting.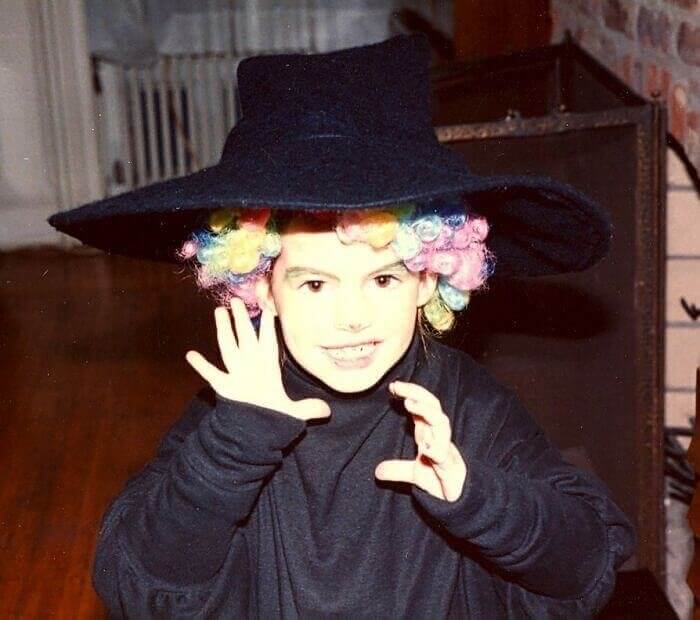 Hathaway wanted to become a nun during childhood because she was raised with really strong Roman Catholic values. However, acting was always in the back of her mind, and we're grateful she chose to entertain us on the big screen.
Joe Biden When He Was 26
Unsurprisingly, Joe Biden was the class president in school and played on the basketball team. He also briefly played football in college but decided to focus on his studies instead. When he graduated from the University of Delaware, he worked as a clerk at a law firm.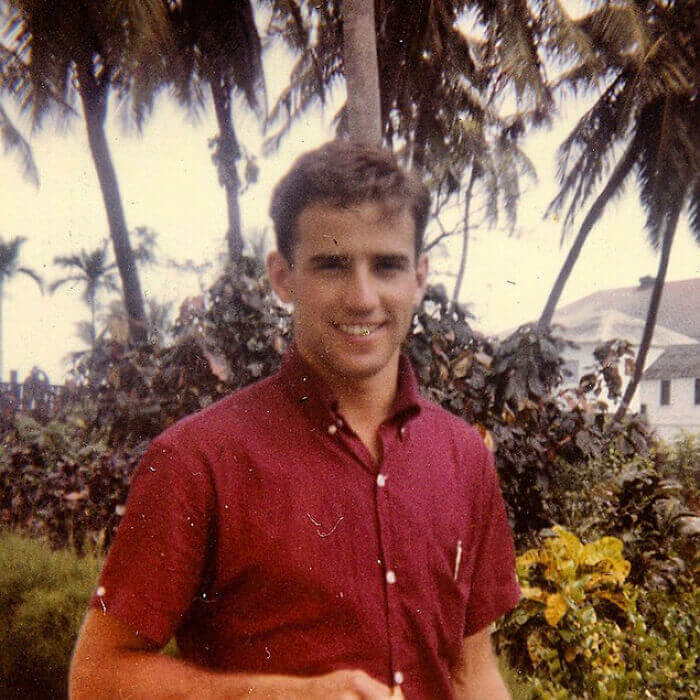 Biden eventually took the bar exam and began practicing law. This helped propel his career, and he served in the US Senate for 36 years before serving as vice president with Barack Obama from 2009 to 2017. Say what you will about his politics but it's undeniable that he was so handsome back in his day.
Madonna's Childhood Close-Up
Little Madonna was bright-eyed and looking towards the stars as a child. The singer grew up in the Detroit suburbs with her five siblings, and her family would call her "Little Nonnie" because her mom was also named Madonna.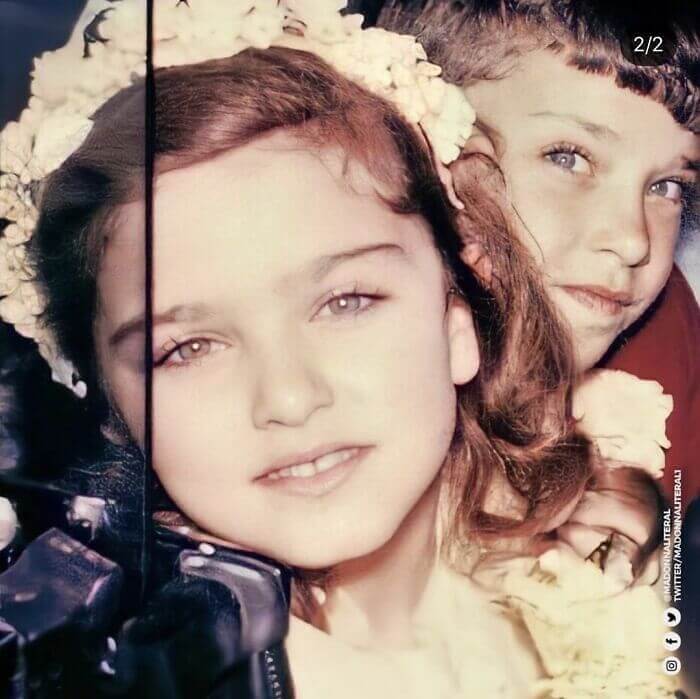 Madonna was known for rebelling at school after her mother passed away, and her dad decided to sign her up for piano lessons and ballet classes. Her dance teacher was the one who encouraged her to pursue a career in dance.
Jim Carrey In The '80s
As teenagers, Jim Carrey's family struggled financially. Therefore, he and his brother John took up jobs as a janitor and security guard at a tire factory. While working at the factory, Carrey dropped out of school to perform comedy in downtown Toronto.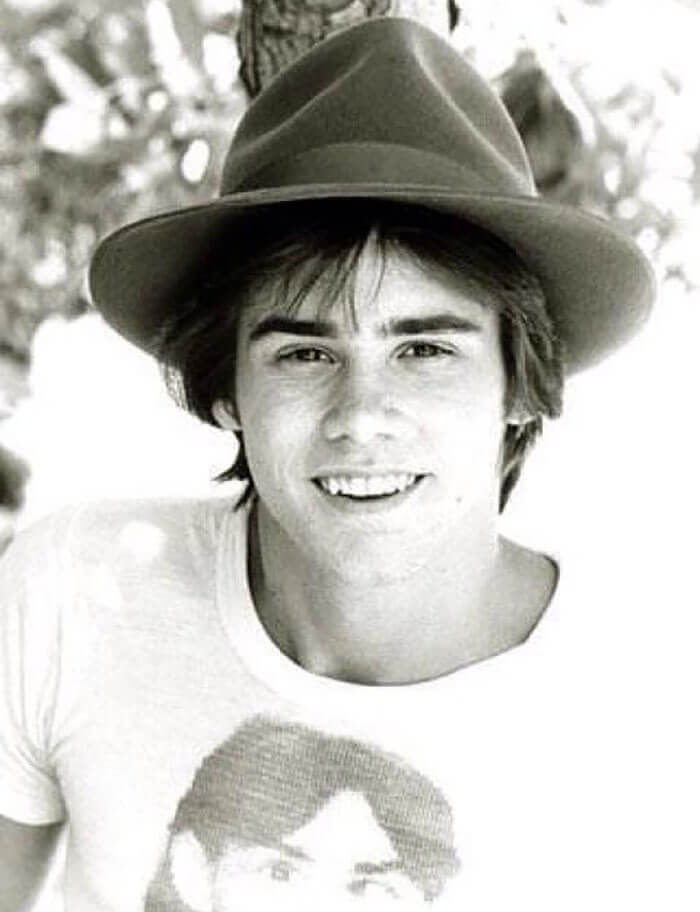 He steadily increased his local popularity as an impressionist and stand-up comic going on tour and appearing on television. His shows made him more popular and landed him the roles in Ace Ventura: Pet Detective and The Mask, which helped him become the actor he is today.
Taylor Swift Made Tie-Dye Trendy Before Everyone
Born and raised in Pennsylvania, Taylor Swift became interested in musical theater and started performing in the local youth theater. She also traveled regularly to New York for vocal and acting lessons. She was inspired by Shania Twain and shifted her focus to country music.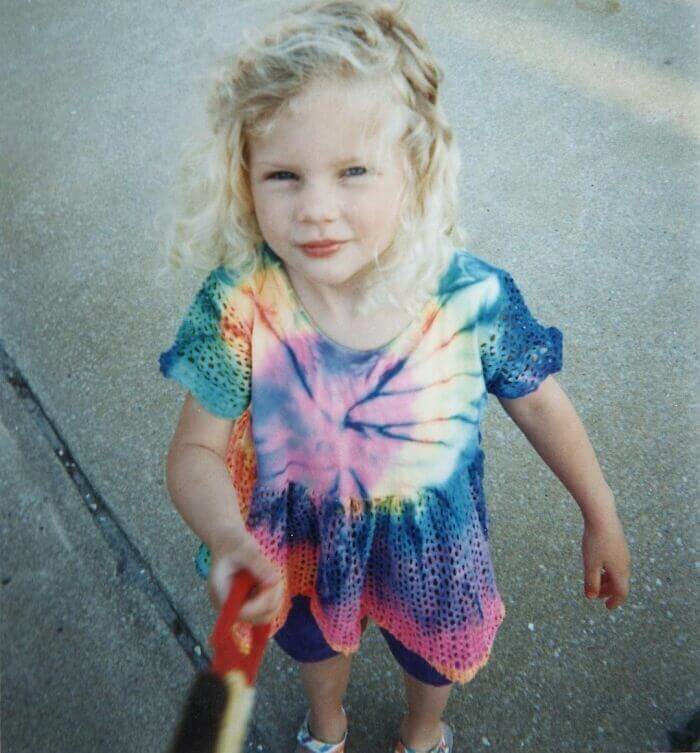 At age 11, Swift traveled with her mom to Nashville to pursue her music career dreams. Swift submitted demos to record labels but was rejected. However, she kept trying until someone finally took her seriously when she was a bit older.
Susan Sarandon When She Was 17
Not only was Susan Sarandon gorgeous as a teenager, but she was also very talented. In her college years, she studied drama and supported herself by cutting hair, cleaning houses, and working as a switchboard operator.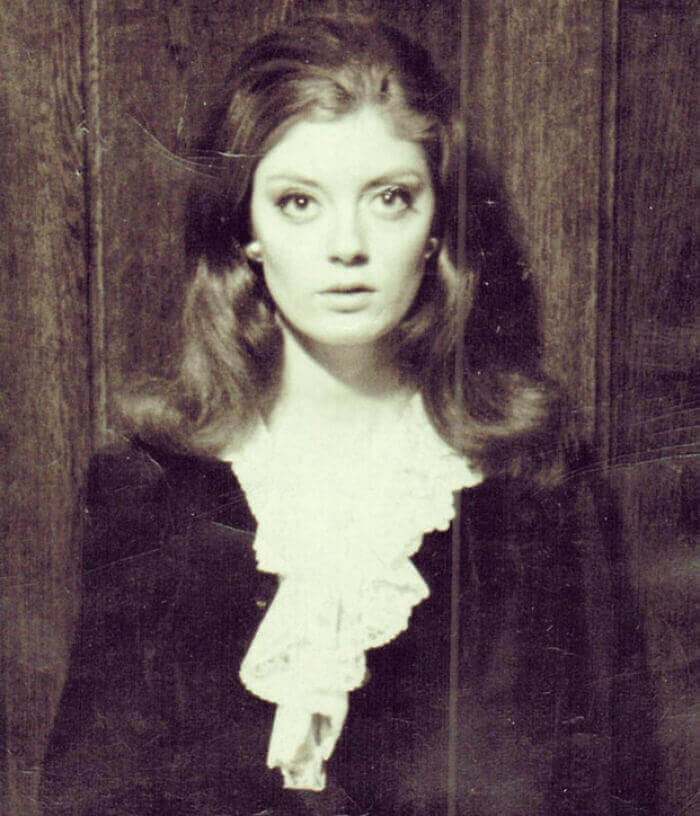 Not long after she graduated, Sarandon landed a role in the film Joe, which propelled her to get more parts in movies like The Rocky Horror Picture Show. It turned into a cult classic, and people knew her name wherever she went.
Selena Gomez's Face Has Not Changed
Selena Gomez has always been the most adorable human ever since she was a little girl. Born and raised in Texas, Gomez first became interested in entertainment when she saw her mom preparing for stage productions. Gomez then began to audition for many roles.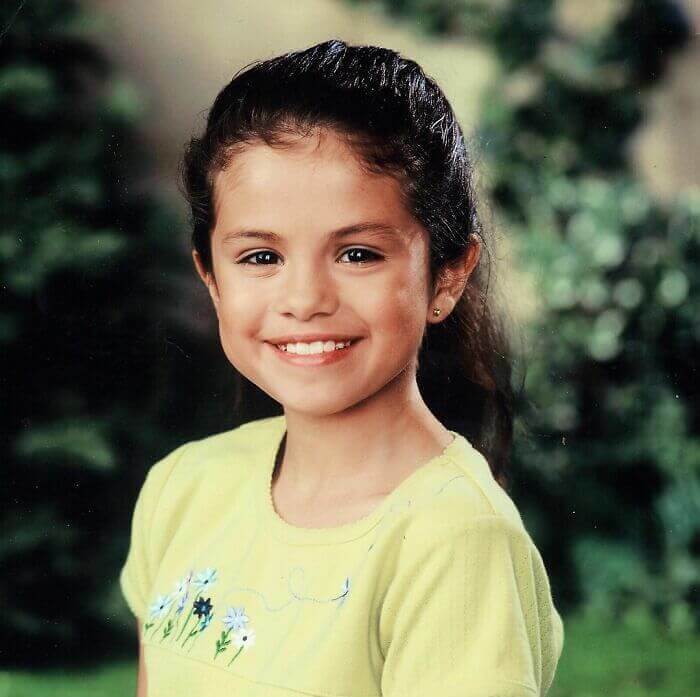 While auditioning for Barney and Friends, Gomez met Demi Lovato and the two both landed roles on the show. She said she learned everything about acting and stage production while working on Barney, and she was released when she got too old for the show.
Peter Dinklage In The 1980s
We could never imagine Peter Dinklage with a mullet until now. Dinklage realized he wanted to start acting when he was just a teenager after he saw the production of True West by Sam Shepard. That play ended up determining the direction of his life.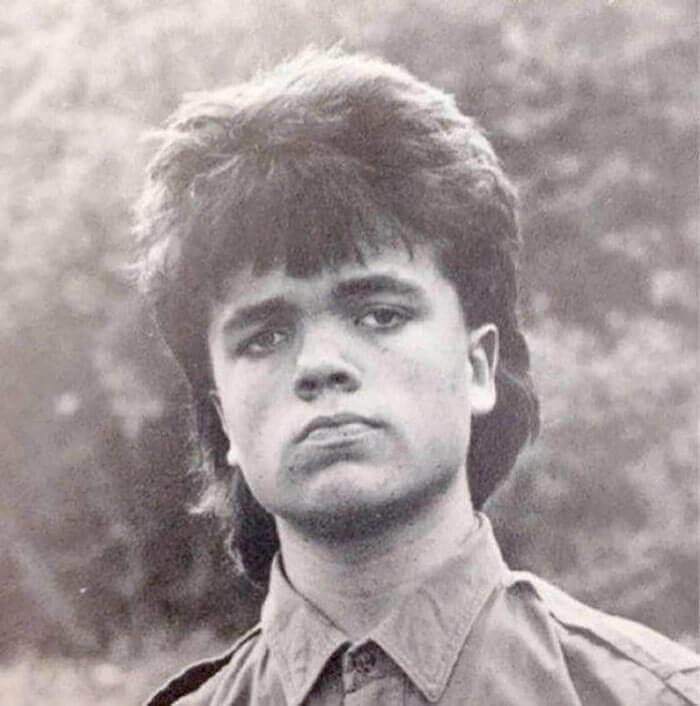 After studying drama in college, Dinklage struggled to get well-paying roles, so he worked at a data processing company to make ends meet. He wasn't getting any parts because he refused to play characters that focused on his achondroplasia. Finally, in 2003, he got his big break in The Station Agent and was nominated for a SAG Award for it.
Little Baby Beyonce
You might not recognize her as a baby, but this tiny tot grew up to be Queen Bey herself. As a child, Beyonce enrolled in dance classes, and the teacher discovered she was also a talented singer when she heard her humming a song.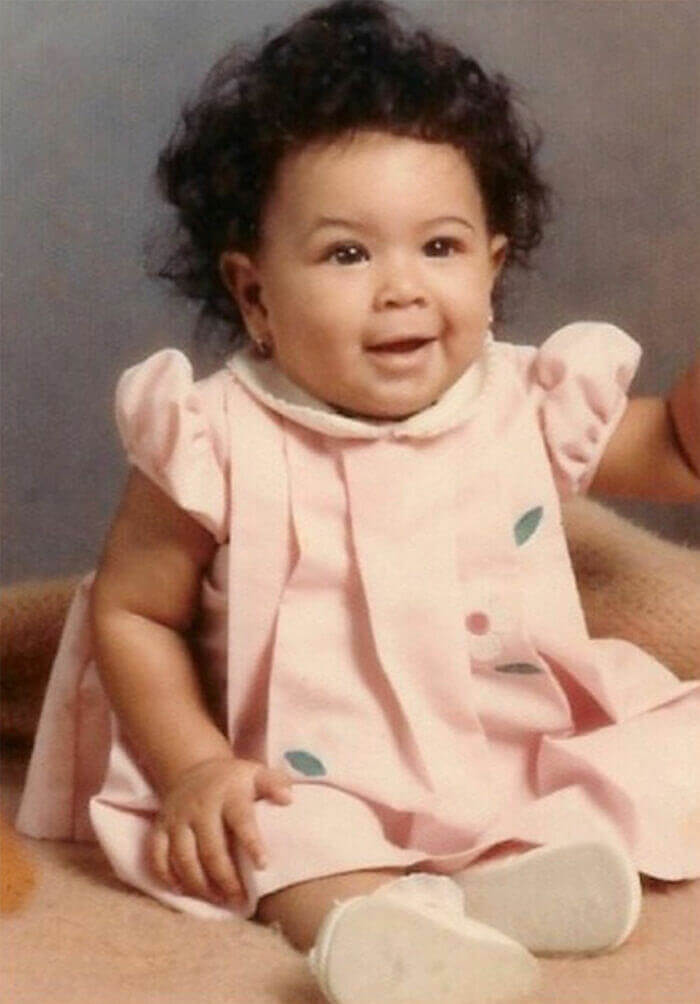 Beyonce's interest in performing continued after she won her school talent show when she was seven. Her parents enrolled her in a music school after that to develop her talents, and Beyonce continued onto an arts high school as well.
Tom Hanks In His High School Yearbook
After reading Eugene O'Neill's The Iceman Cometh and watching the performance, Tom Hanks decided he wanted to become an actor. He enrolled in the theater program at California State University Sacremento and would work in the theater when he wasn't studying.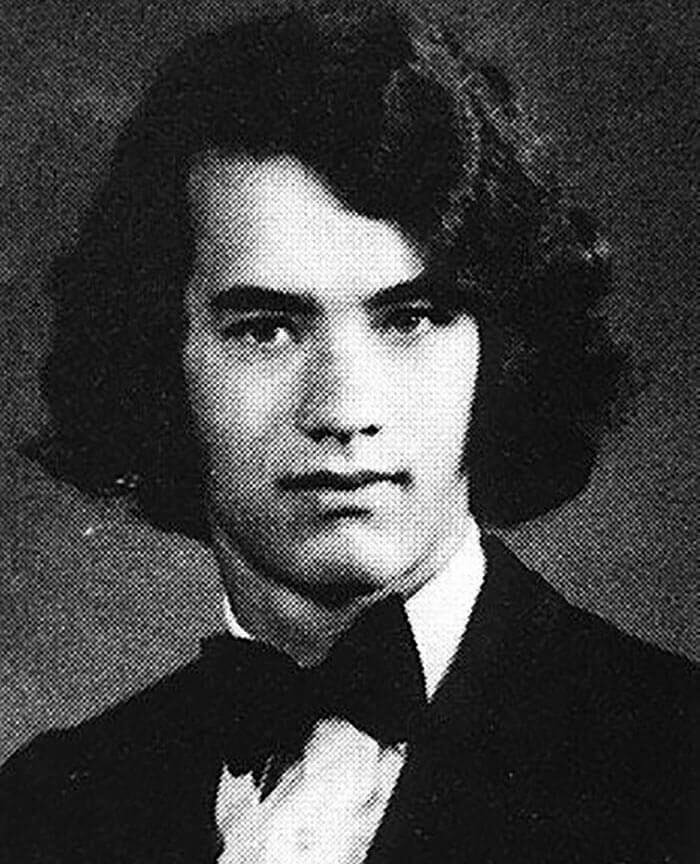 Eventually, Hanks decided to drop out and went on to audition for any small role he could find. After the success of Splash, he became a recognizable face and landed the role in Big. It was that movie that made him an established actor in Hollywood.
Jennifer Garner Hanging Out On The Swings
When Jennifer Garner was little, her mother used to call her "ragamuffin," and we can see why now. The actress had an interesting upbringing that she joked was practically Amish because her parents were so strict about what she and her sisters did.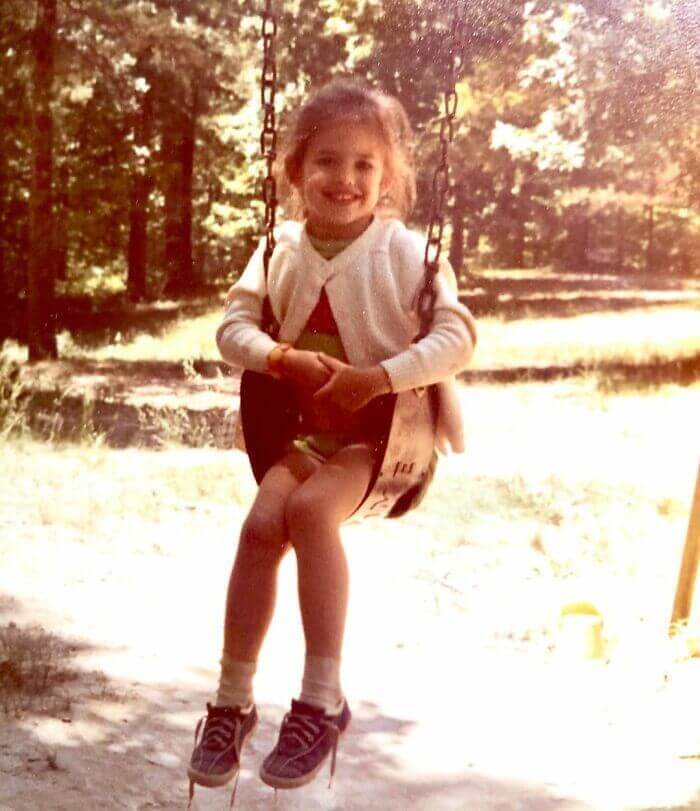 Initially, Garner went to college to study chemistry but quickly changed her major to theater. She would spend her summers working stock theater and found a passion for acting through this job. She also moved from South Carolina to LA once she graduated.
Dwayne "The Rock" Johnson Looking Ripped At 15
Is anyone really surprised that The Rock was already a muscle man by the time he was a teenager? Before starting his acting career, he was succeeding in sports and started playing professional football not long after he graduated from college.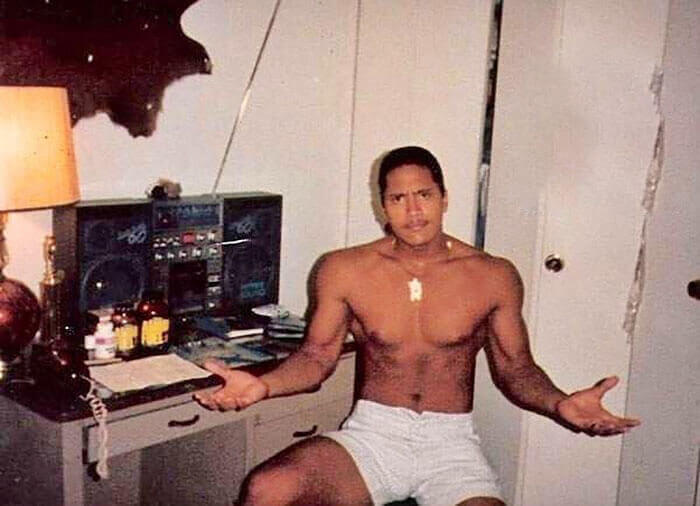 His nickname "The Rock" came from his days in the wrestling ring, and by the late 1990s, he was already a star being offered roles in movies. The movie that really changed his career was The Mummy Returns in 2001.
Nirvana In 1990
Three years before Nirvana was formed, Kurt Cobain and Krist Novoselic met at school. They had a few drummers before being introduced to Dave Grohl in 1990. Their first album, Bleach, was released in 1989 and became a favorite for college radio stations.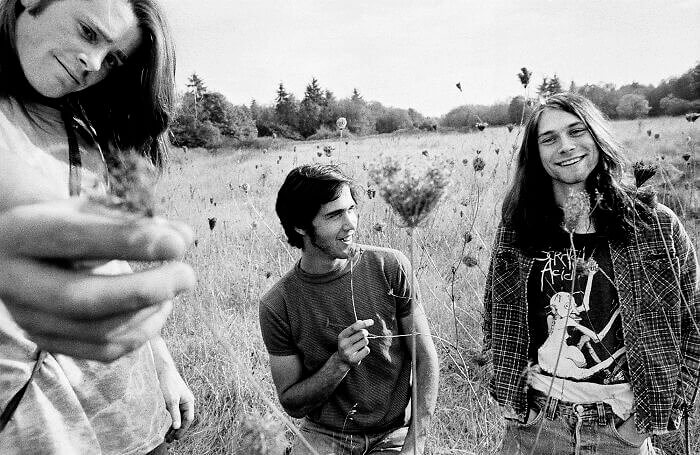 Nirvana found mainstream success with their single "Smells Like Teen Spirit" in 1991 from the album Nevermind. The album sold 400,000 copies in just a week and 30 million worldwide.
Sean Connery During His Time With The Royal Navy
Mr. 007 wasn't always an action-fighting international man of mystery. Sean Connery used to be a milkman in Edinburgh before joining the Royal Navy when he was 16. After three years, he was discharged on medical grounds and returned to his hometown.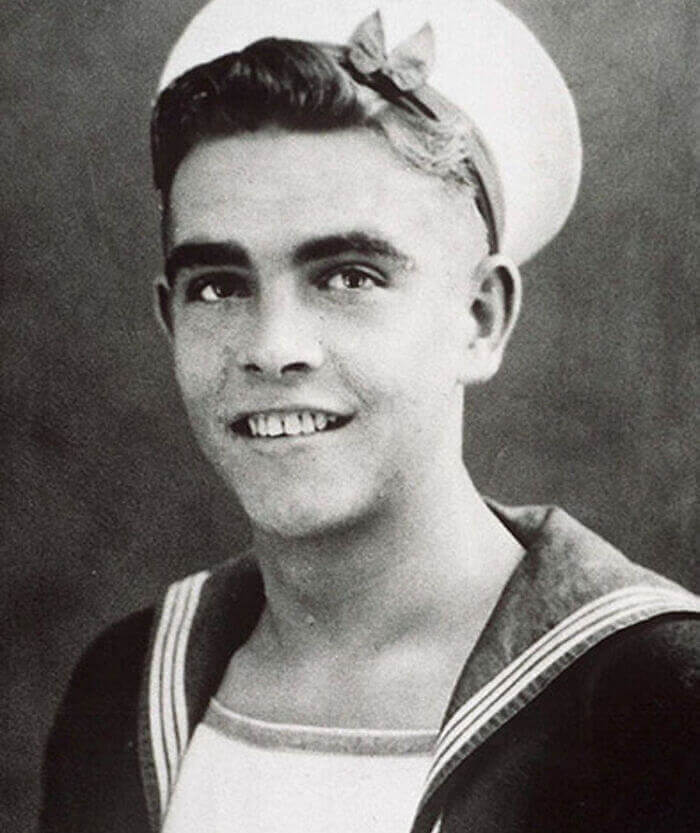 After the navy, Connery carried a few jobs like a lorry driver, a lifeguard, a laborer, and an artist's model for Edinburgh College of Art. In the 1950s, he finally started getting roles and an extra, but it wasn't enough to make ends meet. He had to work as a babysitter until he got more significant parts.
Angelina Jolie Has Always Been Gorgeous
When we were 16, we certainly didn't look like this, but Angelina Jolie has always been stunning. As a child, she enjoyed watching movies with her mother, which inspired her to start acting. Jolie attended the Lee Staberg Theater Institute for two years and appeared in a few productions.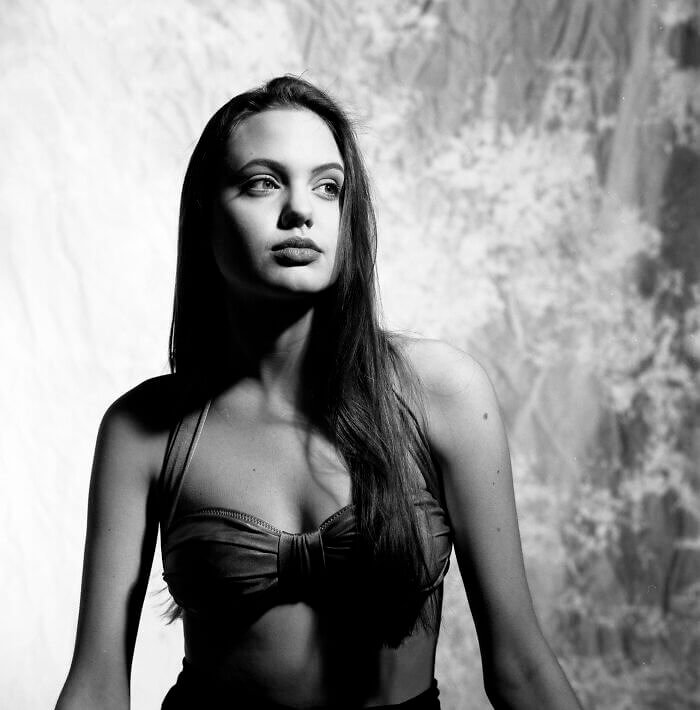 Jolie later studied drama at NYU and starred in her brother's student films. However, her first leading role as a professional actress wasn't until 1992 in Cyborg 2, but she didn't like the outcome and didn't audition for anything else for a year.
Millie Bobby Brown Looks Like She Is Up To Something
While it hasn't been that long since Millie Bobby Brown was a child, the 17-year-old actress has blossomed into a beautiful young lady. Born in Spain to English parents, she found a love for acting early on in life and made her acting debut when she was nine in Once Upon A Time.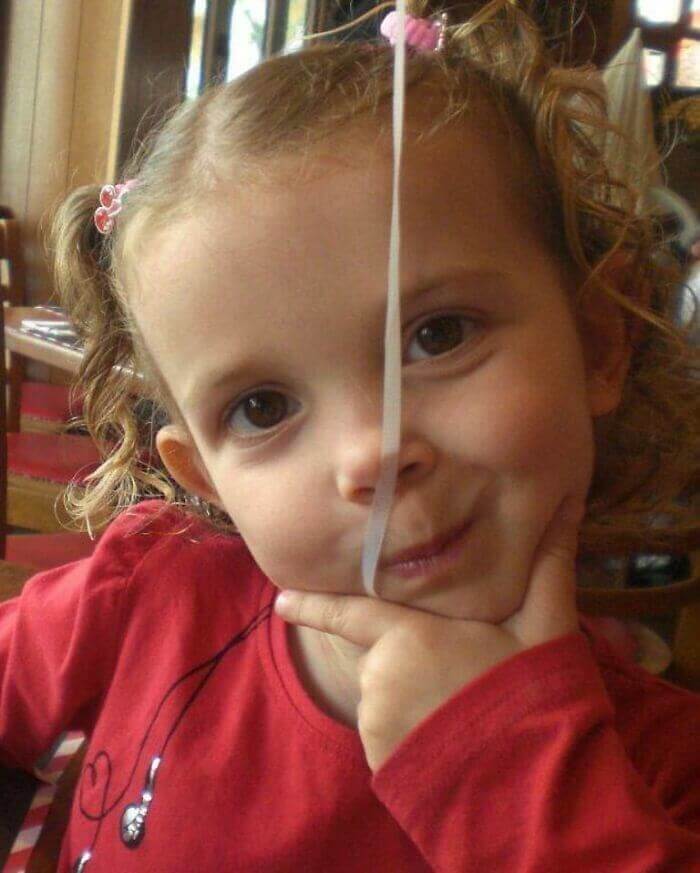 After just a few performances, Brown landed her breakthrough role in Stranger Things as Eleven. Her performance earned her many nominations at such a young age. Today she is a little older but just as sassy as she was in this photo.
Christoph Waltz In 1975
You might know Christopher Waltz from Inglorious Basterds or Django Unchained, but before he was a huge star, he was just a boy with a dream. Waltz was interested in theater early on since he went to the opera for the first time when he was 10. After that, he would go twice a week.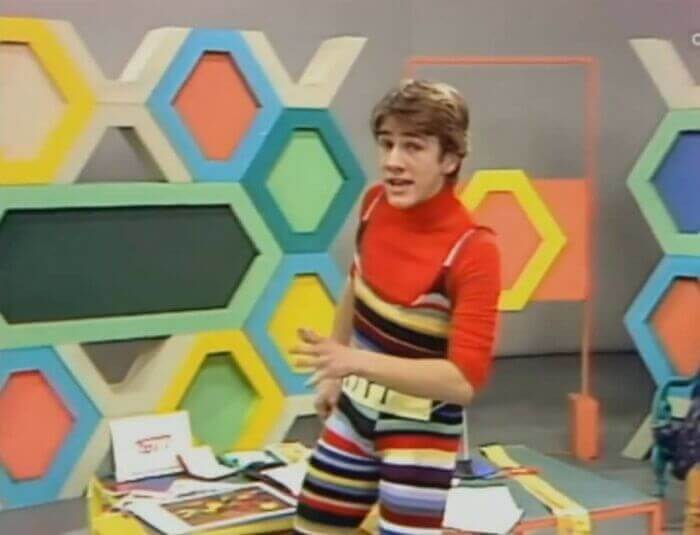 When Waltz attended University, he studied acting, but his true passion was singing and opera. Eventually, he realized his voice wasn't meant for singing, and he started working as a stage actor and director on a German television show called Wenn Man Sich Traut before his breakthrough role in 2009.
Eminem In The '80s Before He Was Rap God
Will the real Slim Shady please stand up. The first rap song Eminem ever heard was "Reckless" by Ice-T, Chris "The Glove" Taylor, and David Storrs in 1984. It inspired him to start rapping himself when he was 14. About ten years later, he released his first album, which was a commercial failure.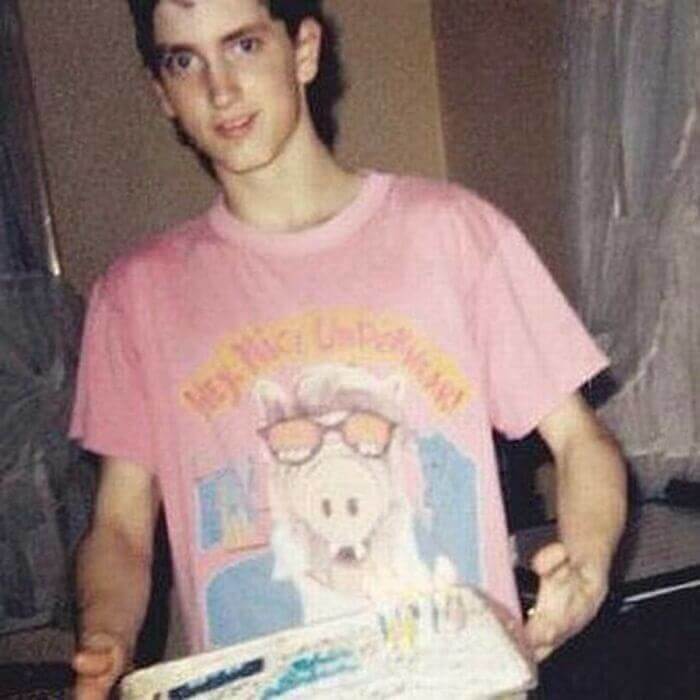 Everything in Eminem's career changed when he adopted the name Slim Shady and released a new album in 1997, Slim Shady EP. The album caught the attention of Dr. Dre and he invited Eminem to work together to release another EP two years later.
Lady Gaga In The 2000s
Since she was a child, music has been a part of Lady Gaga's life, when she started learning the piano at age four. Her passion only grew over the years, and she started performing at open mic nights when she was a teenager.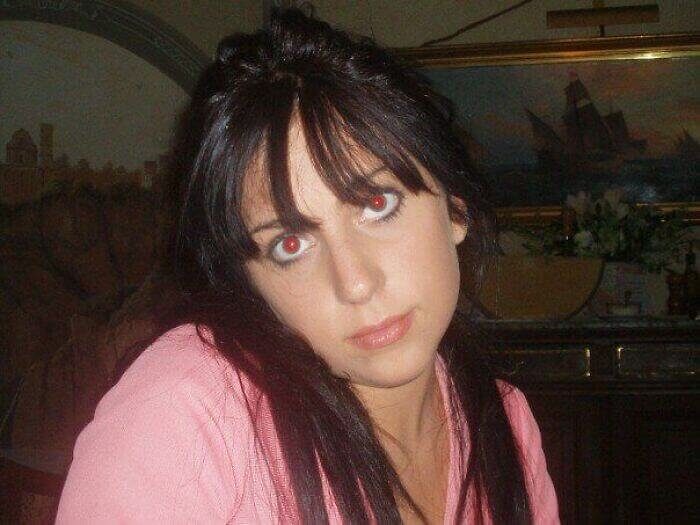 Gaga also studied method acting for ten years but didn't get any significant roles in her auditions. While studying in New York, she was performing when a talent scout helped her find her way to superstardom.
Bob Marley Without His Dreadlocks
If you are like us, you have probably never seen Bob Marley without his dreadlocks, but there was a time when he didn't have them. In 1964 when he released his song "Rude Boy," he had a buzz cut and dressed much differently.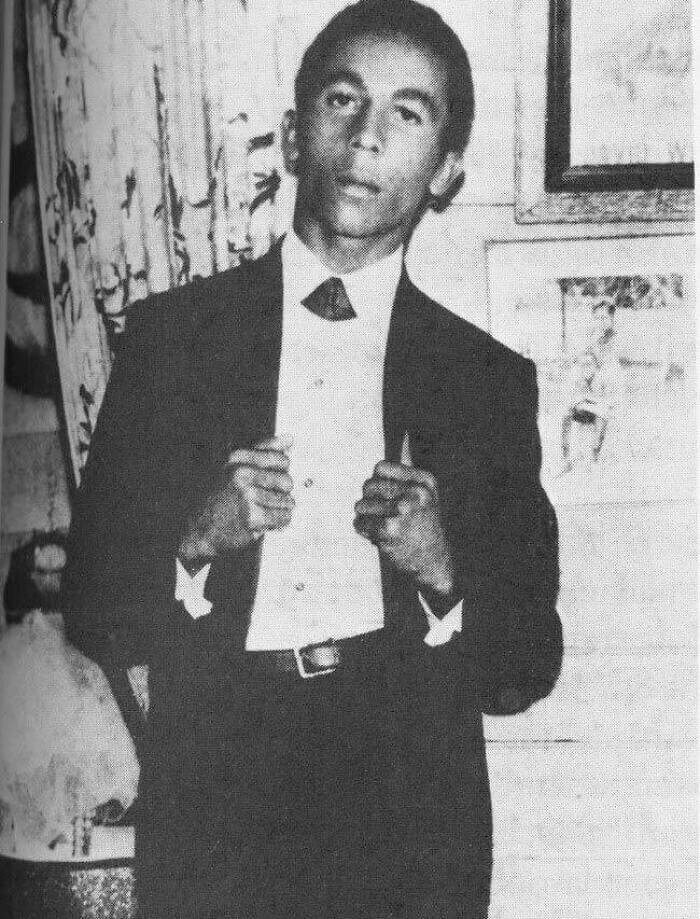 Marley started playing music in primary school with his friends before moving to Kingston and starting a vocal duo. However, the group didn't rise to fame until the '70s when they signed a contract with Island Records.
Christian Bale As A Dashing Teenager
As a teenager, Christian Bale was inspired to become an actor after he studied the work of Gary Oldman. The first time he appeared on television was in a commercial for the fabric softener Lenor in 1982. However, Bale's first stage debut wasn't until 1984 in The Nerd with Rowan Atkinson.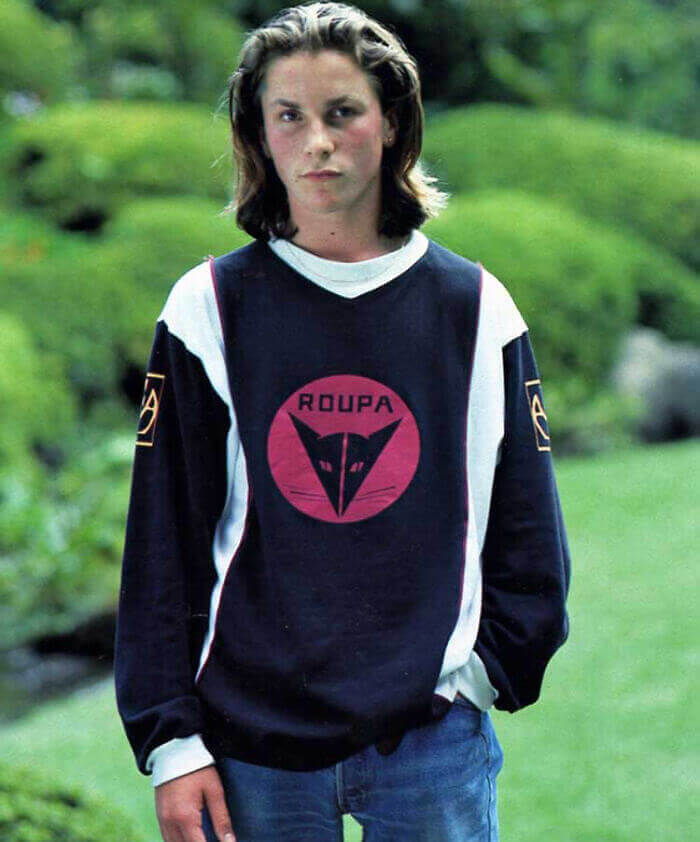 Two years later, Bale appeared in his first movie Anastasia: The Mystery of Anna. He then gained attention and more roles, which made him question his career choice. However, Kenneth Branagh talked him out of giving up on his career.
Jennifer Aniston Dressed As A Witch For Halloween In 1986
Jennifer Aniston discovered her love of acting when she was attending a Waldorf school at age 11. Her first job was in an off-Broadway production, but she had to take jobs on the side to support herself. She was a telemarketer, waitress, and bike messenger.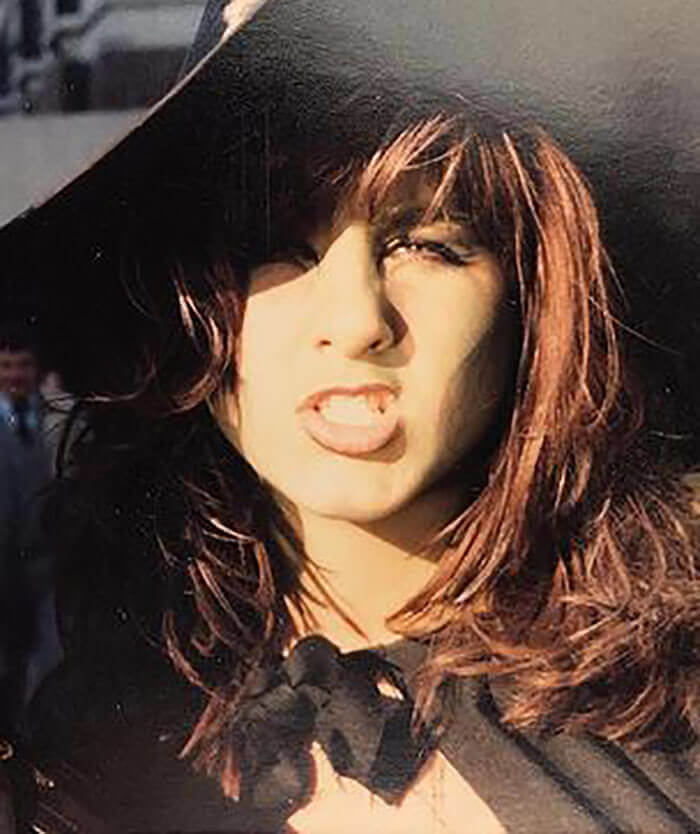 Anniston's first regular TV role was on a show called Molloy in 1990 before she got her big break as Rachel Green in Friends. She was just 17 when she took this picture, and we wonder if she knew how famous she would be back then.
Tommy Lee Jones While Playing As An Offensive Guard At St. Mark's School Of Texas
As a teenager, Tommy Lee Jones got a football scholarship that allowed him to attend a boarding school in Dallas, where he took an interest in theater and played in some student productions. He then graduated and attended Harvard University, where he continued to play football and appear in theater productions.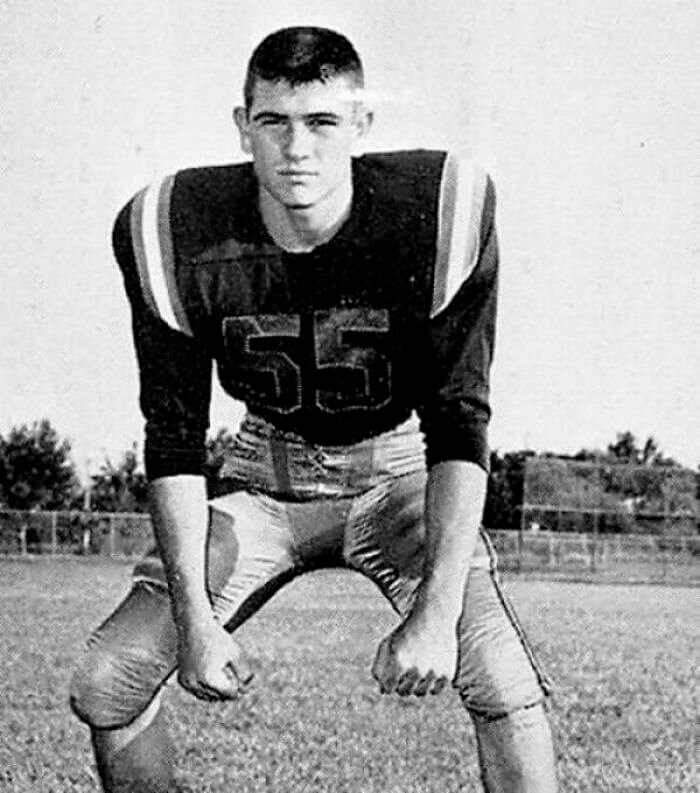 After graduating, Jones decided to move to New York to pursue acting, and he got his first movie role in 1970, playing a Harvard student in Love Story. It must not have been hard for him to play this role, considering he had just graduated from Harvard.
Quentin Tarantino In 1983
Quentin Tarantino started showing an interest in films when he was just a young boy. At age 15, he worked as an usher for an adult movie theater and worked in a video store for five years. By watching movies at the store, Tarantino learned a lot about movie-making.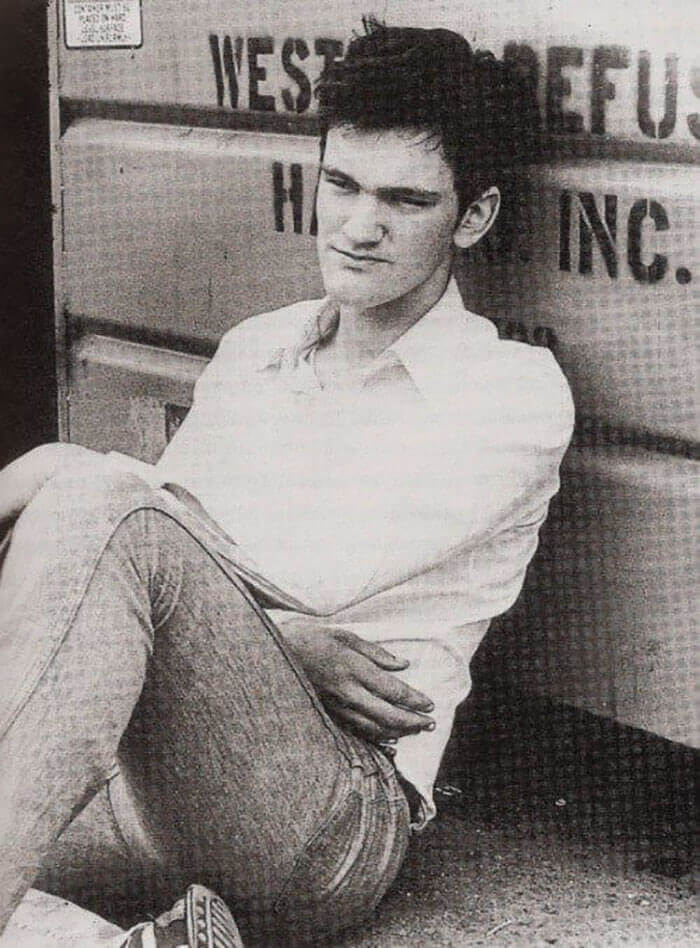 Tarantino was later paid to watch movies (how do we get that job?) and got his first job in Hollywood in 1986 as a PA. A few years later, he wrote his first movie, launching the career of one of the most admired film directors in Hollywood today.
Clint Eastwood As A High School Senior
Clint Eastwood looks much different than we know him today with his dapper hair and babyface. After graduating from Oakland Technical High School, he held various jobs, including hay baler, logger, and truck driver, before being drafted into the Army during the Korean War.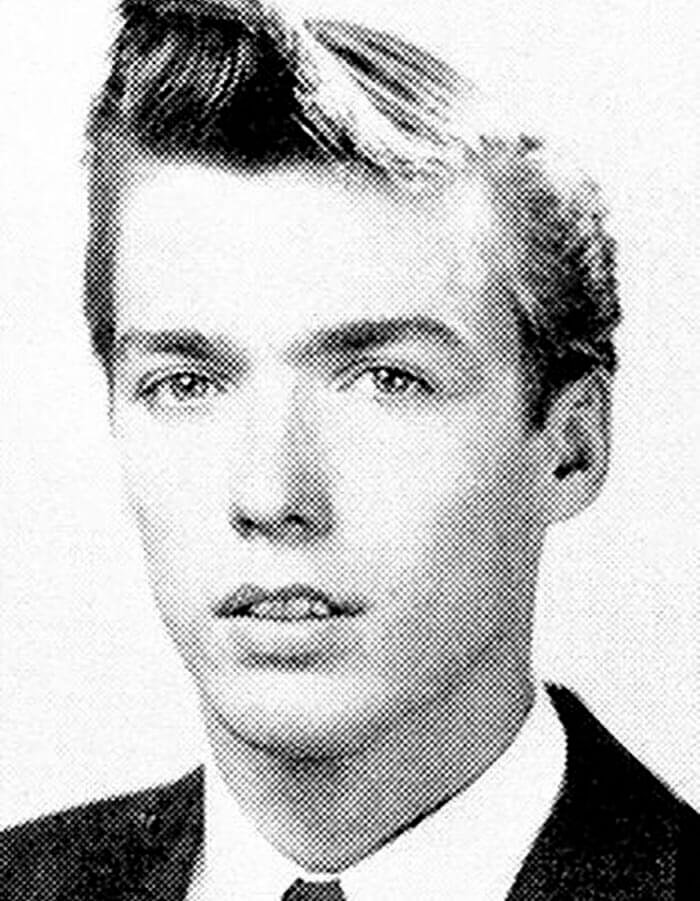 Eastwood was stationed in California, where he served as a swimming instructor. After the army, he appeared in a few TV series before he got his big break in 1959 in Rawhide. Eastwood gained international fame and is still acting today at 90-years-old.
Vin Diesel When He Had Hair
We had no idea what color hair Vin Diesel had before seeing this picture. The famously bald actor started performing on stage when he was just seven years old in the children's play Dinosaur Door in New York. Theater continued to be a big part of his life when he was a teenager as well.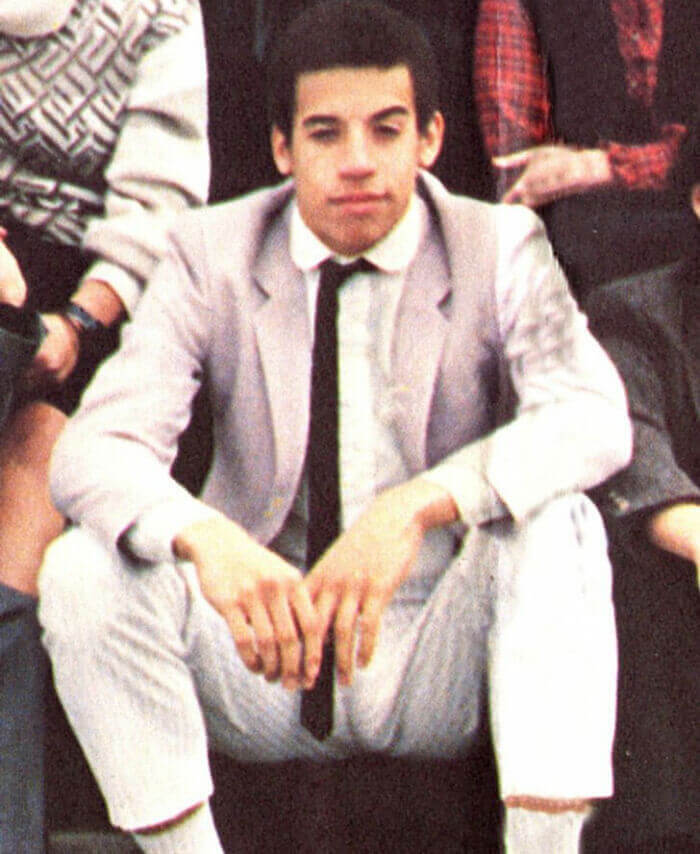 Vin Diesel started college but dropped out to begin screenwriting. Diesel's first role was in 1990 in an uncredited role, but Steven Spielberg later cast him in Saving Private Ryan, which helped him get his foot in the door for more parts.
Katy Perry In 2001
You might not recognize Katy Perry without her signature black locks, but her hair is naturally dirty blond. The pop star began vocal lessons at age nine while singing in church. For her 13th birthday, Perry received a guitar and started playing songs she wrote.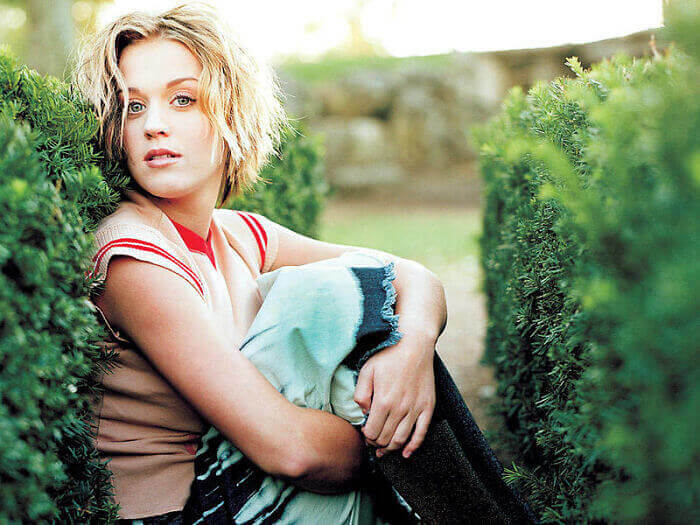 Perry took dance lessons to learn swing, Lindy Hop, and jitterbug, all popular dance styles in the '50s. Also, her first album was released under the name Katy Hudson, and it had a lot of Christian music before she changed up her style.
David Harbour In 1994
David Harbour hasn't changed much over the years besides his hairstyle. Harbour began acting in the 1990s, and his first professional job was on Broadway in the revival of The Rainmaker. He also had minor roles in Law & Order: SVU.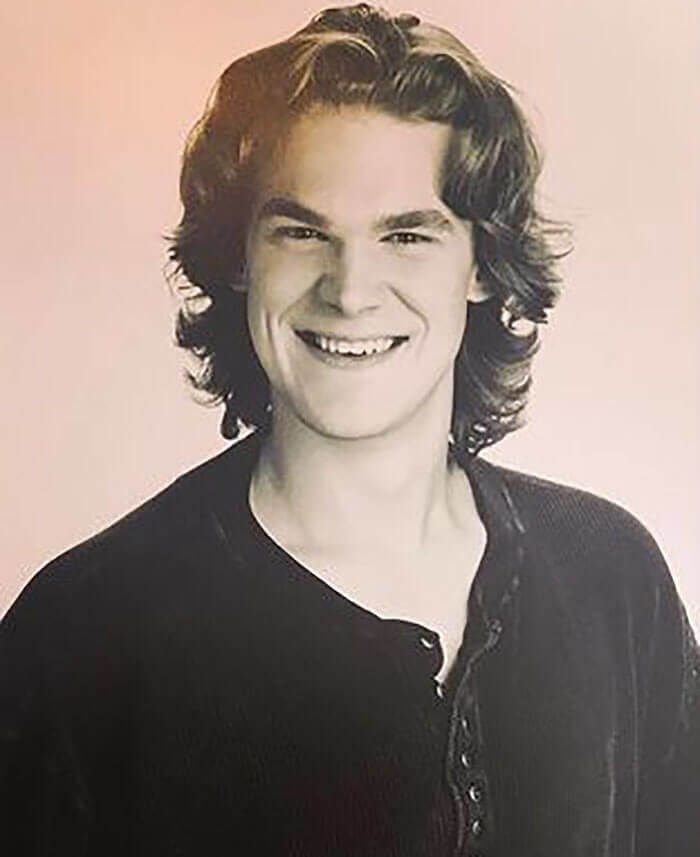 As he gained notoriety in Hollywood, Harbour became a more recognizable face. However, it wasn't until he was cast in Stranger Things that a role really changed his life. This role actually helped him land other parts.
Mark Zuckerberg At Harvard Where He Created Facebook
Mark Zuckerberg looked less like a robot back in his college days, but someone should have told him to clean up his room. The Facebook founder began writing software when he was in middle school, and his father hired him a private tutor to help his son's interests.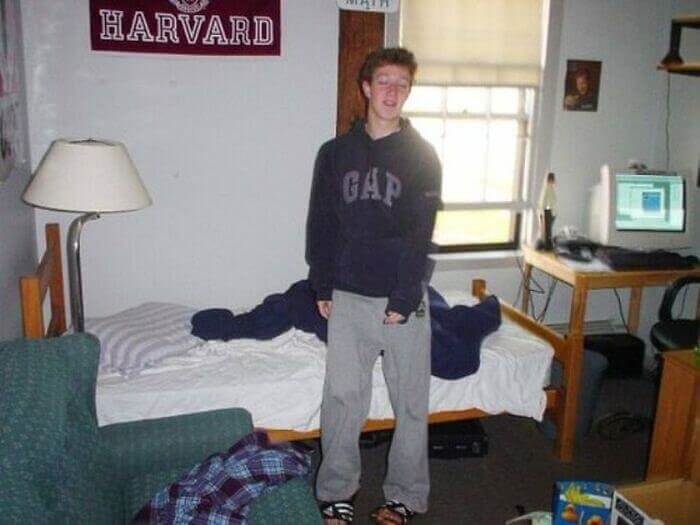 Zuckerberg would create video games, and his artistic friend would draw the graphics. In college, he became a programming prodigy and created a few new programs before Facebook. It's funny that this teenager is now one of the richest men in the world.
Dwayne "The Rock" Johnson In His Childhood Class Picture
Before he was a buff action star, The Rock was just a cute little buck-toothed child. He grew up in New Zealand and across the US as his family moved around often. As a child, he was always into sports and looked up to his dad, who was a former professional wrestler.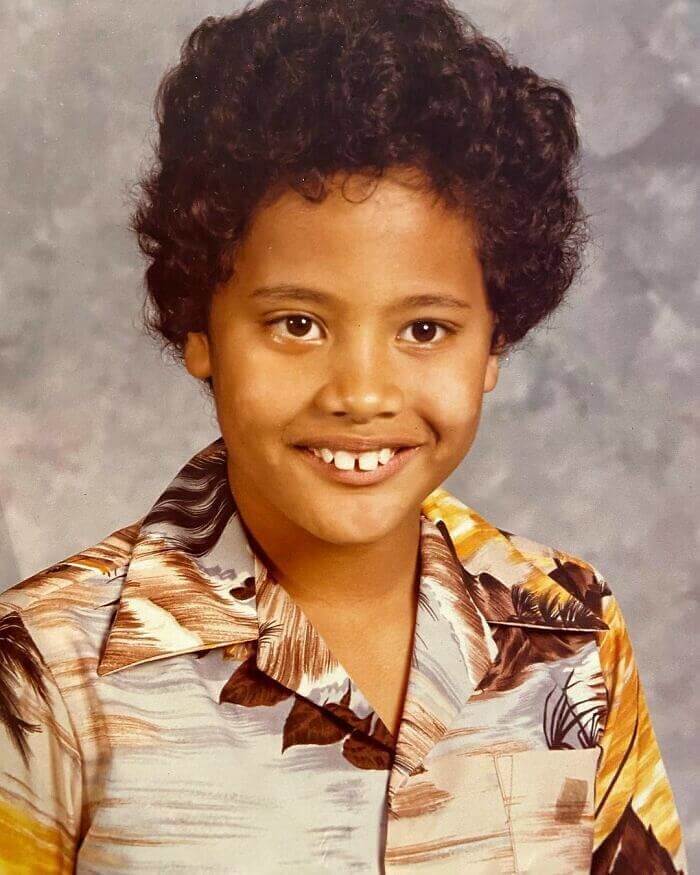 Because of his connections with the wrestling world, The Rock secured a contract with WWF for eight years before pursuing an acting career. Today he is one of the highest-grossing and highest-paid actors in Hollywood.
Rihanna Looks Exactly The Same (Sort Of)
Little baby Rihanna before she was the CEO of Fenty and Savage X Fenty. The Barbados native grew up listening to reggae music, which later inspired her own sound. However, she didn't get into singing right away as she was an army cadet at a sub-military program.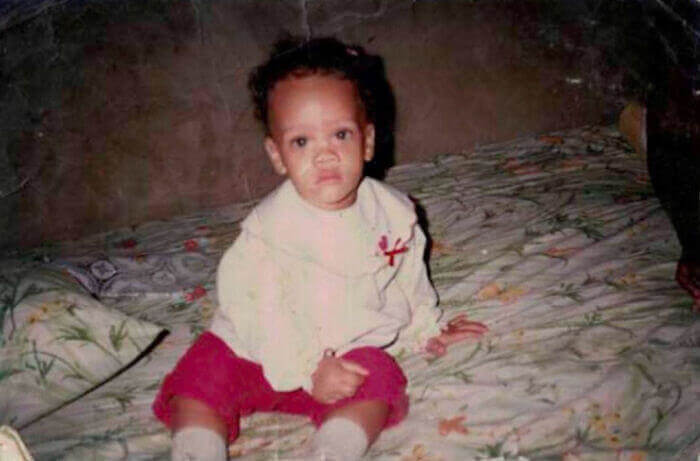 While in the program, Rihanna met a singer-songwriter who inspired her to pursue a music career. Although we aren't getting new music any time soon, we have to appreciate how far this baby came from a small island to worldwide fame.
Usher Was Probably Flirting With The Camera
Usher is known for his smooth RnB jams that make women everywhere swoon, and we can imagine he was a very flirty baby too. At his young age, he was already showing off his smolder for the camera.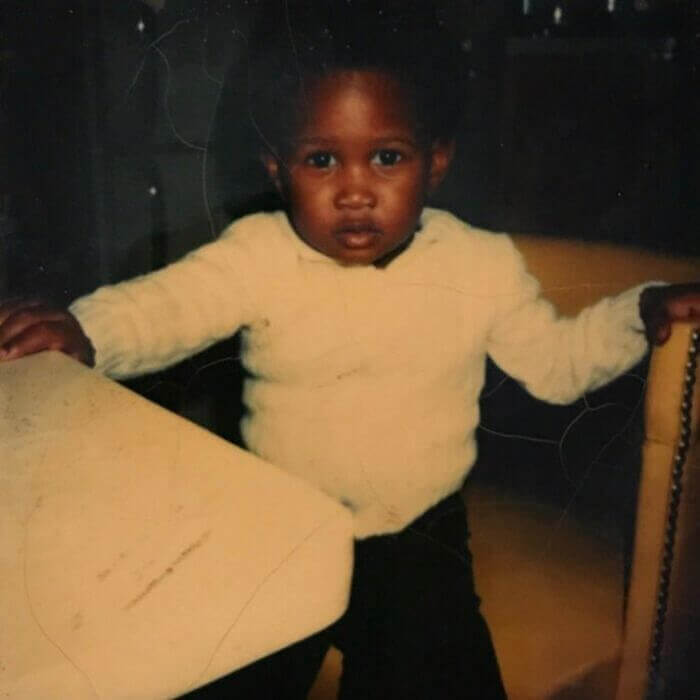 As a child, his mother told him to join the church choir because he was so talented. Then his grandmother considered he could sing professionally once she heard him. The family decided to move to Atlanta to give him a better opportunity to become something.
Heidi Klum Collecting Easter Eggs
As a child growing up in Germany, Heidi Klum was known for her beauty. A friend convinced her to join a modeling contest, and she won out of 25,000 contestants, and she was offered a modeling contract. After graduating from high school, she accepted the contract.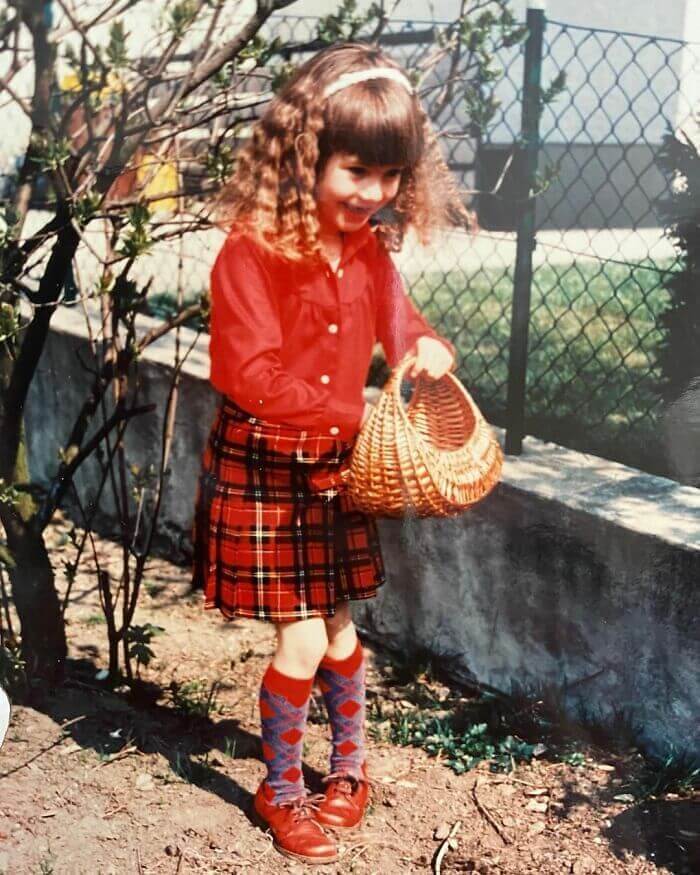 She was going to try for an apprentice position at a fashion design school, but the modeling contract was more promising. Klum proved herself quickly and landed on the cover of French, German, Portuguese, and Spanish Vogue.
Julia Roberts Practicing Her Vocals
We can't tell if Julia Roberts was in shock, singing, or yelling in this picture, but we would like to think she is singing. She looks a lot like her niece Emma Roberts here, and we can see the resemblance in their family.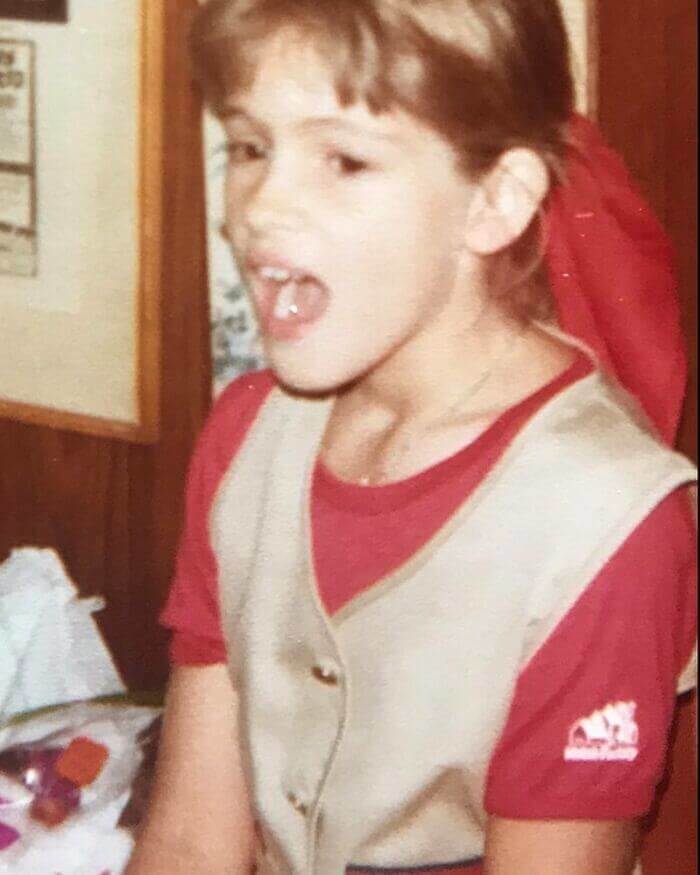 As a child, she wanted to be a veterinarian, but once she made it to college, she decided to drop out, move to New York and pursue acting. Once there, she signed with a modeling agency and enrolled in acting classes.
Amanda Seyfried Was Beautiful Even As A Baby
It's no surprise that Amanda Seyfried was a gorgeous baby because she is such a beautiful adult. As a child, she began modeling when she was ten in print ads for Limited Too with Leighton Meester. She was also featured on the cover of three Sweet Valley High novels.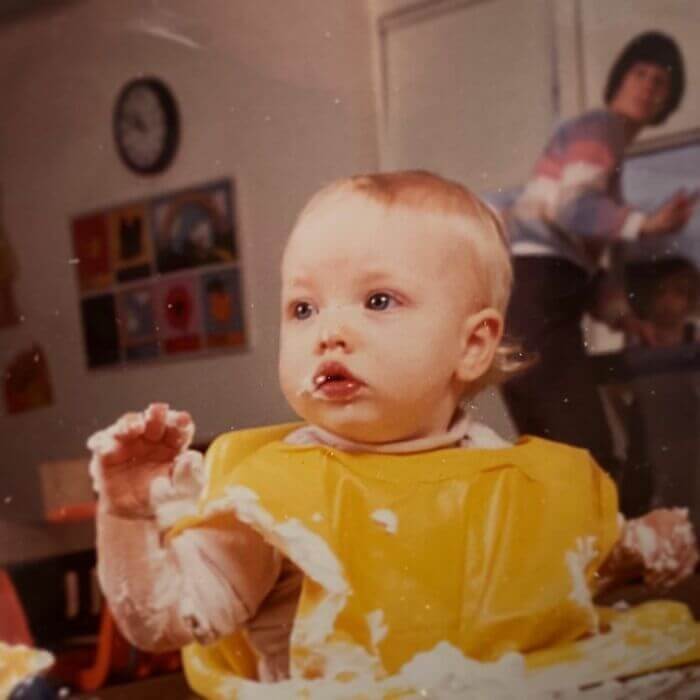 At 17, Seyfried decided to stop modeling and started working as a waitress in a retirement community. During that time, she took vocal lessons, studied opera, and trained with a Broadway coach. From here, she slowly got roles on TV as she continued to audition.
Britney Spears In Her Original Diva State
Oops, she did it again! Britney Spears always had that star power, and you can see it here in her childhood photo. From a young age, she already had an interest in singing, dancing, and entertaining people with her vibrant personality.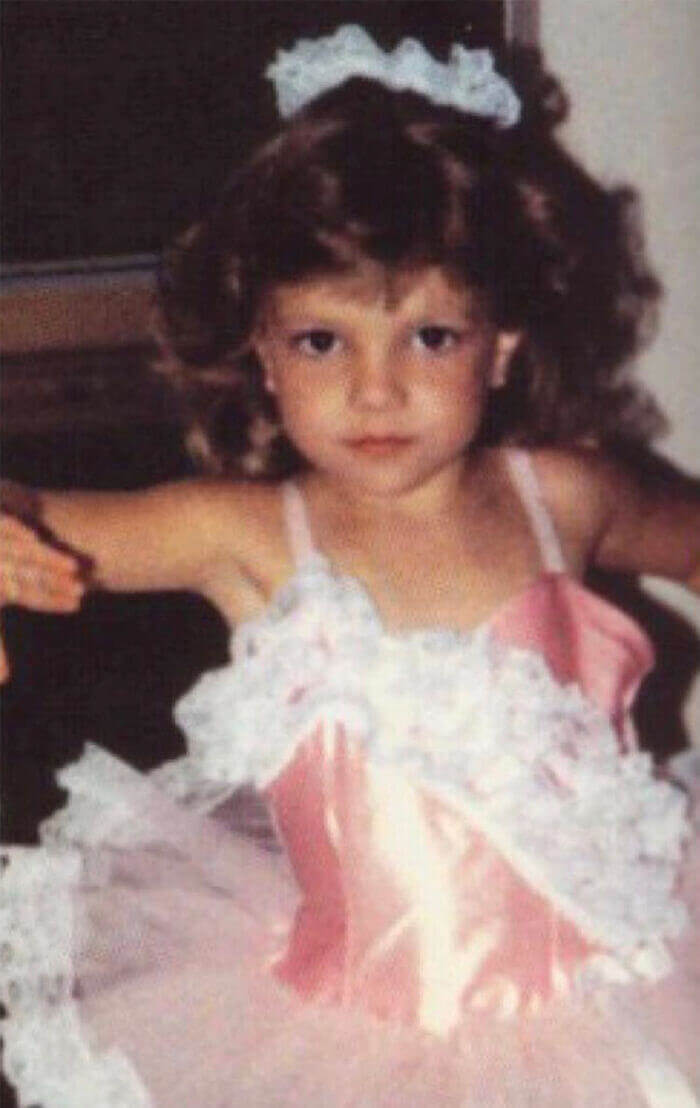 While her adult life hasn't been so easy, one thing is for sure; that little girl grew up to be one of the best performers. If only people would let her make her music and live her life the way she wants to, she would be so much happier.
Christina Aguilera Halloween Circa 1985
This looks nothing like the Christina Aguilera we know and love today, but she was an adorable little girl. As a child, she moved around a lot because of her father's military service. However, when her parents divorced, she used music as a way to escape.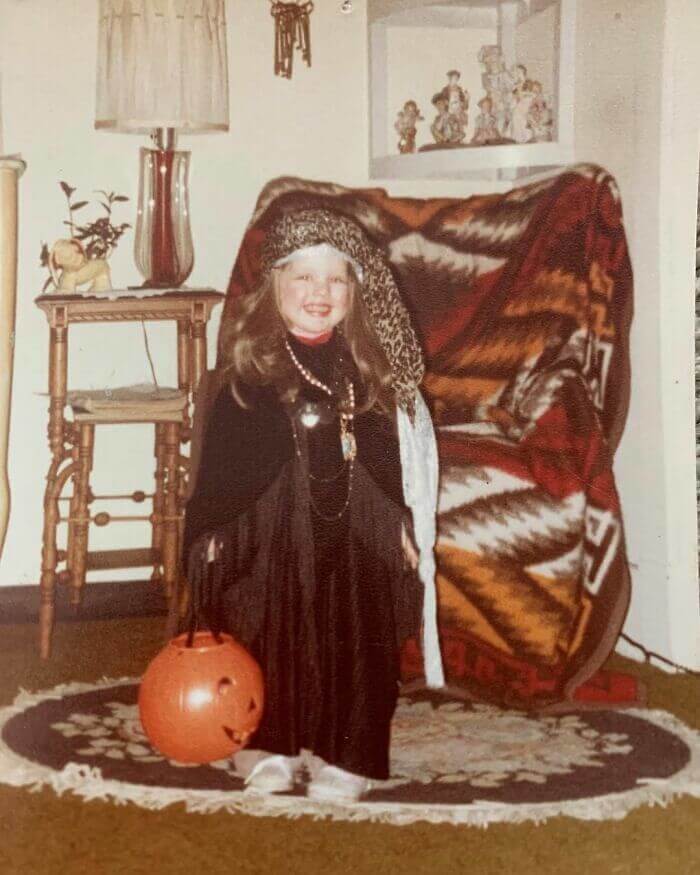 As a child, Aguilera was drawn to soul and blues music because of her grandmother's records, and she would practice singing to them. She won her first talent show at age eight for her rendition of Whitney Houston's "I Will Always Love You."
Gigi Hadid With Her Grandma
Gigi Hadid was ready to be a model since the day she was born. As a child, she considered herself a tomboy because she was always into sports, especially basketball, but that changed as she got older, and her mom saw the potential she had as a model.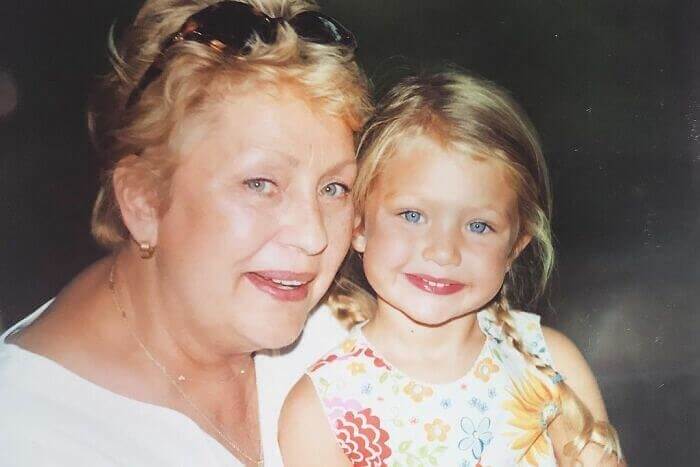 Hadid comes from a family of models, and you can see she gets her beauty from her mother's side. She is pictured here with her late grandmother, who she would visit in Holland, where her mom grew up.
Katy Perry And The Easter Bunny
Have you ever noticed how creepy the Easter bunnies at the mall used to be (and still are)? Although it is hard to recognize her, that is a little Katy Perry posing in her pastel Sunday best with the Easter bunny.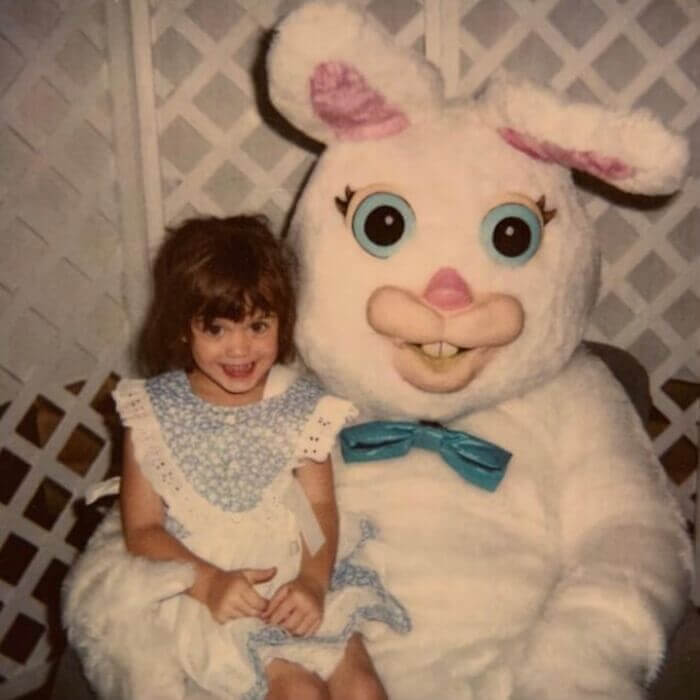 Perry grew up in a religious household, so the holidays were very important to celebrate for her family. Her family didn't have a lot of money, and they sometimes had to get food from the church's food bank, but Perry enjoyed everything her parents were able to provide.
Miley Cyrus And Her Newborn Sister
When Miley Cyrus was first born, her parents named her Destiny; however, she was such a smiley baby, and they started calling her "smiley Miley" before legally changing her name. While missing one of her front teeth, she still has a huge grin on her face because she is holding her baby sister.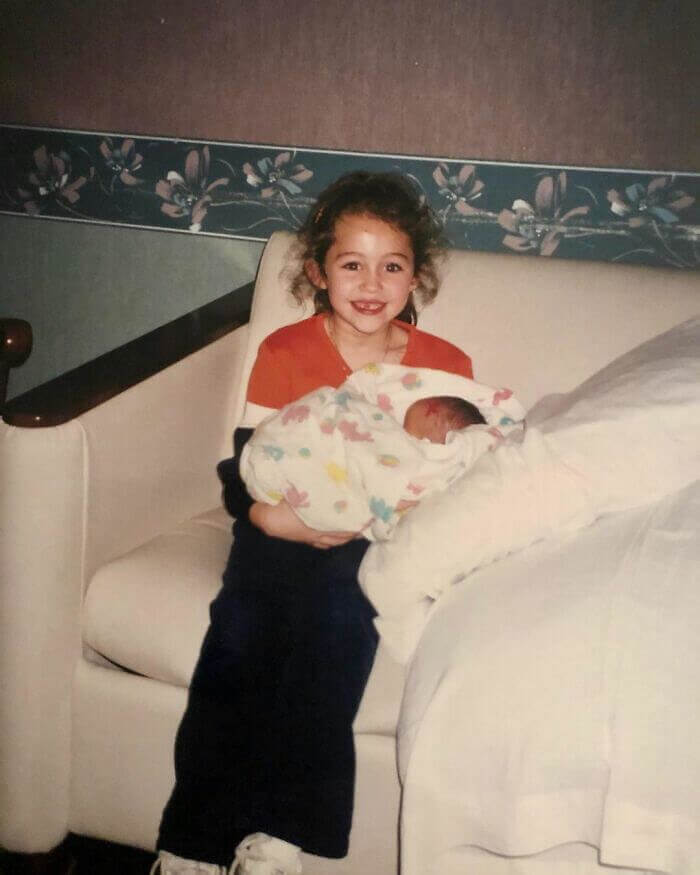 Miley and her younger sister Noah may have a seven-year age gap between them, but they are the closest sisters we have ever seen. Miley even said that Noah sometimes takes care of her even though she is the little sister.
Justin Timberlake Rocking Around The Christmas Tree
It seems that Justin Timberlake was always destined to be a musician. As a child growing up in Memphis, Tennessee, he was always surrounded by music. His grandpa introduced him to Johnny Cash and Willie Nelson, and Timberlake would perform the songs for his family.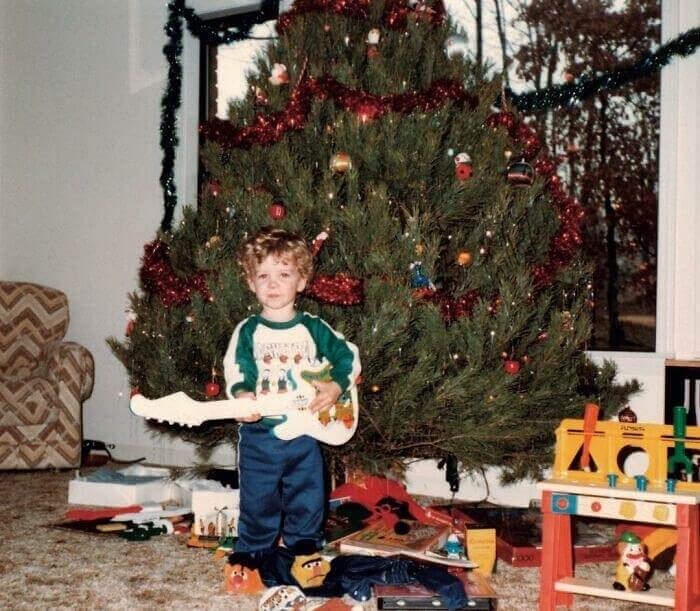 When Timberlake was 11, he appeared on the show Star Search performing country music. However, it was around that time that he started to get into RnB music like Stevie Wonder and Marvin Gaye. He was so talented that he landed a spot on The All-New Mickey Mouse Club with Britney Spears and Christina Aguilera.
Margot Robbie And Her Big Brother
Margot Robbie and her big brother were adorable as children. Robbie grew up in Dalby, Queensland, where she was raised by a single mom after her parents divorced. She lived on a farm and was always an energetic child putting on shows around her house.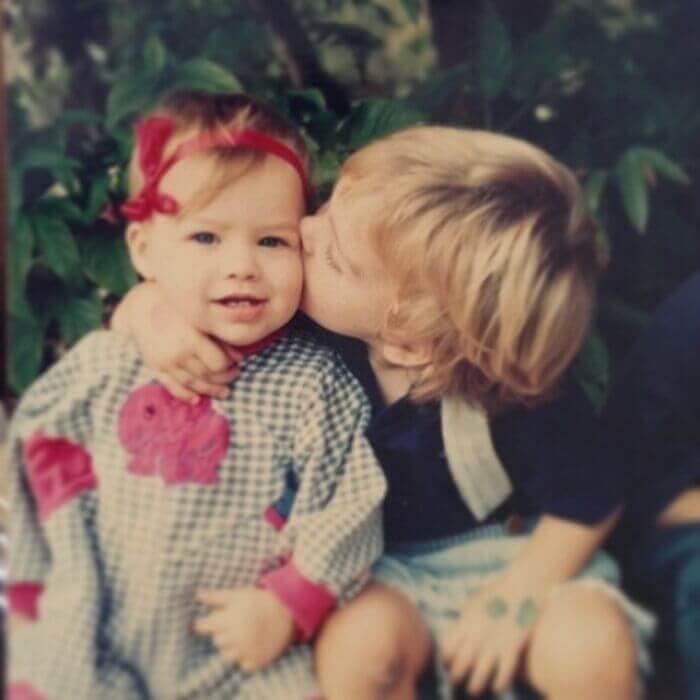 In an interview, Robbie once said that she was really dramatic and loved performing. She would watch any movie she could find on TV and re-enact it for her mom. She would even make her family pay to watch her shows, especially her magic shows.
Ariana Grande's School Photo
If anything, we can thank Ariana Grande for her consistency with her high ponytail. As a child, Grande was already a natural performer and would participate with the Fort Lauderdale Children's Theater, playing her first title character in their version of Annie.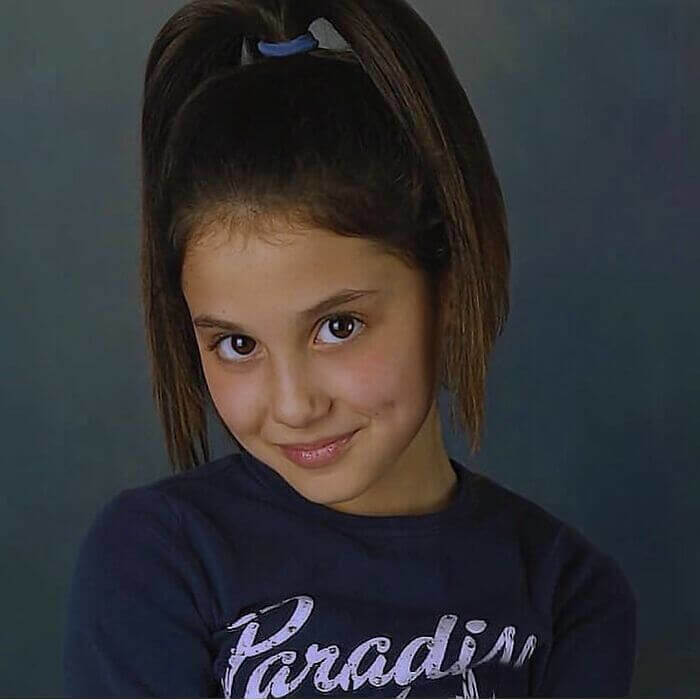 Grande also performed in The Wizard of Oz and Beauty and the Beast. When she was eight, she also performed on cruise ships, with South Florida Philharmonic. Everyone knew she would be a star with her vocal range, and she was just waiting to be discovered.
Sarah Jessica Parker Reading With Her Mom
As a child, Sarah Jessica Parker was one of eight children, and although her mom barely had time, she still found a moment to read to all of her children. Growing up in Nelsonville, Ohio, her parents tried to provide a lifestyle they couldn't afford.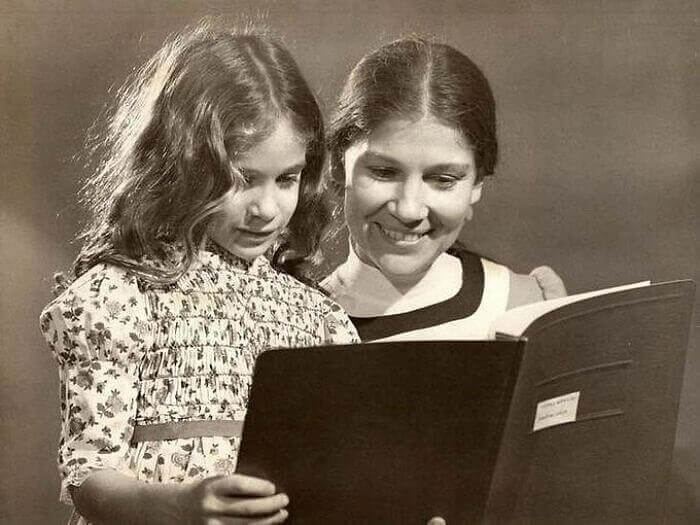 Parker remembers that the electricity would be shut off, or they would have to forgo Christmases and birthdays because her parents couldn't afford the holidays. However, her mother found any free extracurricular activity to sign them up for so they would have "full, rich lives."
Hilary Duff's First Headshot Session
Although we know Hilary Duff as the bubbly Disney channel child, she looks pretty angry in her first headshot. When Duff posted this picture, she said she couldn't believe how many auditions she took this picture to, and we wonder how many of those roles she actually got.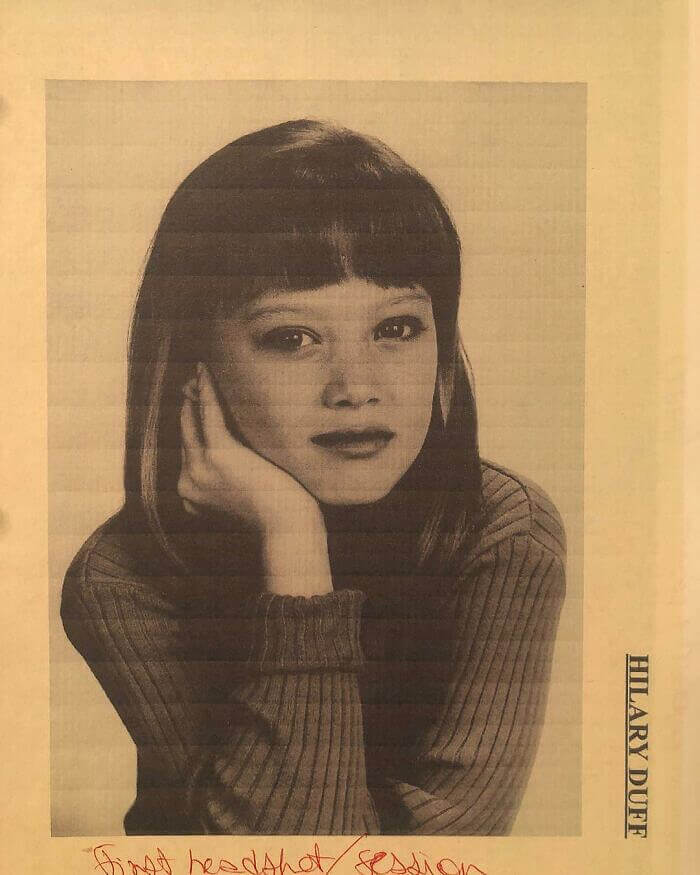 Duff wanted to be an actress from an early age, and her mom even relocated her family from Texas so her children would have more opportunities. Because of her acting career, she was homeschooled from age 8, and she got many minor roles until she landed Lizzie McGuire.
35+ On-Screen Couples Who Took Their Romances To The Real World
Ashley Lez
This article was originally published on Kueez
Movies and TV shows transport us into other worlds where we genuinely believe the characters exist in reality. There is nothing better than watching your two favorite characters fall in love, and what's better than life imitating art? Sometimes, when two actors have enough chemistry, the feelings become real, and they take their romance off-screen. Some stay together, and some realize their romance was better when it was scripted, but they give fans something to talk about–especially when the romance starts off behind their spouses' backs. Read on for all the juiciest details on your favorite on-screen couples that got together in real life.
Kit Harington And Rose Leslie – Game Of Thrones
You might know these two as Jon Snow and Ygritte on Game of Thrones because they were a couple on the show. To viewers' delight, the actors Kit Harington and Rose Leslie got married in 2018 after being linked on and off-screen for a few years.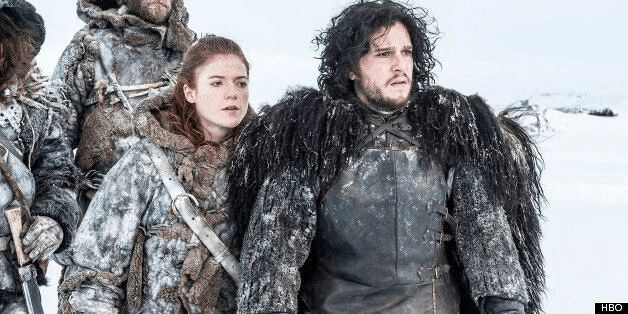 Leslie's character was killed off the show, Harrington said her death was one of his favorite scenes. He said, "I know it sounds bizarre. She nailed that. And it's the first time in Thrones that slow motion was used, and I think it's a beautiful, cradling moment as this battle rages on in the background."
Blake Lively And Ryan Reynolds – The Green Lantern
Blake Lively has had a few romances with her co-stars, but none of them compare to the love she has for Ryan Reynolds. Before they were married with three kids, Lively and Reynolds met on the set of The Green Lantern. They went on a double date with other people, and then they realized they wanted to be together.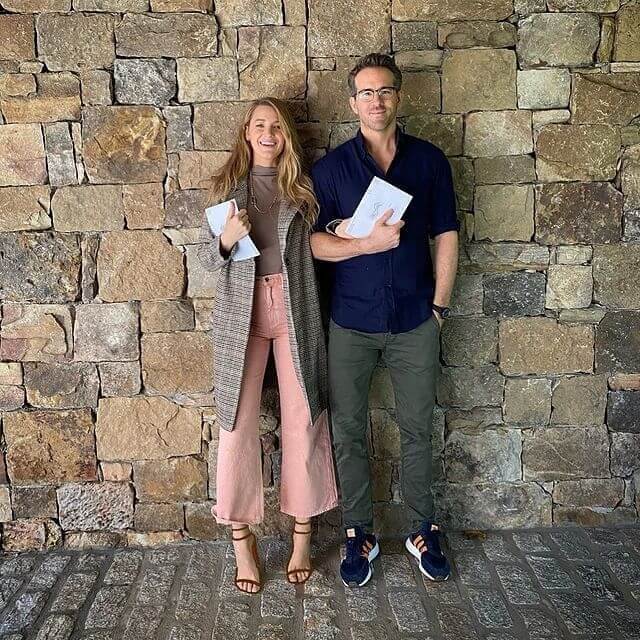 Reynolds said, "About a year after Green Lantern had come and gone and we were both single, we went on a double date. She was on a date with another guy, and I was on a date with another girl. That was the most awkward date because we were just like fireworks coming across."
Ashton Kutcher And Mila Kunis – That '70s Show
Ashton Kutcher and Mila Kunis are one of the cutest couples on and off-screen. They first met on the set of That '70s Show, where they played one of the funniest couples, Jackie and Kelso. These two were truly iconic, and everyone was disappointed when Kutcher ended up marrying Demi Moore in real life.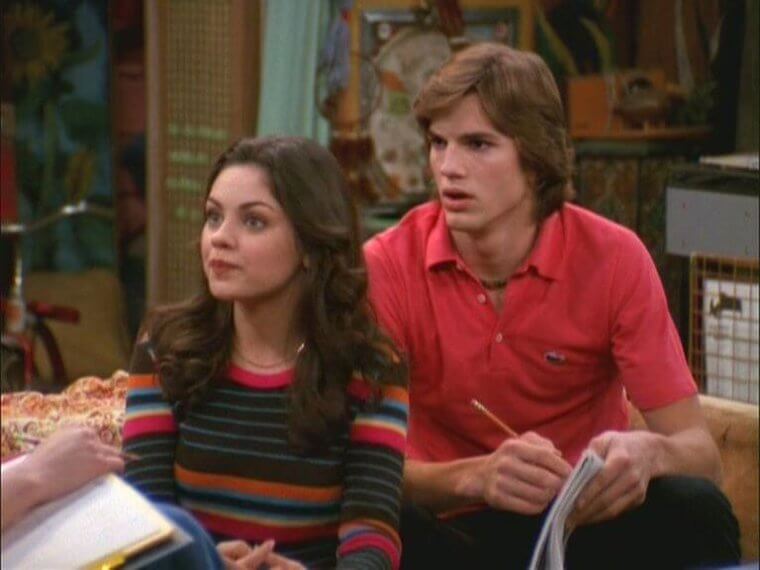 That '70s Show/Carsey-Werner Distribution
However, after Kutcher and Moore divorced, fans were hopeful that Jackie and Kelso would be together again. The couple reconnected at the Golden Globes and have been together ever since. They married in 2015 and have been one of Hollywood's hottest couples.
Nina Dobrev And Ian Somerhalder – The Vampire Diaries
In The Vampire Diaries, Elena Gilbert (Nina Dobrev) is caught in a love triangle between two vampire brothers Stefan and Damon (Ian Somerhalder). Although her character had trouble choosing, Dobrev's love choice was simple.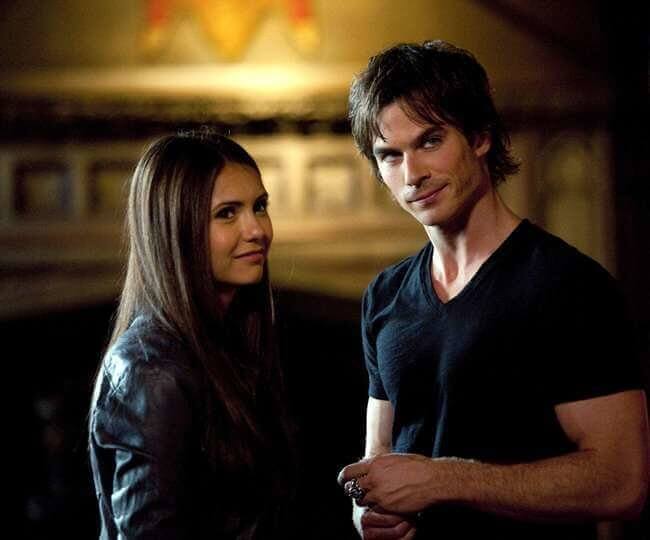 Somerhalder and Dobrev dated for a few years before breaking up in 2013 mutually. They remained friends even after he started dating his now-wife Nikki Reed. It's nice that they can still see each other without being awkward since they both moved on.
Leighton Meester And Sebastian Stan – Gossip Girl
While working together on Gossip Girl in 2007, Leighton Meester and Sebastian Stan formed a real-life relationship after sort of dating on the show. In an interview, Stan said he was the luckiest guy to date her, and it didn't bother him to see her with another man on the show.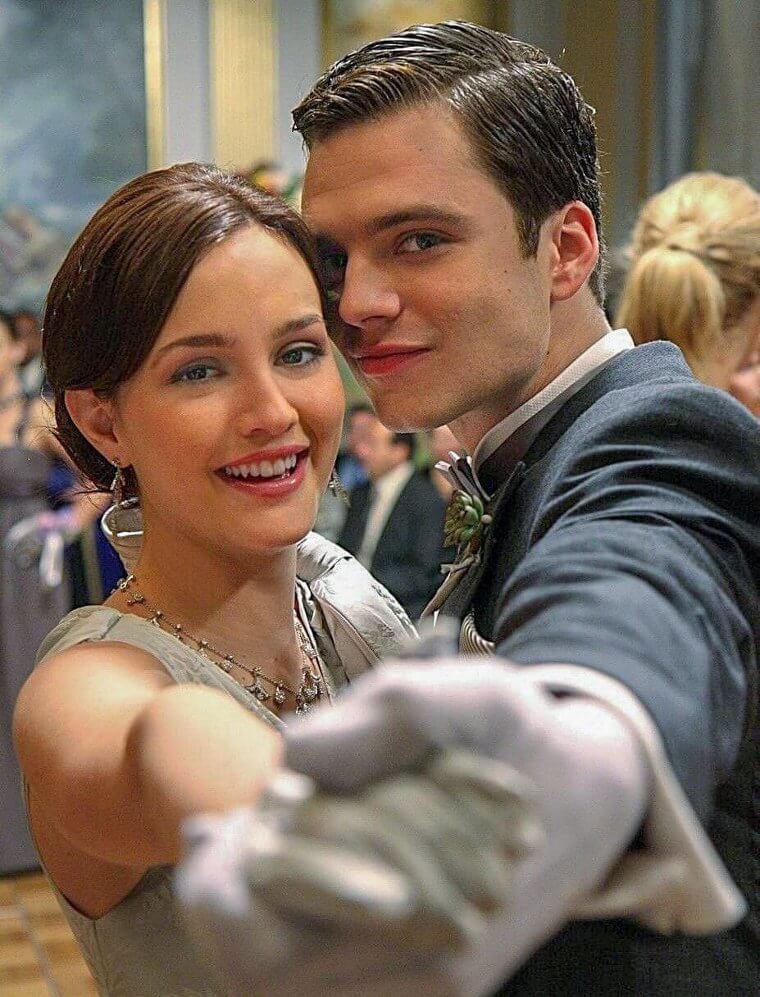 However, Meester and Stan ended their relationship amicably. After their relationship, Stan was linked to many famous women, and as his career started to take off, he decided to keep things more private.
Kaley Cuoco And Johnny Galecki – The Big Bang Theory
While Penny and Leonard were dealing with their relationship on The Big Bang Theory, the actors who played them had a secret romance behind the scenes. Kaley Cuoco and Johnny Galecki met on the set of the show and dated for two years.
Although fans were always rooting for Penny and Leonard, Cuoco and Galecki couldn't make things work. It must have been awkward to continue playing a married couple on the show, but at least they were able to remain friends and work well together.
Blake Lively And Penn Badgley – Gossip Girl
You might remember this iconic duo as Dan and Serena from Gossip Girl, but Blake Lively and Penn Badgley's romance mirrored their on-screen characters in real life. The couple dated for the first three seasons of the show, and they kept denying that they were a real couple.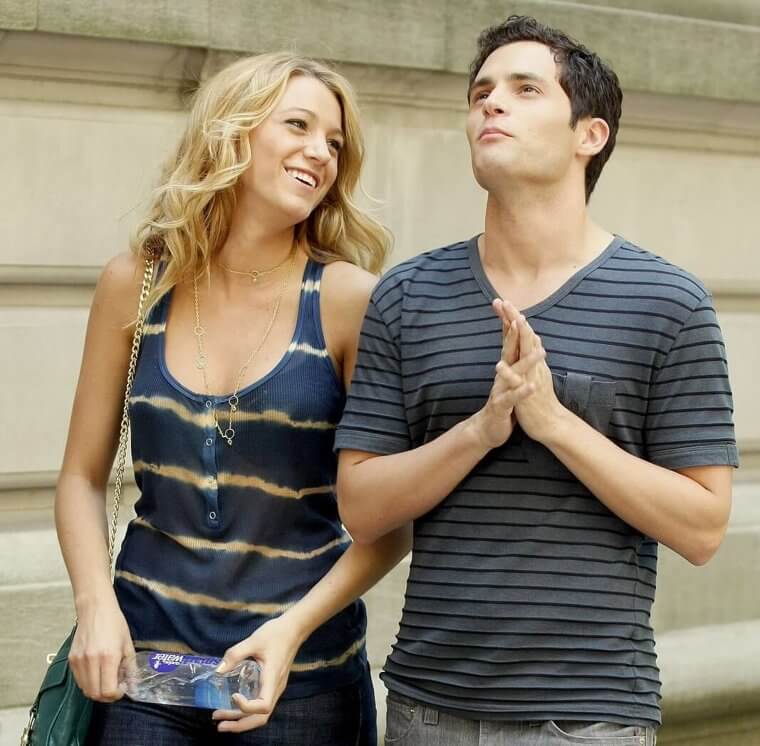 A year after the pair started dating, Lively flat-out denied that they were together. However, they were outed when they were spotted kissing on vacation. The pair was nervous the bosses at Gossip Girl would be upset. After the two broke up, they were still played an on-and-off couple on the show and remained good friends.
Alexis Bledel And Milo Ventimiglia – Gilmore Girls
Alexis Bledel and Milo Ventimiglia met on the set of Gilmore Girls when he played her love interest, Jess Mariano. Although the on-screen couple's dating history was cut short, they continued to date in real life for four years.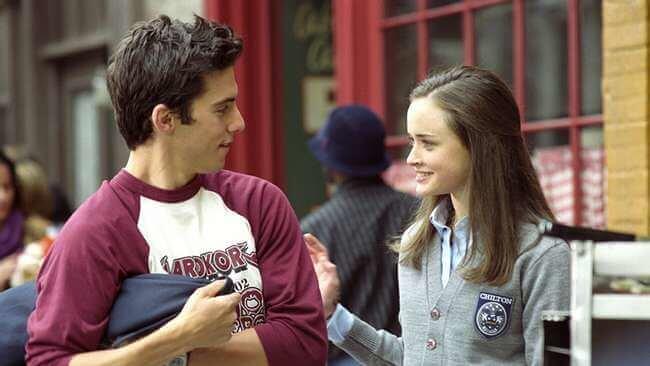 Bledel and Ventimiglia decided to go their separate ways in 2006, but they remained friends. Ventimiglia respects Bledel and congratulated her after she won an Emmy in 2017 for Handmaid's Tale.
Adam Brody And Rachel Bilson – The O.C.
Shortly after they started filming The O.C. in 2003, Rachel Bilson and Adam Brody took their on-screen romance into the real world. The duo played Summer and Seth, and the characters were high school sweethearts who got married before the show went off the air.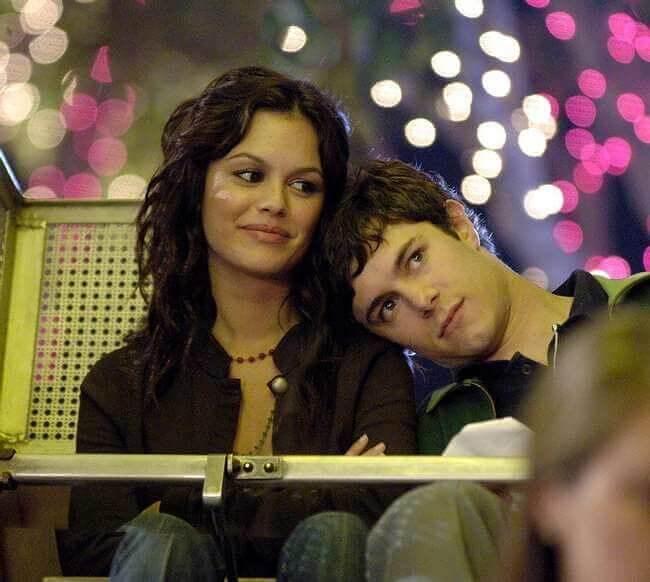 However, in real life, Bilson and Brody split a year before the final season. Although it was a little awkward to play a couple even after they split, they are still friends to this day, and Brody is happily married.
Will Arnett And Amy Poehler – Arrested Development
Will Arnett and Amy Poehler were introduced by friends and started dating in 2000. They dated for a few years before tying the knot in 2003, and Poehler played Arnett's wife on Arrested Development for a year.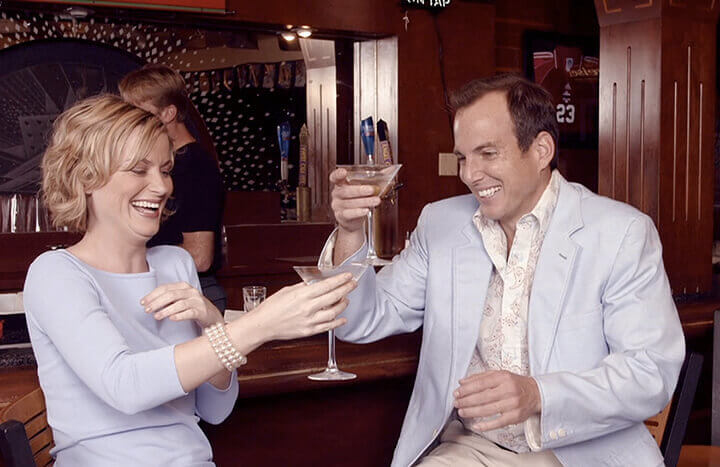 Although people loved their on-screen romance and the cameos they did on each other's projects, Poehler and Arnett ended up getting divorced in 2012. While they never said the real reason behind their split, many people think their romance just fizzled out.