A landmark of architectural innovation
A hotel that's home to cutting-edge engineering — from the unique man-made beach and infinity pool terrace, to one of the tallest grand atrium at 180 metres high.
Located on a manmade island 280m off Jumeirah Beach, Burj Al Arab (meaning Tower of the Arabs) is a luxurious hotel that is the fourth tallest hotel in the world. Measuring 321m, the hotel was opening in 1999 and was designed to resemble a ship's sail. Reportedly the world's only 7 star hotel, Burj Al Arab offers the ultimate in luxury featuring a 180m tall atrium, a fleet of white Rolls Royce cars, dancing fountains and touches of gold leave everywhere.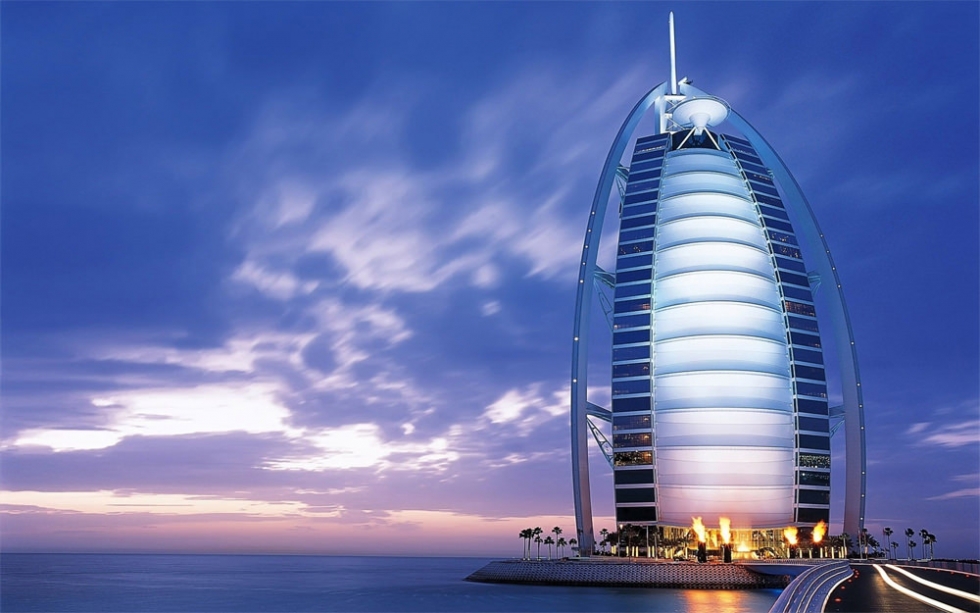 The iconic nature of the building sees it dominate the Dubai skyline and its designer, Tom Wright of WKK Architects, has compared it to Sydney's Opera House, London's Big Ben or Paris' Eiffel Tower. Designed to make a statement and become synonymous with Dubai, the building resembles the sail of an Arabian water vessel know as a dhow. A vast 'mast' creates the intersecting point for two 'wings' which open out into a V formation. The space between the wings is where you'll find the massive enclosed atrium.
Although the exterior of the hotel is exceptionally impressive, many visitors can't help but want to see the inside. Unfortunately the only way to do this is to book one of the very expensive rooms or make a reservation at one of the equally expensive bars and restaurants. The hotel offers 28 two-storey floors with 202 suites, the smallest of which measures 169 sqm while the largest reaches 780m². East meets west in the Burj Al Arab accommodation which features elegant white columns and mosaic tile accents in the bathrooms. The Royal Suite ranks 12 on the list of the world's 15 most expensive hotel suites at a whopping US$18,716 per night.
Your quest for wellness starts here
With everything from gyms and spas, to yoga and paddle-boarding, Burj Al Arab is the ultimate retreat for mind body and soul
Dining at Burj Al Arab
So it's no wonder that the hotel is also home to a seafood restaurant — Al Mahara — complete with a floor-to-ceiling aquarium where diners can enjoy delicious food while watching colorful fish swim among luscious plants in bright blue water.
I had the chance to eat at Al Mahara on a visit to Dubai years ago and I still consider the lobster I ate there to be the best I've ever had.
It's one of the best fine dining restaurants in the world, but a meal there isn't cheap. According to TripAdvisor reviews for the restaurant, a dinner for two with a bottle of wine costs around $600.
For some context, here's the hotel itself in all its sail-shaped glory. It sits on its own island, connected to the rest of Dubai's mainland by a long driveway